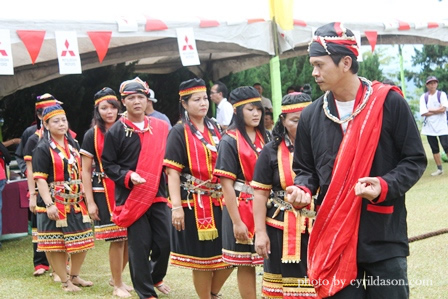 Many ask what should I do in Kuching? Well, as a local, here's my quick suggestions:
VISIT THE SARAWAK CULTURAL VILLAGE AT DAMAI
– The award winning Sarawak Cultural Village (SCV) remains an integral visit point for any tourist. Here, you can experience and see first hand what ethnics make Sarawak, and what culture they inherit.
EAT & DRINK AT A LOCAL CAFE IN KUCHING
– Kuching is indeed famed for it's food, be it the fancy restaurant food, or some cheap street food. With that in mind, a taste of local dishes in a nearby cafe which is packed will be good. Don't worry about the wait, if it's packed, have a seat and wait. Chances are, you will not be disappointed.
BUY SOUVENIRS AT CARPENTER STREET KUCHING
– Nothing says "I've been to Kuching" than having souveniers from Kuching, and despite numerous places you can count on to find souveniers, Carpenter Street remains the best place for such a hunt.
CROSS THE SARAWAK RIVER IN A PAK TAMBANG
– A mere RM0.50 will take you across the majestic Sarawak river in the city over a small boat known locally as 'Pak Tambang'. The ride takes a mere 5 minutes, but the excitement and the memory of being in one will be forever.
STAY AT ANNAH RAIS BIDAYUH LONG HOUSE PADAWAN
– If you have a couple of days to spare, save some for the best homestay programme in Kuching at Annah Rais Bidayuh longhouse. Located in the hilly Borneo Peak area, you can be assured the best Bidayuh experience and culture. (Photo: A Bidayuh traditional dance)
CHECK OUT THE SUNDAY MARKET IN SATOK
– The Satok Sunday market is the gem of Satok because you get to find fresh jungle produce here. Be awed with the variety of food and jungle produce found in this market, but be warned that it's swarmed every weekend by locals.
GO CAVING IN BAU
– Bau boast of two caves which are popular among climbers. The caves known as Fairy Cave and Wind Cave share some mysterious tales each, and those coming are advised to bring along a torchlight to enable full view of what's hidden within the caves chambers.
WALK THE KUCHING WATERFRONT
– The 3km waterfront is a popular resting spot for both locals and tourist. The waterfront is shaded by lush trees, with a perfect view of the Sarawak River and the Kuching City center. For those loving photography magic, check the waterfront out in the evening, and be amazed by the stunning beauty.
GO TREKKING AT BAKO NATIONAL PARK
– A day is needed to go to Bako National Park, but it combines both a boat ride, and the best possibility to see wild life. Staying in the national park is possible with some arrangements with Sarawak Forestry, the park management.
GET A TRIBAL TATTOO
– Nothing says 'Sarawak' more than a local tribal tattoo. Be sure however that you get the right one, because in Sarawak, tribal tattoos do tend to bring meaning, and you won't want to be having one which says you are a sissy.