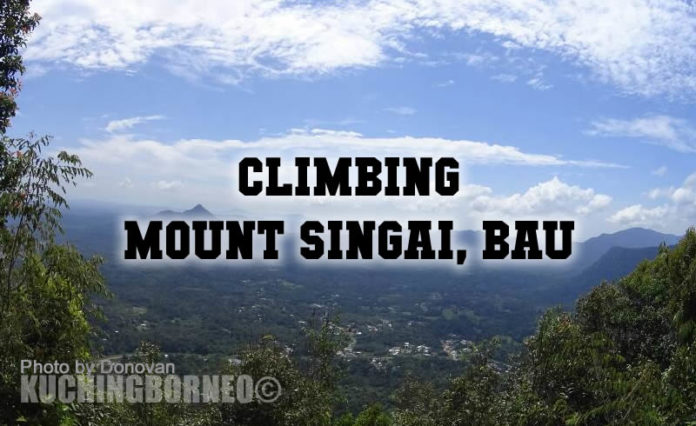 SUBSCRIBE TO KUCHINGBORNEO.INFOTELEGRAM TO GET NEWS & UPDATES ON KUCHING.
Mount Singai in Bau, Kuching is better known for its pilgrimage purposes among Catholics.
Lately however, many have ascended Mount Singai in seek of adventure and to experience its mountain trails, that lead up to a fantastic view of Bau, from the mountain peak.
Here's my take on how an adventure to the the summit of Mount Singai happened over the weekend with my buddy Donovan.
HOW TO GO TO MOUNT SINGAI
Mount Singai is located within the Bau District area, about 40 minutes drive from the city of Kuching.  Roads leading to the mountain foot is good and sealed and you can expect to pass by several Bidayuh villages while making your way to the foot of the mountain.
A map of Mount Singai's location can be seen below.

If you are driving to Mount Singai, parking would be your first problem there's very limited space available at the foot of the mountain. A nearby private parking area (next to a house) is a convenient choice, despite the MYR3 per entry fee.
Normally, the person manning the parking area would come out of his house the moment a car enters to park, but if he doesn't, you should make an effort to locate him as you are actually parking on his land.
At the foot of the mountain, you can't miss the massive white arch, that's located not far from a small cafe that sells food and drinks to climbers.
IT'S FREE ENTRY, BUT BE 'A MAN', AND HELP OUT
There is no entrance fee for entering or climbing Mount Singai.  However, you can't miss a huge bulk of colourful plastic bags located nearby the entrance of the welcoming arch.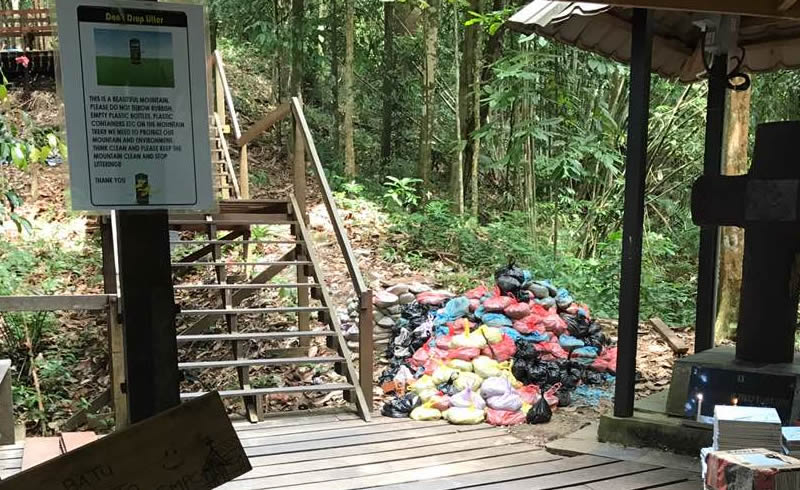 These plastic bags contain sand and rocks meant for the construction and upgrade of the church and its facilities, which trust me, would be also used by hikers and climbers as well.
Since there's no entrance fee, it would be very nice if you could grab a bag, and bring it up as you ascend the stairs to the pilgrimage area.
WALKING UP TO THE PILGRIMAGE AREA
Heading up to the pilgrimage area (where the Catholic church sits) is not difficult as there are wooden stairs all the way from the foot of Mount Singai.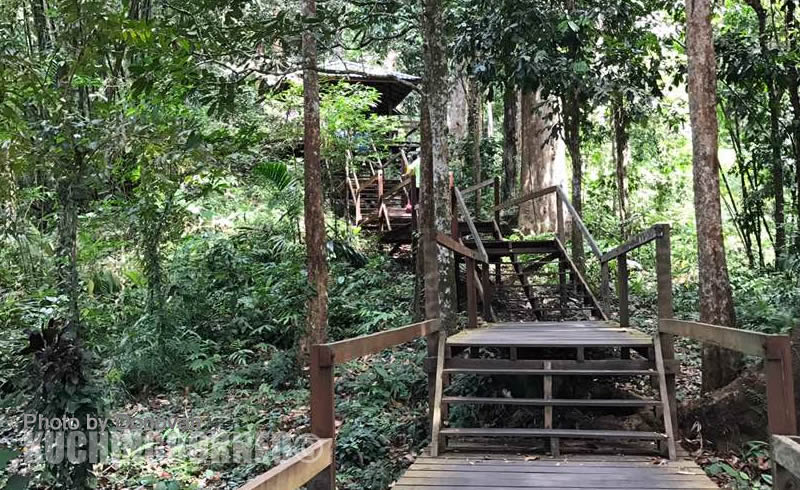 However, for the elderly, and the less fit, it can be still quite a challenge, so if you feel you are not strong enough, don't bother carrying up those plastic bags filled with sand and stone. The last thing you want is to spill it while going up.
I'm not very sure how many steps are there for you to ascend to the pilgrimage area, but if you get tired easily, there are 14 rest stops for you to relax on the way up, each marked with a cross.
These rest stops not only provide a place to rest, but also act as a prayer place as it also reflects the 14-step Catholic devotion that commemorates Jesus Christ's last day on Earth as a man.
Ascending to the church doesn't take more than an hour, but I had to take a 15-minute rest at mid-point as I wasn't really fit.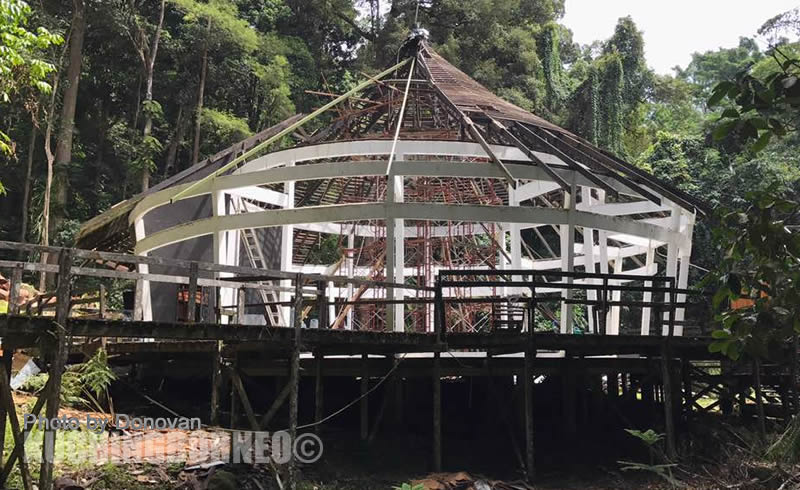 When reaching the church area, there was noticeable construction on-going as the construction materials, and a half built 'baruk', which I believe to be the future church very much visible.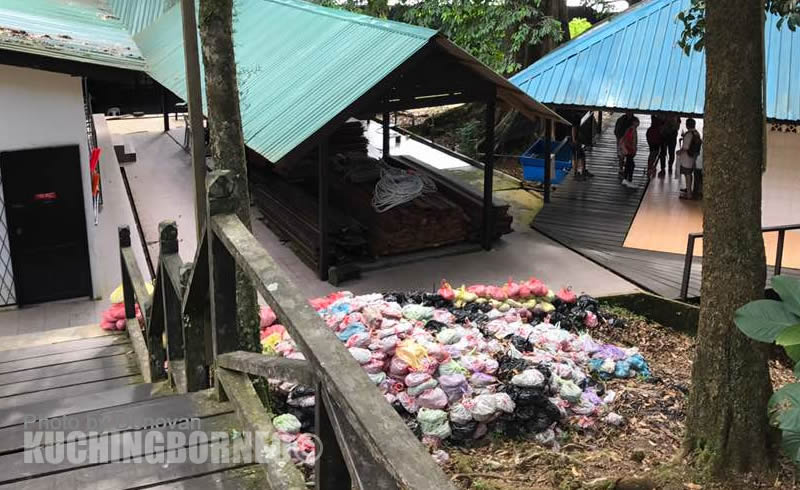 That plastic bag I said you can carry up also gets offloaded here, and based on the number of plastic bags, I would say many were keen to help. After all, its for a good cause, and it is good exercise!
MOVING OFF TRACK, WHERE THE ADVENTURE BEGINS
Since I wasn't here for pilgrimage, I offloaded the plastic bag I was carrying, and started my journey up to the peak of Mount Singai.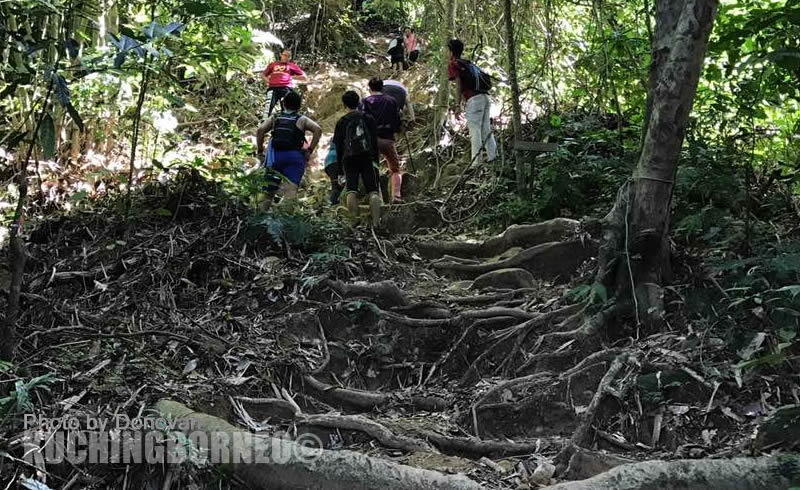 There's a marked path to get to the peak, but the trail itself is not developed or sealed, meaning this was where the more adventurous trekking began.
The journey up, took about an hour plus, and it involved steep paths which needed the use ropes, with the trail itself being very slippery and rocky.  The more difficult trekking began as you came nearer to the summit so you should be prepared for this.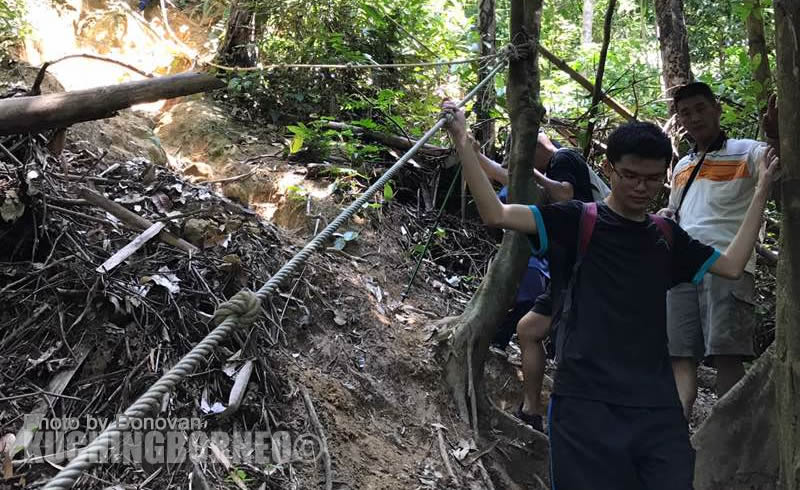 There was a large crowd when I ascended Mount Singai, so moving up was rather slow as the trail itself was narrow, and we had to wait for my turn, especially when it came to the parts that had ropes.
THE SUMMIT OF MOUNT SINGAI
When you've reached the summit of Mount Singai, it is likely that you'd experience this great feeling of accomplishment because the whole walk was challenging, especially for someone like me who hardly goes trekking.
The view you can see from the peak of Mount Singai, just makes the experience even more significant as this is one of the few places in Kuching that offers a grand picture of the rainforest in Sarawak, especially Bau.
TOP TIPS BEFORE YOU CLIMB MOUNT SINGAI
If you are planning to climb Mount Singai, here's what I think you should consider doing:
Use hiking (preferred) or running shoes as the trail can be slippery, especially when it rains.
Build your stamina before you go. While some may say it's a leisure walk, reaching the peak can be difficult for those not prepared.
Bring enough water as there's no natural place to source water along the trail.
Wear comfortable clothing because you are going to sweat!
Bring basic medicine for cuts, bruises etc. You never know.
Go early, and leave the summit before 3PM. You won't want to get loss
Be respectful of the Mount Singai also acts as it is a pilgrimage area
ABOUT SINGAI & BAU
Mount Singai is located in the district of Bau, Kuching and it is mainly populated by Dayak Bidayuhs.  Bau town itself is a mining town, and it's proximity to Kuching City means many tourist prefer to come here on a day trip basis.
Despite being less developed, Bau is a superb place to experience Gawai Dayak as several villages in the district still practice old pagan rituals, and there's a massive Gawai celebration organized by the people of Singai at their REDEEMS center on an annual basis.
If you love adventure, Bau offers an abundance of such experience with caving available at both Wind Cave and Fairy Cave, and abseiling available at Fairy Cave.  For trekkers, the walking to the Jakar Waterfalls, Rayu Waterfalls, and Upper Sebako Waterfalls is something you'd want to try when in Bau.  Do note however that these places need local guides and you are strongly advised not to go without one.
Last but not least, for a list of trekking places in Kuching, this guide would help.