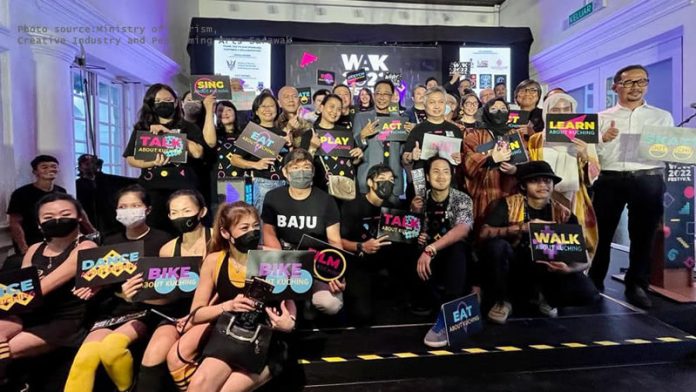 SUBSCRIBE TO KUCHINGBORNEO.INFOTELEGRAM TO GET NEWS & UPDATES ON KUCHING.
The What About Kuching 2022, or better known as WAK2022, will be happening throughout the month of October 2022, and this article will be updated until the event ends.
The event was announced on 1 September 2022 after it was cancelled for a couple of years due to the Covid-19 pandemic.
This 2022 edition is therefore the fourth edition of the festival which aims to highlight Kuching.
According to a press release, WAK2022 is setting its sights to achieve a 300,000 footfall in audience levels this year which is marginally more than the 250,000 achieved at WAK2019.
WAK2022 event calendar
Since WAK2022 is a long month event, it doesn't exactly use a schedule, but rather has a calendar.
The calendar was announced on September 1, 2022 and part of the calendar can be seen below.
You can download the event calendar below.
Highlights for What About Kuching 2022
This year, the Borneo Post reported that the events below are highlights and considered unique for WAK2022:
Outdoor movie screening at the Java Pier along the river;
Music showcases at Kuching's hotspots;
DJ music performance at the Museum Gardens;
Knitting installations at Padungan and Bishopgate Streets;
Immersive Theatre at Think & Tink;
Wild About Kuching at the Old Courthouse;
Artistically About Kuching & Sproutfest arts
Gardening showcase at tHe Spring Shopping Mall
Venue and layout
What About Kuching 2022 is happening around Kuching City and so there's many venues for the festival.
Each event under the month long festival has it's own venue, so you need to refer to the event listing to know where to go.
Tickets
The same is similar to tickets to each individual event. Each event has its own ticketing style and price and so you need to refer to the individual events to know about how much you need to pay to participate in the respective event.
More about What About Kuching and related details
If you need to read more about the event or learn about things related to the event, feel free to check out the links below.