I've just finished participating in the 20th edition of the RWMF, and I am itching excitedly for my return to the 21st edition next year.
But despite my tired feet, hoarse voice, and this slight fever I have due to all the excitement I obtained from the last three days, I've decided to share the 'pretty little things' I thought made my experience at the RWMF such an impressive one.
No Boring Workshops
When I learn I've to attend a workshop, I usually dread the whole idea, but this is an exception to those available at the RWMF because I wanted to attend almost all! Nope, no kidding. They are just THAT GOOD, and the packed workshops are testament to that. The workshops were conducted all over the venue, and it was really sad that I could only attend a limited number due to scheduling clashes. In this one workshop called "Island in the Sun", I learned about the Tahiti dance, and tried it out myself with the masses, and had a good laugh because I was simply just stiff!
The Sape Tutorials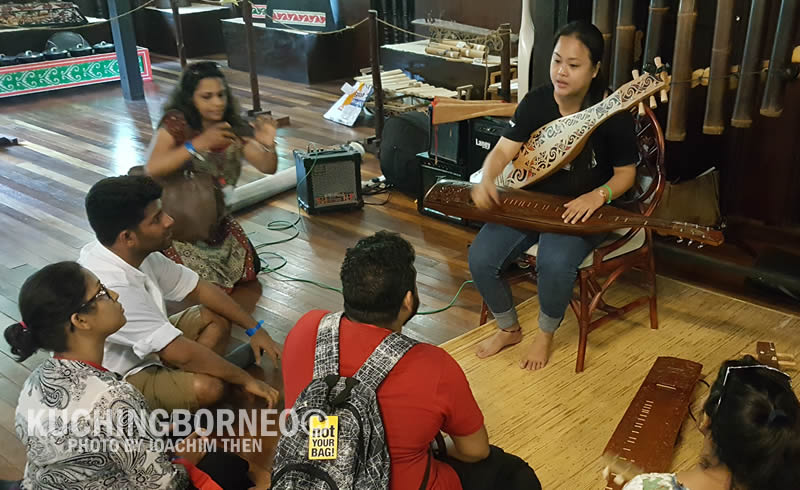 I've always enjoyed the soothing sounds of the Sape, and I've always wanted to hold and play one too. This year (and I hope for years to come), the RWMF included Sape tutorial sessions by Sape greats like Jerry Kamit, Saufi Aiman, and Anderson Kalang (just to name a few) into the day time program giving me the opportunity to pluck a few tunes on, yes, you guessed it, a Sape! The Sape itself weighs a bit, but thanks to a brief tutorial by Jerry, I can now brag that I can play the Sape, though it's like just one or two codes lah, but Ish.. ko ada?
Sape Girl Power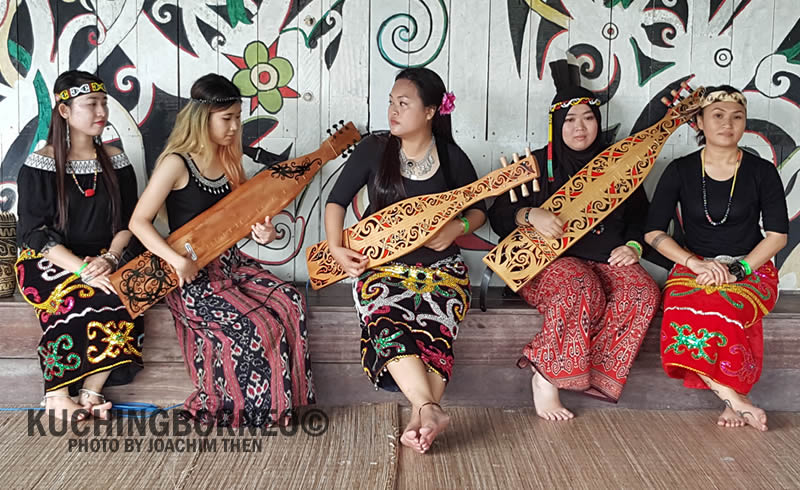 It is very typical to find male Sape players in Sarawak, but there's only a handful (yes, growing in number, but still limited) of girls being able to play such a huge traditional musical instrument to perfection. The RWMF seems interested to correct this gender imbalance with them featuring this all girl Sape troop called 'Ilu Leto'. Not only were they a pretty face, they were the exact representation of the Sarawakian diversity, and yep, they can really play, and definitely rocked the second day of the festival concert. Just a fun fact I learned from Sape Master Matthew – there's this belief in the olden days that girls were discouraged from playing the Sape because it would enlarge their boobs, which isn't bad these days I figure, but like I said, it's a fun fact.
To give you more insight on the sape sessions, here's a video of it all happening.

A Cultural Revelation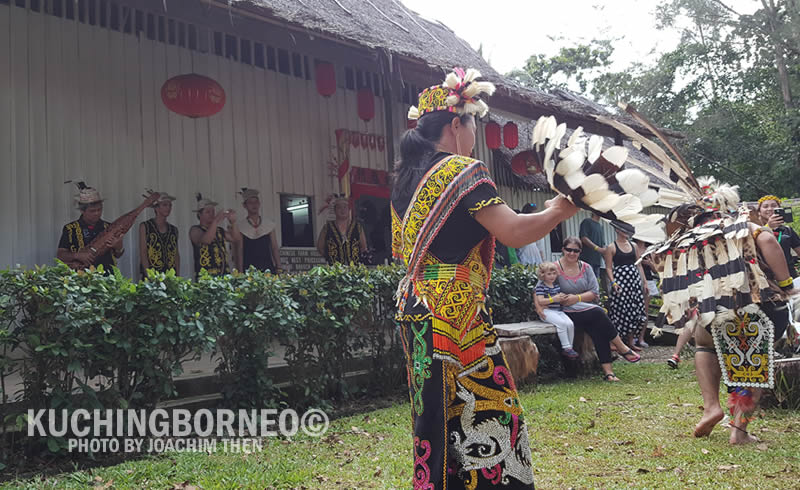 As much as I hate to admit this, the RWMF made me realize that I had less knowledge of local cultures, including my own, at some point. Despite being a proud Sarawakian with many friends from different ethnics, I've never really bothered about (or should I say, I took it for-granted) the diversity we have in Sarawak, especially when it comes to other ethnic's attire, lifestyle and traditional equipment. Lucky all these could be seen at the Sarawak Cultural Village (SCV) when I was checking out the local tribe houses during the three day RWMF. Frankly speaking, it did blow me away at some point, especially since I realized that my home is shared with so many other ethnics, and that the RWMF highlights this diversity with great pride throughout the festival.
Fun With Drums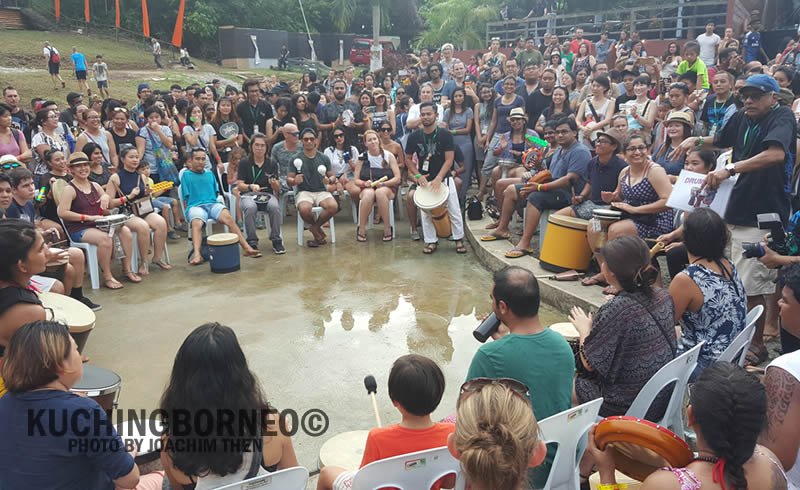 Participation is key to enjoying the RWMF, and nothing speaks volumes of that than the Drum Circle which was led by 1Drum team 2017 in front of the main stage sometime before the main concerts. During this time, strangers, most with no experience, come together to beat an absurd amount of drums (or anything you can beat) to create music, with some dancing to the tunes. Yep, there's other workshops, but during the drum circle, you actually get to be an 'artist' yourself at the RWMF, so I figured that was seriously cool!
The video below is taken during the Drum Circle.

Naik bulu roma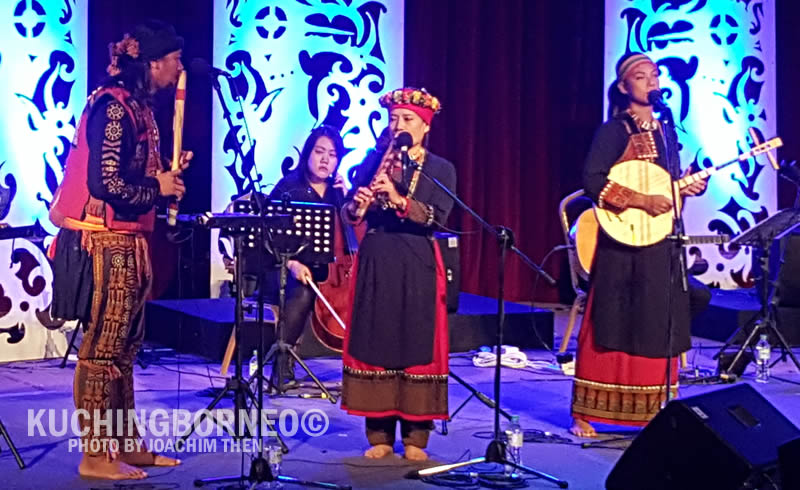 I went to the indoor Theater Stage to escape from the heat outside because Sarawak is right smack at the equator, and walking around the Sarawak Cultural Village is not only tiring, but sweaty. The indoor Theater Stage had air-cond, and was the perfect place to cool off. I actually ended staying longer than expected because the Theater Stage is where the chamber like mini concerts were held, and some of them were really enjoyable and menaikkan bulu roma (Give you goose bumps). Festival goers at the Theater Stage were generally more passive and relaxed, hence allowing me to immerse myself fully into the sweet and classical tunes played on stage. The setting and activities were pretty simple, but this is where you really get to enjoy music to it's core.
At Adau; The fun side of Sarawakians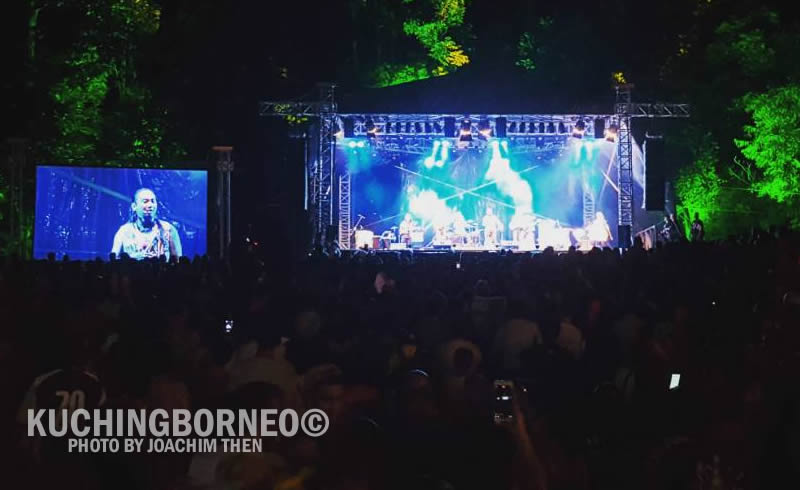 Local Sarawakian bands rarely capture the attention of festivals goers despite the 45:55 foreign to local festival goer ratio. Can't blame them since Sarawakians are generally reserve and shy. It's us, not you. At Adau changed that fact on the second day night concert of the RWMF, proving that Sarawakian bands were of equal in terms of quality to their international counterparts. Their performance was one of the most engaging, and who can forget their Oohhh Haaa!! I know I jumped til my feet were sore, and they can really rocked the stage!
CONCLUSION
It's sort of sad that it took me 20-years to actually attend the RWMF, but it was definitely an experience I will not forget.  It was so good, I am keen to come back next year just to pick up where I left off this year, and learn a little bit more about musical cultures from across the world.
MORE ABOUT THE RWMF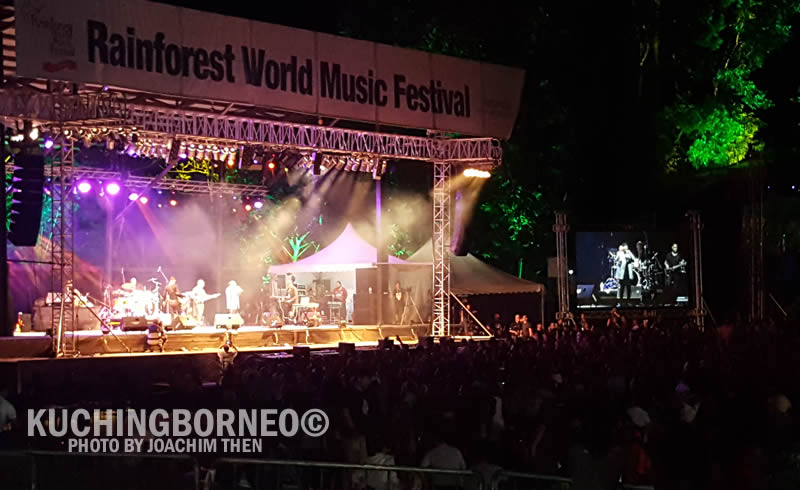 The RWMF is an annual award winning music festival organized by the Sarawak Tourism Board on the second week of July. It features a diverse set of artist from different parts of the world, highlighting traditional musical instruments and music. Check out the videos of the 2017 RWMF we have recorded here.
Hotels in Kuching usually get booked a year in advance during the festival dates, with tickets usually sold out on festival day. If you are planning to go to the RWMF, these set of tips might be handy, especially if you are a first timer like Syaz.
Weeks before the RWMF, the Rainforest Fringe Festival takes place around Kuching City, ensuring you get a taste of local art and culture.
ABOUT KUCHING
Kuching is the capital of Sarawak, and is located on Borneo Island. It offers plenty to do and see but I'd recommend trying out the famed Sarawak Laksa. Sarawak Laksa does come highly recommended by Antony Bourdain (celebrity chef), but I must insist you get the best at these local joints.
Kuching has several nice shopping malls for shoppers, but if that's not your cup of tea, try visiting places of interest in the city as I have listed here.
For those loving historical and architectural designs, the Kuching History Trail I compiled can of help, and so will this directory of hotels nearby such places of interest in Kuching City.
If you are seeking more adventure, Kuching is home to several amazing trekking sites, as well as several nature reserves like the Gunung Gading National Park, the Bako National Park, and the Matang National Park
To learn more about Kuching, this guide I made would be very helpful.
STAYING IN KUCHING
There's plenty of places to stay in Kuching, with 5 star Kuching hotels providing you top notch facilities and accommodations. For large families, I've listed several service apartments hotels in the city to ease your search, but there's also plenty of affordable budget B&Bs, Inns, and guest houses around the city with great location.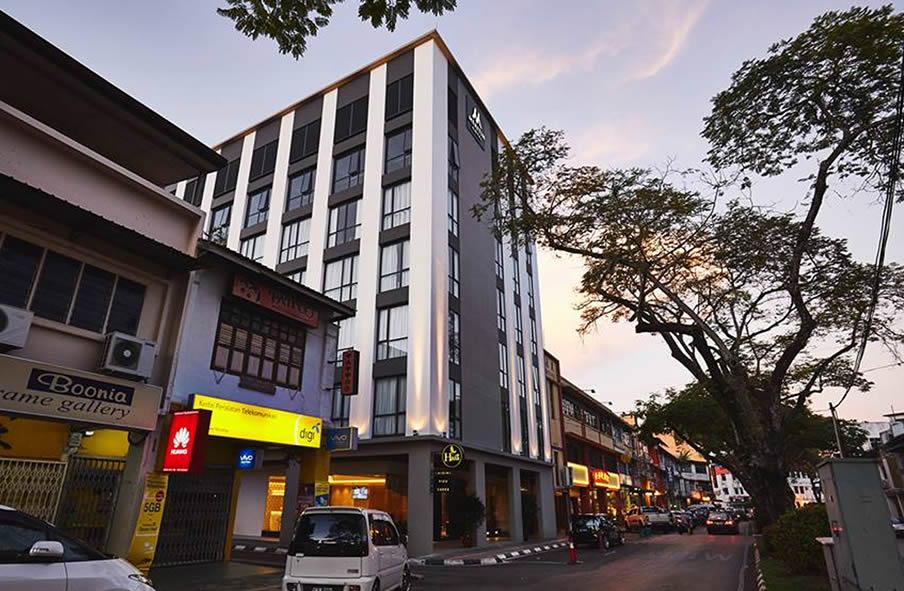 If you prefer not to stay in the city, and would like a beach front, hotels and resorts in Damai would be perfect though they are located some 50 minutes from the city, and may cost you more.
That said, I would strongly advice you to choose your preferred hotel based on what you plan to do in Kuching as places of interest can be quite far apart, and may burn up more cash. In the case of the RWMF, a hotel stay near Santubong/Damai is highly recommended-lah.
So, if you are planning to go to the RWMF, I'll see you next year?
Recommended reads
Find a hotel in Kuching