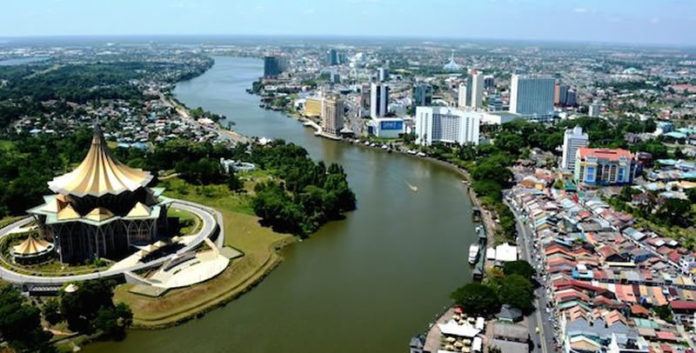 SUBSCRIBE TO KUCHINGBORNEO.INFOTELEGRAM TO GET NEWS & UPDATES ON KUCHING.
Kuching has a variety of wonderful places you must visit when you are in town.  The city which has a population of over half a million doesn't centralize all of it's attractions at one place, with many amazing finds scattered just at its fringes.
Here I explore what you can find and do in Kuching, as I hope it would be a guide for those unfamiliar with Kuching to get to know more of what Kuching has to offer.
THE KUCHING WATERFRONT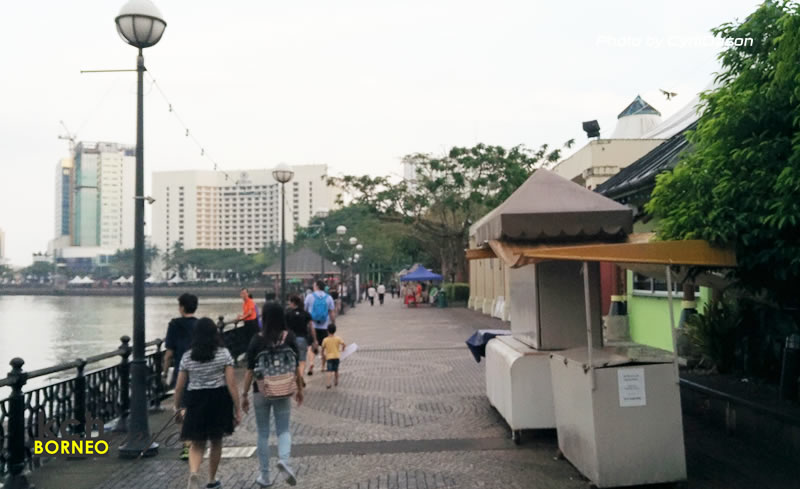 Located along Jalan Main Bazaar and Jalan Tunku Abdul Rahman, on the southern bank of Sarawak River and connects the old Kuching city center, to the new Kuching city center. Getting here is easy because it is a landmark by itself. The Kuching Waterfront is Kuchinginites favorite meeting point and family area and it never grows old among locals, and tourist love it as you can see them lazying around easily on the benches.  If you had to pick a time to go, choose around 5PM onwards as the beautiful sunset can be rather magical. Aside from being a great place to stroll, the Kuching Waterfront also serves as a great place to take a boat ride along the Sarawak River on the Perahu Tambang (river boats), get aboard the Sarawak River Cruise, or check out the Darul Hana Bridge which crosses the Sarawak river. [Bring me there]
INDIA (PEDESTRIAN) STREET, KUCHING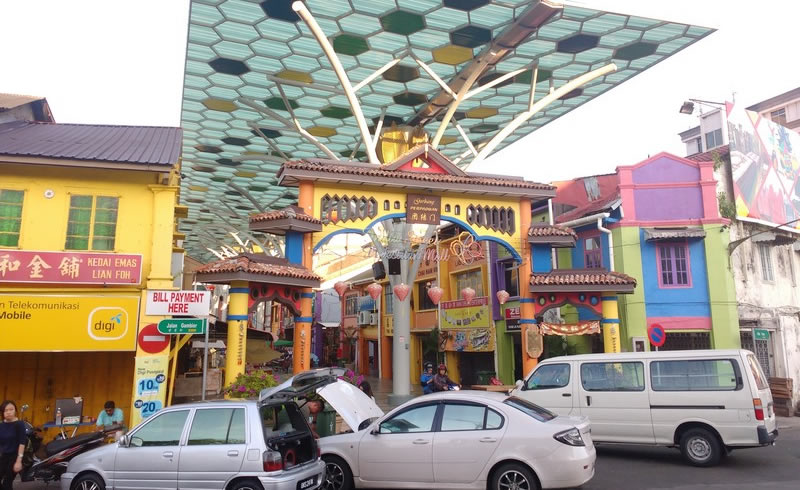 India Street is where you can expect to find cheap souvenirs and textiles. The whole street is made up of colonial era shop-houses, some rebuilt after being burned down. Businesses are mostly family owned, and the local council had erected a standalone roof to cover the walkway in 2016. Despite it's age, the whole area remains very vibrant especially before major celebrations as prices of goods are largely below average, and the variety of textiles in this particular street remains unrivaled in Kuching.  In a hidden pathway in the middle of the street that links to Gambier Road, the more spicier side of Kuching, there's an Indian Muslim Mosque which was built in the 19-century by the Indian Muslim Community! [Bring me there]
SARAWAK CULTURAL VILLAGE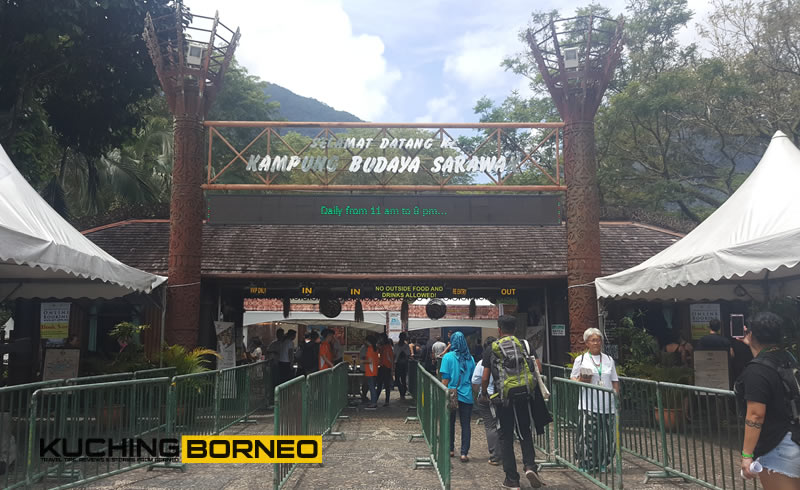 The Living Museum as it is dubbed, is Sarawak's crown jewel in tourism as it won numerous awards around the globe, and is still regarded as a 'Must Visit' place by anyone.  If you have limited time in Sarawak, this is the place you'd want to go because it highlights the indigenous traditional culture and lifestyle of local Sarawakians, apart from showcasing real life traditional houses you can step foot in. Opened from 9:00 AM to 5:00 PM, be sure not to miss either the morning traditional show at 11:30 AM or the afternoon show at 4:00 PM as it is quite mesmerizing for first timers. Entry into the village will cost RM60 (Adults), and RM30 for children below 12.  The Sarawak Cultural Village is home to Malaysia's award winning music festival, the Rainforest World Music Festival. [Check out their website: ww.scv.com.my for more details]
SATOK SUNDAY MARKET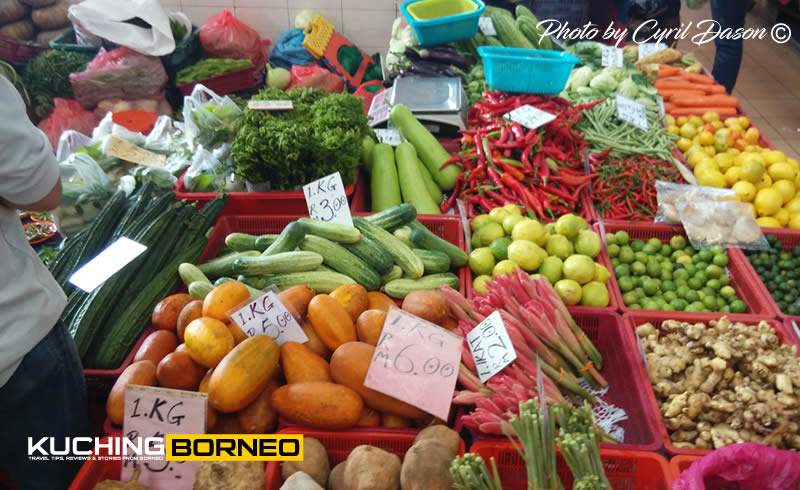 Also known now as the Kubah Ria Sunday Market nowadays after being moved to its current location, Satok Sunday Market weirdly starts on Saturday morning, and ends on Sunday afternoon.  In fact, by noon, most traders, mostly who come from outside of Kuching City, may have packed up for home!  At the Satok Sunday Market, you can find a variety of things ranging from jungle produce, toys, fruits, vegetables, magazines, cakes, food, handcraft and so much more, all at a bargain. The place gets pretty crowded on Saturday mornings but due to the larger space and the newly built main roofing, it is protected from rain and shine. Entrance is free, but getting there may require a ride. [Bring me here]
SEMONGGOH NATURE RESERVE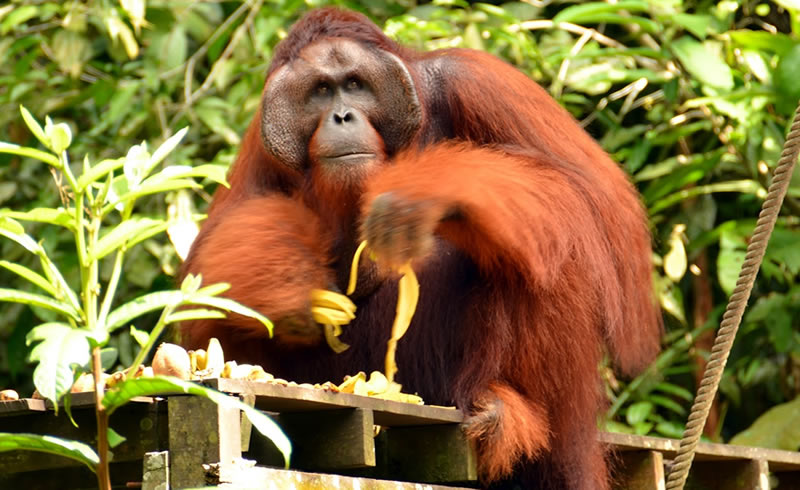 This is the closest place to get a glimpse of the Orang Utans, and it is located some 30 minutes drive from Kuching City.  This sanctuary holds these primates under close watch of the park rangers, ensuring them freedom, while at the same time keeping them safe from poachers and extinction. Aside from viewing some other animals sustained in this park, you can also experience a feel of the Sarawak prime rainforest here.  The park is open from 8:00 AM – 12:00 PM and 2:00 PM – 04:15 PM, and going during feeding time at 9AM and 3PM is highly encouraged. There is a minimal entry fee of RM3 into the park and tour rides to the park can be arranged by tour agents. [More information is available on Semonggoh Nature Reserve Facebook]