Ever since I was small, there is this one kedey mee my family frequent every single time we went back to my home town, Bau.
The wooden coffee shop is located along a row of Bau's oldest shops, and is located not far from the Bau roundabout, and bout a minute from the Bau Town Fire Station.
My family still goes to the same shop until this day, and when we say "Man mee di Bau" (eating noodles in Bau), it meant eating at this particular shop, although I could argue that the main dish isn't exactly the noodles.  A friend said his family calls the shop 'Kedey Ah Soi'.
A SIMPLE KOPITIAM
Rightfully, the coffee shop named Kiaw Hin doesn't look special or even beautiful, and a glance at this 'tired looking' row of shops which houses Kiaw Hin, would not attract anyone to dine in it.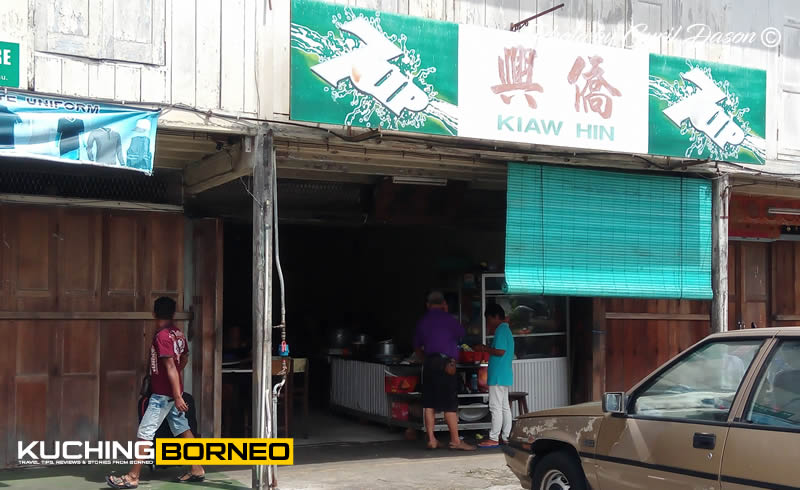 As a matter of fact, walking into the shop also doesn't give you a buzz that there's anything special about it, and the walls are bare and empty with no decorations.
The patrons are usually aged, similar to the furniture, and the layout is pretty basic.  Adding to the 'attractiveness' of the shop is the 'semadi nadai' lighting, and the shaky furniture, some perhaps serving for over 20 years.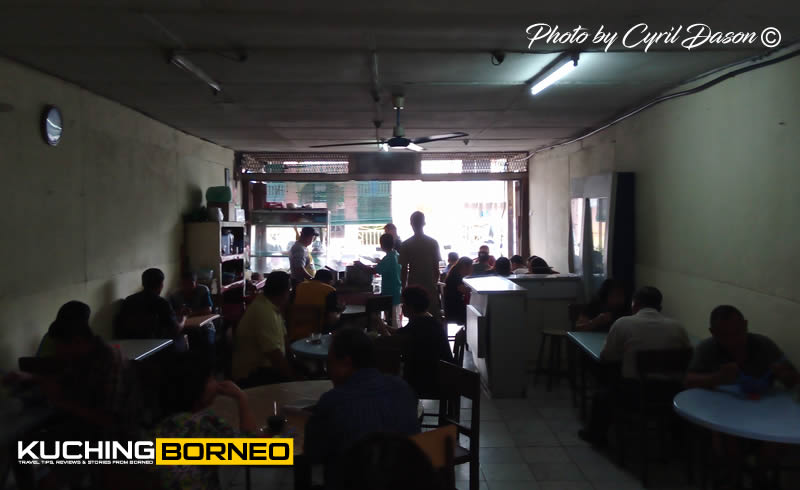 Indeed, when you glue it all together, Kiaw Hin looks like a typical kopitiam which is slowly losing out to newer eateries which have mushroomed around Bau Town in recent years.
STILL STANDING BECAUSE OF ONE THING
In fact, over the years, I've seen shops beside Kiaw Hin close down, or change business, with this kedey mee still standing strong.
Yes, there are signs that Kiaw Hin may experience the same fate in coming years, but as for now, I can say they are 'safe' because they have this one dish which I have not found in other shops in Sarawak, well, not just yet.
The dish is called 'Nasi Campur', or 'Rice', or 'tubik' and at Kiaw Hin, there's only one rice dish, and to me, this is the dish that makes the whole place tick.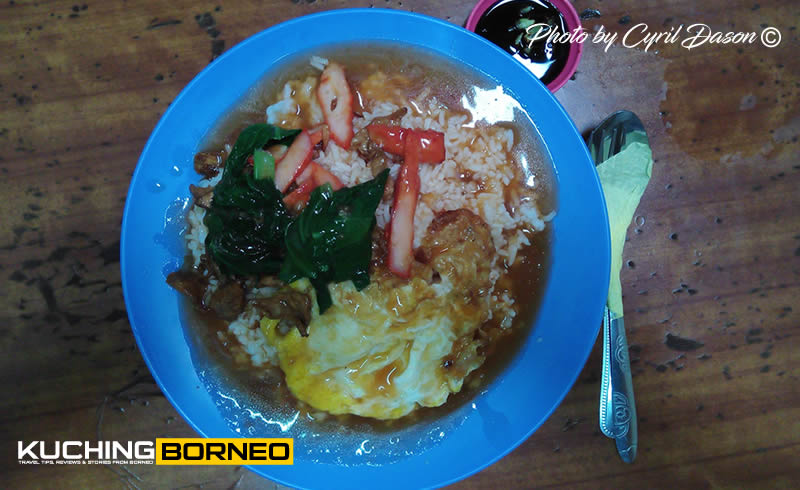 As you can see in the photo above, it looks rather oily, but it doesn't taste that way. When it comes to this kedey mee, presentation is second.
My other family members, as well as friends, love the noodles served here as well.  I go for the rice nonetheless, which for me is a very rare cuisine.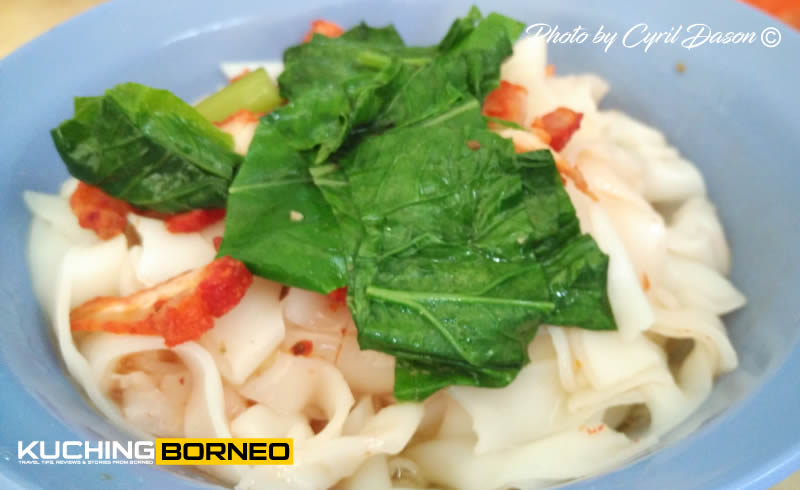 While the noodles at this kedey mee are equally great, the rice is something very different, with white rice drenched in a special made tomato sauce, and friend egg, pork and some vegetables on the sides.  For me, it's one of a kind, and I've tried similar ones outside, but it wasn't as good.
I bet I am not alone because 'rice' is taken off the menu as early as 9AM daily, as it is usually sold out by then.
WHEN  & HOW TO GO HERE
Looking at the situation of the shop, I am hopeful that Kiaw Hin doesn't close down anytime soon, but I have to admit, there are signs that they might not be around in the future.
That said, if you are keen to go check out this 'legendary' kopitiam, and also this very special rice I'm talking about, be sure to come to the shop a little after 7:30AM to 9AM.
If you come to early, chances are they have not served rice, and if you come to late, well, it's all finished.  They are supposed to be open daily, but there are times they close without notice. – It's sort of a hit and miss kind of thing. The shop usually closes at 11AM, despite their popularity.
A rough map on where the shop is located is seen below. (see the red mark)

HOW TO ORDER & PAY
I decided to put this in since I guess, it's a culture in this shop.
If you want your food order to be taken immediately, order at the cooking counter, or as most of us do it, we order when we step into the shop.  My grandpa who frequents this place, pays immediately as he places his order, but that's just him.
For drinks, the 'drink uncle' will come to your table.
When it comes to payment, drinks and meals are paid separately, and payment of drinks is at the cigarette counter, and meals is paid at the cooking counter.
I know, it's weird, but that's how they roll.
CONCLUSION ON THE KEDEY MEE
I know taste is subjective, and maybe some of you may not think the 'rice' at this shop is special, but I have tried seeking it elsewhere, including making my own, but it's just not as nice.
On top of that, this kedey mee somewhat makes going back to Bau town special, especially with the need to wake up early if I wanted to eat in here.
It would be a very sad day if the shop were to close in the future, but for now, I will make as many trips as I can to eat 'rice' in this shop.
Uhmm… just typing this post has made me miss the rice already. – kuchingborneo.info
ADDITIONAL INFO ON BAU
Bau is a sleepy town in Kuching some 30 minutes drive from Kuching, but it is not short of amazing places to visit and explore.  Trekking in Bau can be done in Mount Singai, while there are several nature reserves like Wind Cave and Fairy Cave nearby.