SUBSCRIBE TO KUCHINGBORNEO.INFOTELEGRAM TO GET NEWS & UPDATES ON KUCHING.
The Sarawak Disaster Management Committee (SDMC) has announced the Sarawak Standard Operating Procedures (SOPs) for the coming Christmas.
This comes despite the dwindling number of Covid-19 cases in Sarawak, but the increasing scare of the numbers rising due to the newly detected Omicron variant.
Sarawak SOPs for Christmas
Among the key take-aways from the SOPs are the limitation of celebration to only close family gatherings only, with those attending required to wear face mask and abide to physical distancing.
No house to house carolling and public Christmas gatherings is allowed as well.
Aside from that, unvaccinated individuals remain side-lined under the SOPs and are not allowed to attend Christmas service with the services limited to certain hours on both 24th and 25th December 2021.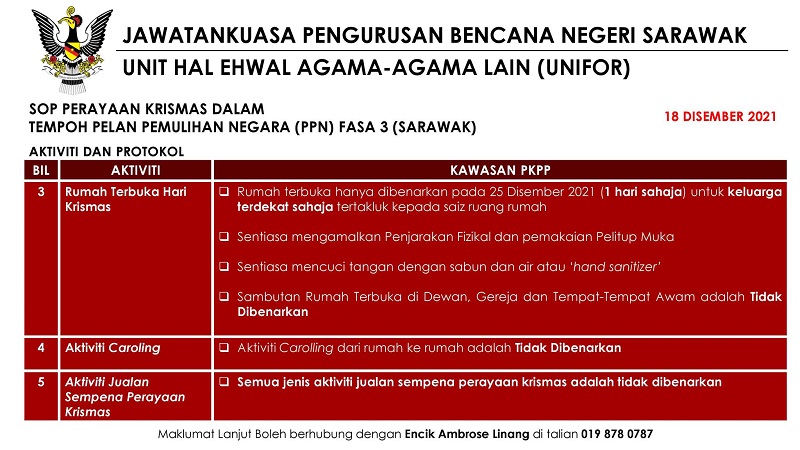 Christmas service at churches are also limited to 50 percent capacity of the venue but there is no limit to the number of services being done.
The full list of SOPs can be read and obtained from SDMC's website.
Merry Christmas everyone, stay safe
It is indeed tough times for Christmas as the SOPs will definitely make the celebration rather different again this year.
Nonetheless, it's key to keep everyone healthy and so the SOPs are needed.
That said, Merry Christmas everyone.