The Fort Sylvia is a historical building located in Kapit town in the state of Sarawak, Malaysia.
Built in 1880, it was renamed after Rani Sylvia Brooke, wife of Rajah Charles Vyner Brooke, in 1925. During the 1960s, the fort housed the District Office and the District Court House, and later the Resident's Office when Kapit Division was formed in 1973.


The fort used to be called 'Kapit Fort'.
In the past, the two-storey building is defended by a number of large cannons on the ground and smaller ones along the wall of the first floor where the muzzles protrude through sliding hatches.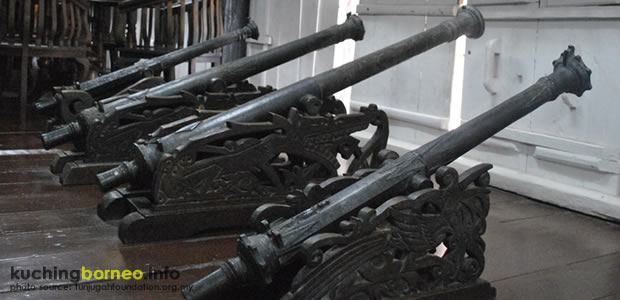 The fort witnessed three changes in government administration; namely the Brooke's administration from 1880 to June 1946 and the colonial administration from July 1946 to July 1963 after Sarawak obtained independence before forming the Federation of Malaysia that same year.
Later, it was used as the base for Kapit District and Courthouse before being relocated to the state government complex at Beleteh Road here.
The building has now been turned into a museum comprising many sections such as History, Tun Jugah Gallery, Community Wall of Fame, Iban Costume and Textiles, Mural Painting of the Iban World, Hall of Fame, Amber Gallery and Weaving and Handicraft Workshop.
Address:
Kapit Sarawak (Map)
Operating hours: Tuesday to Sunday 10-12 noon & 2-5 pm, Closed on Monday and Public Holidays