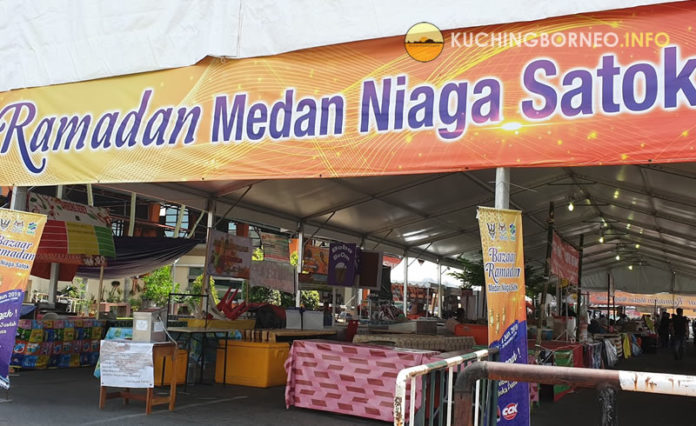 SUBSCRIBE TO KUCHINGBORNEO.INFOTELEGRAM TO GET NEWS & UPDATES ON KUCHING.
Medan Niaga Satok Ramadan Bazaar is one of the many Ramadan bazaars dotting Kuching during the holy month of Ramadan.
To be honest, I always favored the month of Ramadan because of food. I know Ramadan is the month of fasting for Muslims.
However, it is also the very month of countless buffets which feature a massive amount of food and drink items, you'd be spoiled of choices.
The Medan Niaga Satok Ramadan Bazaar is therefore sort of a food buffet for me because it's nearby my house, and has not less than 50 different food stalls doing business.
THE JOURNEY TO MEDAN NIAGA SATOK RAMADAN BAZAAR
Going to the Medan Niaga Satok Ramadan Bazaar is easy.  It is just in front of the Satok Market.
Thanks to its proximity with home, I can just ride my 12 year old motorcycle to the grounds. From my house, it's about 5 minutes by motorcycle.
My favorite time to go would be around 3PM, because this is when all the stalls are open, but the crowd is still less. Going later would mean the Ramadan Bazaar would be packed like sardines and I dislike that.
Another reason to go early for parking. At 3PM, there's still room to park my motorcycle right in front of the Medan Niaga Satok Ramadan Bazaar spot. If I came late, I'd have to park further away. – Being true to my Malaysian roots, I'd want to park at the door steps of my destination.
FRIENDLY FACES
Upon entering the Ramadan Bazaar, friendly uncles and aunts greeted me as I walked pass each stall.
As I said above, there's over 50 stalls, so there's not less than 50 faces smiling and welcoming me to check out what they are selling.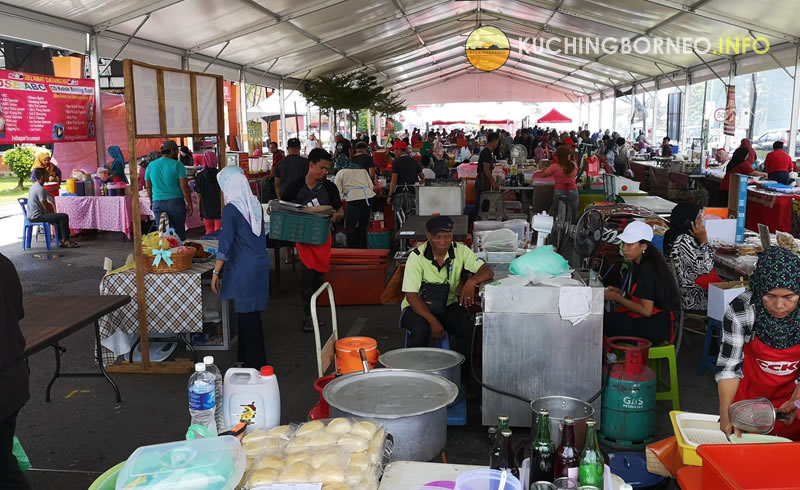 They greet me politely in their true Sarawakian ways as look at the delicacies on offer. Some tell me the process and the specialty of the dishes they made as I browse through.
Others just smile as I look around. No one tries to push too hard to make a sale. Buying something was all 'between myself and my desire'.
SPOILED OF CHOICES
The Medan Niaga Satok Ramadan Bazaar is divided in two main sections, the ready made dishes, and the barbecue section.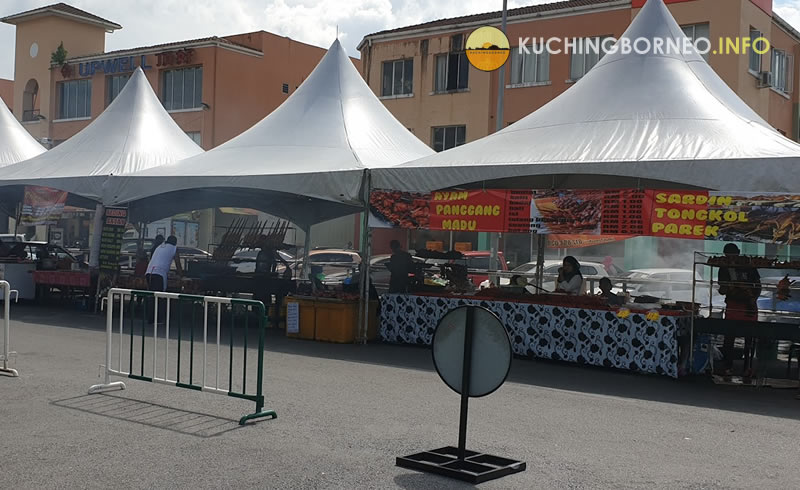 The barbecue section offers a wide array of smoked and barbecue delicacies like chicken, fish, beef, lamb and so on.
Dishes here are re-barbecued upon order so that they remain hot when bought. I didn't stay too long because I didn't like the smoke it presented.
The ready made dishes section houses the most stalls. It's placed under the main canopy with stalls arranged back to back in a long line.
There's cakes, noodles, fried rice, specialty drinks, desserts, and a whole lot of other dishes to choose from. It is a huge melting pot of a variety of dishes from all over the world.
I bought Kuih Tako, which is my wife's favorite, and got myself a bottle of fresh sugarcane juice. I also bought a couple of Kuching layered cake, and noodles for dinner.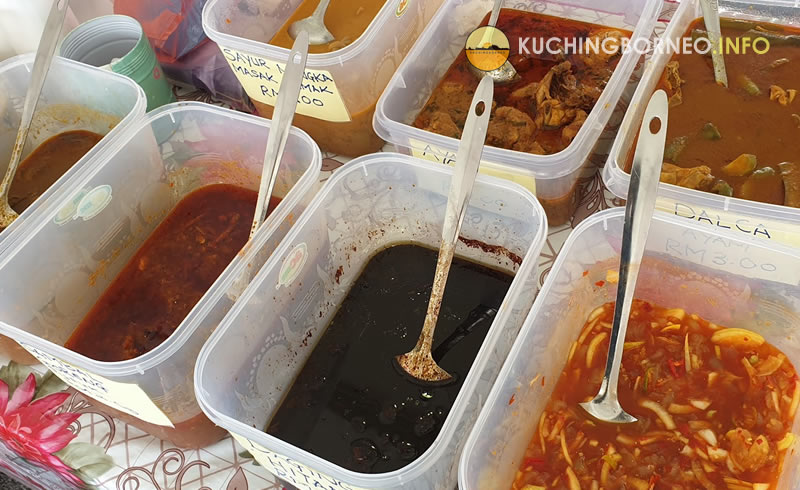 As I do frequent Ramadan Bazaars, I've learned to not over spend. I used to not control my spending at the Ramadan bazaar and sometimes bought more than I could eat because there's just so many delicious looking dishes offered at low prices!
HIGHLIGHTS
As I gaze around the Medan Niaga Satok Ramadan Bazaar, I realized my wife's favorite Kuih Tako seems to be rather rare this time around. Usually, Kuih Tako would be sold in at least three stalls, but I only found one selling it this year at this bazaar.
Kuih Tako is one of the many choices of local cakes on sale at the Ramadan bazaar.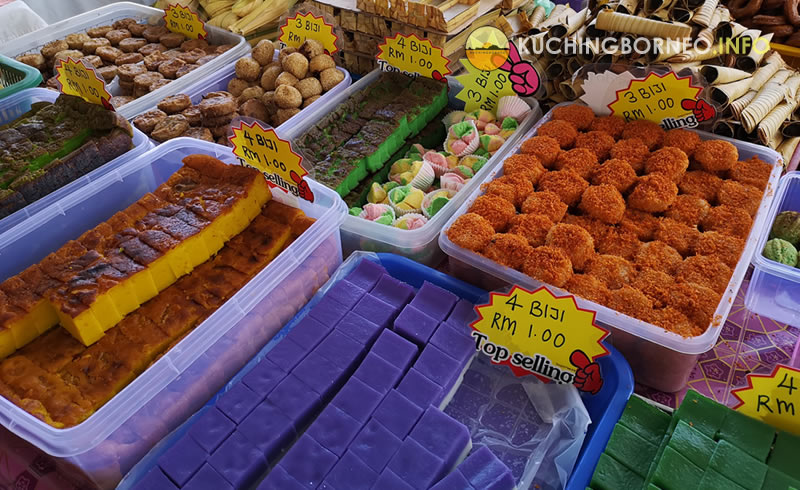 Ramadan Bazaars have always been a great hunting ground for cakes, and this one is no different.
Aside from that, I also thought the bottled sugarcane juice was also a highlight. At RM4  bottle, it was really refreshing.
CONCLUSION
As I left the Ramadan Bazaar, I was happy that I could still enjoy things like this in Kuching.
I can say that the Ramadan Bazaars in Kuching aren't as glorious if compared to those in West Malaysia, but that doesn't mean that they are bad.
In fact, I could say that the bazaars here are largely cleaner with the council doing regular checks on traders.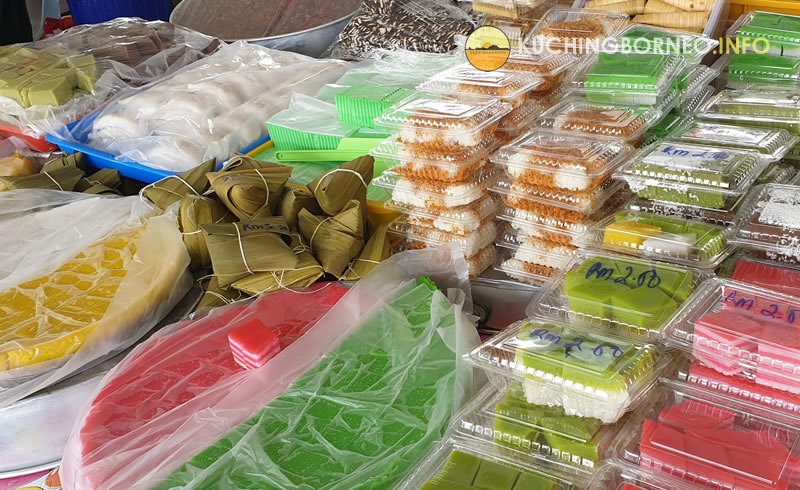 If you do want to check out a Ramadan Bazaar in Kuching, why not learn more about it and where you can go in this post about Ramadan Bazaars in Kuching.
I've also listed Ramadan Buffets in Kuching, if you want to go 'up-class'.
Anyway, until my next post, Selamat Berbuka Puasa!