SUBSCRIBE TO MySARAWAKTELEGRAM TO GET NEWS & UPDATES ON SARAWAK.
Non-Muslim places of worship in Kuching (and Sarawak) will be allowed to operate beginning tomorrow, 24 July 2021.
The announcement was made by the Sarawak Disaster Management Committee (SDMC) with detailed Standard Operating Procedures (SOPs) for these places also made known.
Despite the release of SOPs today, these religious centers will likely only reopen in two weeks time.
SOPs for non-Muslim places of worship
This is because, the SOPs state that priest, monks and caretakers of the facilities must be fully vaccinated two weeks prior to the reopening of their worship places with the facility only allowed to open between 6AM to 8PM.
Aside from continuing all previous SOPs which were in place for non-Muslim house of worships, SDMC also outlined that the number of attendees must not exceed half of the capacity, or 50 people, which ever is lesser.
Non-vaccinated members are also not encouraged to attend functions and prayers with physical distancing well observed during all times.
Children below 12 years of age are still barred from services, and those with chronic disease are not encouraged to attend services as well.
Despite the reopening of these religious centers, SDMC continues to forbid any sort of seminars, courses and non-listed activities in the SOPs.
Only prayers, meetings, weddings and the centre office will be allowed to reopen with limited capacity.
You can download the full SOPs here.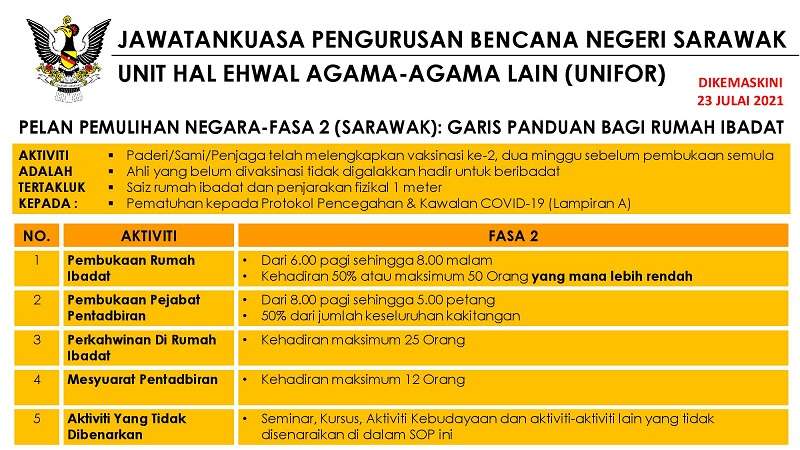 Hope for the better
The reopening of these non-Muslim places of worship would be well received by most as most churches and temples have remained closed for the past year due to the surging number of Covid-19 infections.
With Sarawak now in the second phase of the National recovery Plan (NRP), it is hoped that the number of Covid-19 cases will dwindle and that restrictions will further be lifted to enable more normalcy.
In case you didn't know, non-Muslims religions are govern by Unit for Other Religions (UNIFOR) which is a unit in the Chief Minister's office.
It is responsible for regulating policies to promote inter-religious harmony while evaluating, proposing and formulating policies, laws and regulations related to other religions (non-Muslim) in Sarawak.
For the latest updates on the Covid-19 SOPs, follow SDMC on Facebook.