The Borneo Samariang Water Park will open it's doors this coming 31 March 2018 with attractions keenly awaited by Sarawakians.
Brochures of the water park have already been made available online, and details of the keenly awaited water park have also been leaked out.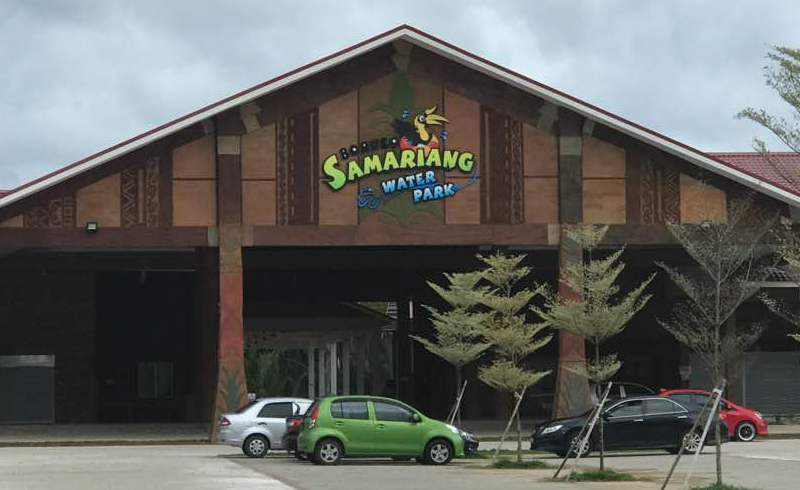 Anyway, here's some brief info on the new water park which is set to open.
WHAT TO EXPECT AT BORNEO SAMARIANG WATER PARK
Borneo Samariang Water Park is built on a 30 acre area in Samariang with four major sections, namely the Water Park Entrance, the Hornbill Island, the Salak Beach, and the Santubong Tower.,
While there's mot much to say about the main entrance, the Horbill Island is dedicated to children as it houses the 'Aqua Pool', the 'Mount Mulu Clearwater River', the 'Leisure Pool' and the 'Pizza Time'.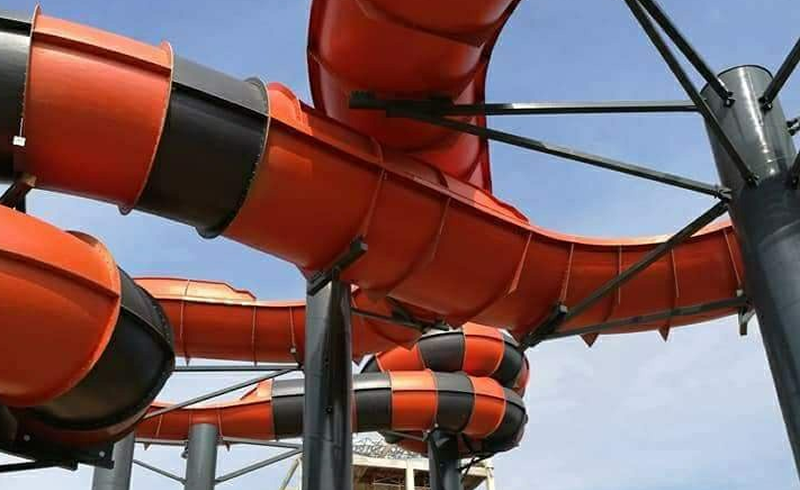 For the adults, there activities at the Santubong Tower would definitely be something to look forward to as there are rides like the 'Family Raft', 'Six-Lane Racer', 'Skydrop Ride', 'Crystal Slide', 'Galaxy Slide', 'Canopy Slide' and 'Garden Terrace', with the tallest water slide being 80m from the ground, which is equal to the height of a six storey building.
The Salak Beach would offer artificial waves for everyone, as it includes cabanas and rest areas.
HOW MUCH DOES IT COST TO ENTER BORNEO SAMARIANG WATER PARK
Like any other waterpark in the world, there's a fee to enter the Borneo Samariang Water Park.  However, compared to other water parks, Borneo Samariang Water Park is largely affordable with rates listed below:
Adults (13 – 59 years old) : RM38.00
Children (90cm – 12 years of age) : RM28.00
Senior Citizens (60 years and above) : RM28.00
For children below 12 years of age, as well senior citizens, proof of age will be required, especially if the child doesn't look like he or she is younger than 12, or he or she doesn't look above 59 to be considered a senior citizen.
Also note that some items would also be chargeable within the park as seen below.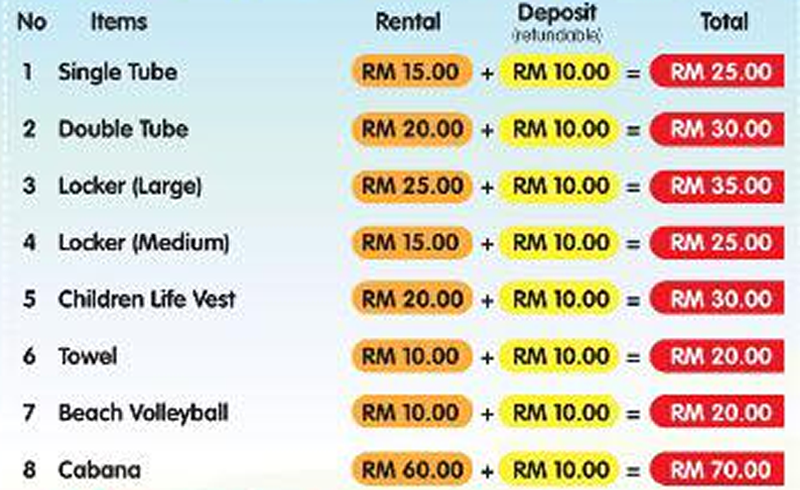 Since you are playing with water, it is very likely you will need to rent a locker and also reload some cash in your wrist band for food as outside food is not allowed in the water park.
DRESS CODE AT THE WATER PARK
Borneo Samariang Water Park is enforcing strict dress code for guest. According to their brochure, t-shirt, shorts and swimming attire/suit (both Muslimah swimming suits as well) are allowed to be used in the pools. Also allowed are sun suit, bikinis, swim shoes and swimming trunks.
If you intend to play in the slides, please note that eye wear such as sunglasses and google are not allowed in the slides. Other forbidden items in the slides include jewelry, buckles and studs. These items can be used in the pools.
Other type of dressings which are not mentioned above are forbidden in the pool and slides, so do dress and pack accordingly.
WHERE IS BORNEO SAMARIANG WATER PARK?
In case you are wondering, Borneo Samariang Water Park is located within the Samariang Resort City which is a development spanning some 500 acres in Kuching Division, Sarawak. The Water Park sits nearby many residential area, and an up-coming and thriving commercial area.
The map below would give you a better idea of where Borneo Samariang Water Park is located.
WHEN AND HOW TO GO TO BORNEO SAMARIANG WATER PARK
Getting to the Borneo Samariang Water Park is slightly complicated as the Borneo Samariang Water Park is located far from Kuching City, hence my advice that you take a cab, or hire ride sharing drivers in Kuching from Grab or Uber.
I am personally not aware of any public transportation aside from taxis and tour buses heading to the water park, so booking a private driver is your best option.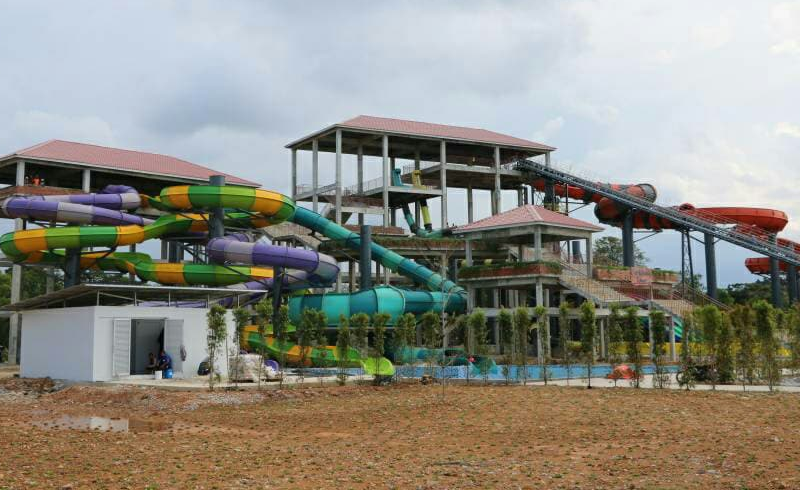 But if you own a driving license, and you are adventurous, you can choose to rent a car in Kuching as rates are pretty much very cheap.
Before you go, make sure you are aware that the Samariang Water Park closes on Tuesdays, and operates from 10AM to 6PM on weekdays, and 9AM to 6PM on weekends and school and public holidays. Note also that the park management can alter operation hours accordingly, so do check the latest hours on their official Facebook page.
CONCLUSION
Borneo Samariang Water Park is definitely a nice addition to Kuching which is an emerging tourist destination in Asia, and I can see locals like myself also spending countless times here with our families.
However, if you aren't in Kuching to play with water, a hiking trip up Mount Singai might interest you if you are adventurous, or visiting some of many Kuching malls would be perfect for those wanting to shop.
When you are hungry, eating exotic Dayak food is usually the best way to enjoy Kuching, but don't forget that Kuching also offers some of the best seafood options in Malaysia as prices are low, and the seafood is fresh.
Note: All photos used in this post are from Borneo Samariang Resort City, unless stated.