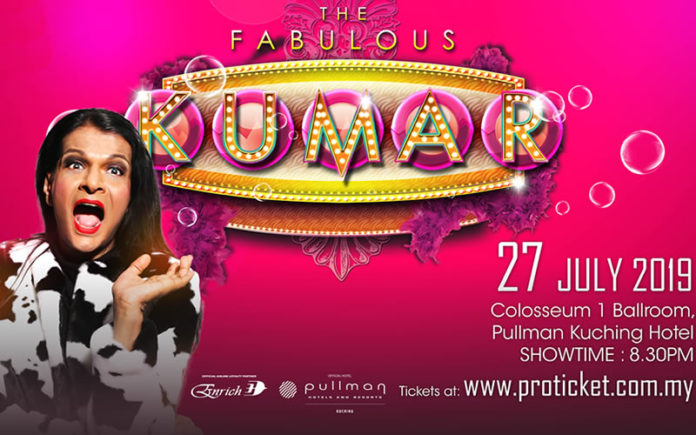 'The Fabulous Kumar' show is coming to Kuching and those following the stand-up comedy scene like I do will definitely be thrilled.
The show features Kumar, a well known stand-up comedy performer best known for the ability to poke fun at all things controversial.  The last word 'controversial' is key here.
Both of Kumar's previous shows, the Kumarsutra in 2017 and Kumar 50Fifty last year, made it to Kuching.  This proves that there's no depriving us Kuching people of good comedy.
WHO IS KUMAR?
Probably you've never heard of Kumar.  It's okay. I understand.
Not everyone follows the comedy scene like I do.
However, if you need an idea of what Kumar does on stage, the video below will definitely help.Kumar is actually recognized as a National Icon and has been in the entertainment industry for more than 25 years.
According to a press release I received, Kumar has entertained millions up to this day.  I believe Kumar's 'brave jokes' are key to making him very popular.
Kumar is also great at engaging the audiences during his shows, so those seating in the front row seats, hehehehe…
Kumar shows have been widely popular and for the organizers to include Kuching as one of its stop must mean something.
That said, if you are 'small minded', berhati-tisu, mudah terasa, you'd probably want to skip this show-lah.
WHEN IS THE FABULOUS KUMAR SHOW
The Fabolous Kumar show has been scheduled at the end of July 2019 at Pullman Kuching.
Details of the show are as below.
Date : 27 July (Saturday) 2019
Time : 8:30 pm
Venue : Colosseum 1, Pullman Kuching Hotel
Age Limit : 18 & above
Ticket Price : RM129 – RM239
HOW TO BUY TICKETS
'The Fabulous Kumar' show in Kuching is partnered by Enrich by Malaysia Airlines – Official Airline Loyalty Partner and Pullman Kuching Hotel – Official Hotel.
That said Enrich members are eligible to earn Enrich Miles when making their purchase online through Proticket Malaysia. (Terms & Conditions Apply).
Tickets for the show are available through Proticket Malaysia with tickets price ranging between RM129 to RM239. Each ticket is broken into the following:
VIP : RM239
Gold : RM179
Silver : RM129
Last time I checked, seats are selling fast, so hurry if you want to watch the show.