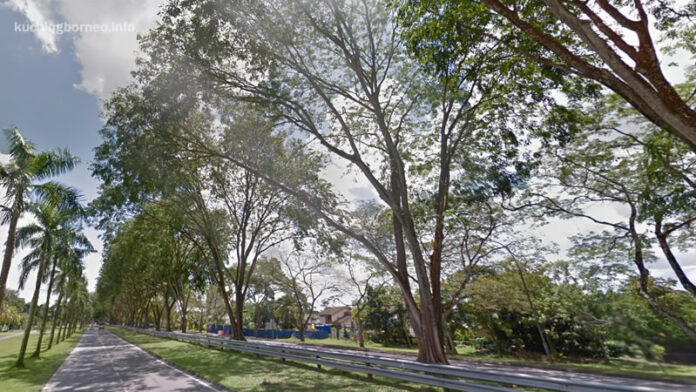 Late last year, questions were asked why the Kuching North City Hall (DBKU) was cutting down massive Angsana trees which lined along Jalan Tun Abdul Rahman Yakub.
The move by the city hall was not popular among some Kuching residents as the trees are over 30 years old, and are considered precious to many due to its age while at the same time providing beautiful landscapes and shade for motorist driving along the road.
The trees also served as a popular pre-wedding backdrop as couples and newlyweds would usually take their photos with the massive trees showing off their might along the road as background.
Fact is, driving under the trees during a hot sunny day is a joy because the whole stretch feels cool and calm.
But things are different when it rains.
These trees pose danger to motorist as they could snap and fall anytime.
Such concerns had caused DBKU to act by cutting down some 200 trees under their jurisdiction.
According to Assistant Minister in the Chief Minister's Department (Islamic Affairs and DBKU) Datuk Dr Abdul Rahman Junaidi, those trees were already 30 to 40 years old and their branches started to fall off on their own.
This posed threat to road users especially during heavy rain and storms.
"The branches of the trees fell on their own and hit passing vehicles. This year alone there were seven incidents, which had caused accidents." he told Borneo Post in December 2020.
"In the past few years there were two deaths that resulted after fallen branches hit vehicles." he added.
The move to cut the trees was actually made known in March 2020, but members of the public only took notice when work started.
It is understood that DBKU will plant shorter trees to replace the Angsana trees which were chopped.