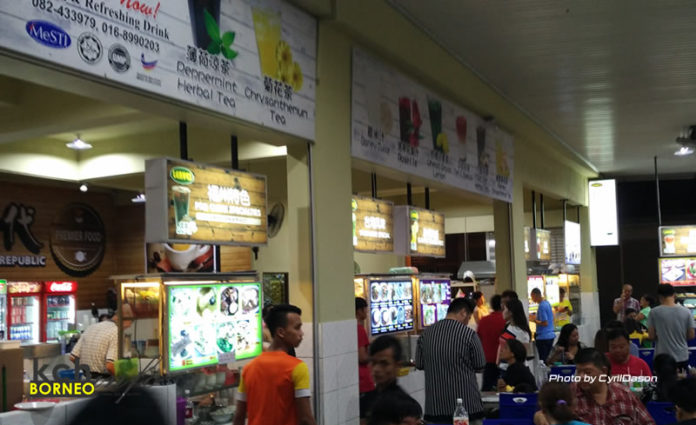 SUBSCRIBE TO KUCHINGBORNEO.INFOTELEGRAM TO GET NEWS & UPDATES ON KUCHING.
The Sarawak government today Sarawak dine-in SOPs for eateries in Sarawak which will be allowed to operate for dine-in services from tomorrow, 16 July 2021.
Among the most important SOPs is the need for workers to be vaccinated before working.
The move comes after the government had, at the eleventh hour, previously decided to cancel lifting the dine-in ban in Sarawak despite the region already moving into the second phase of the National Recovery Plan (NRP) which allows dine-in.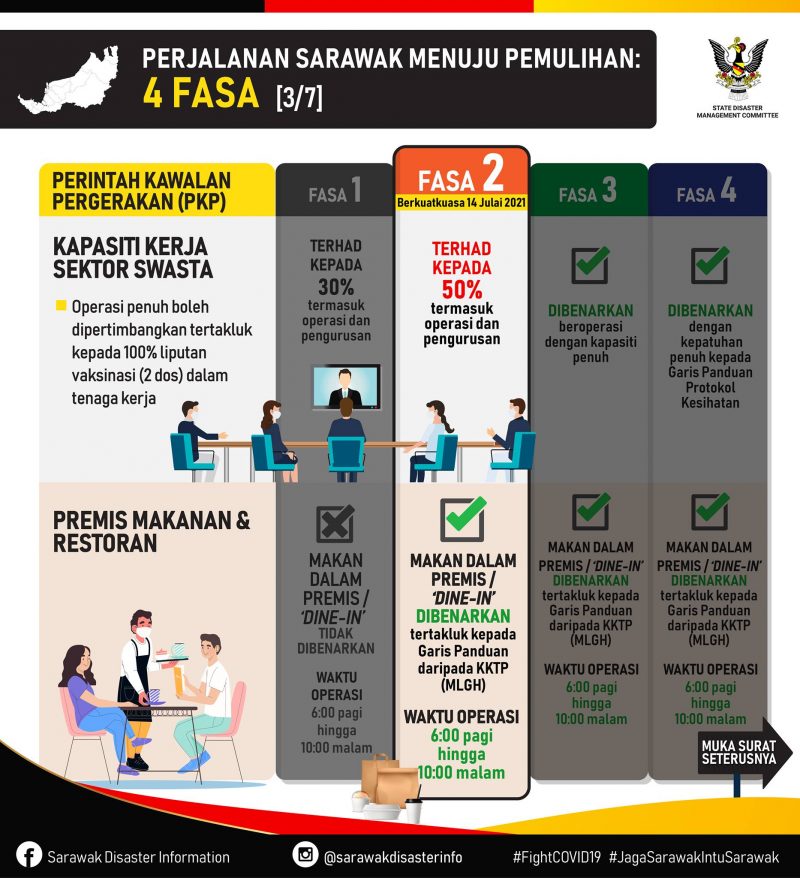 Standard Operating Procedures (SOPs) for dine – in had already been announced by the  Sarawak Disaster Management Committee (SDMC) after the new allowance was made public.
The Phase Two of the NRP also means that business hours will now be extended for 6AM to 10PM.
Sarawak dine-in SOPs for customer & seating
There isn't much difference between past SDMC dine-in SOPs with the new one.
The temperature scanning, MySejahtera scanning and having temperature below 37.5 degrees Celsius remains a pre-requisite before one enters the premises.
According to the SOPs released by SDMC, shops allowing dine-in must not take in more than 100 customers, or half of its capacity.
On top of that, the maximum number of customers allowed on a 2m table is six at one time with re-arrangement of tables and chairs which will disrupt social distancing not allowed.
The SOPs also state that each table must be 2m apart, and each customer must be 1m apart.
Customers must not be a Person Under Surveillance (PUS) or a Patient Under Investigation (PUI), and their MySejahtera must record themselves as being "Low Risk".
Another new SOP is the need for the premise to have proper air ventilation.
Sarawak dine-in SOPs for workers and dine-in operators
For stall operators, workers in the restaurant/shop need to at least have one dose of vaccination in order to work.
They are also required to have a temperature below 37.5 degrees Celsius and must wear a face mask properly at all times.
Aside from that, workers at the shop must also scan MySejahtera and not be marked as someone under surveillance (PUS).
Like customers, they must also scan MySejahtera prior to entering the premises.
The full SOPs can be seen below.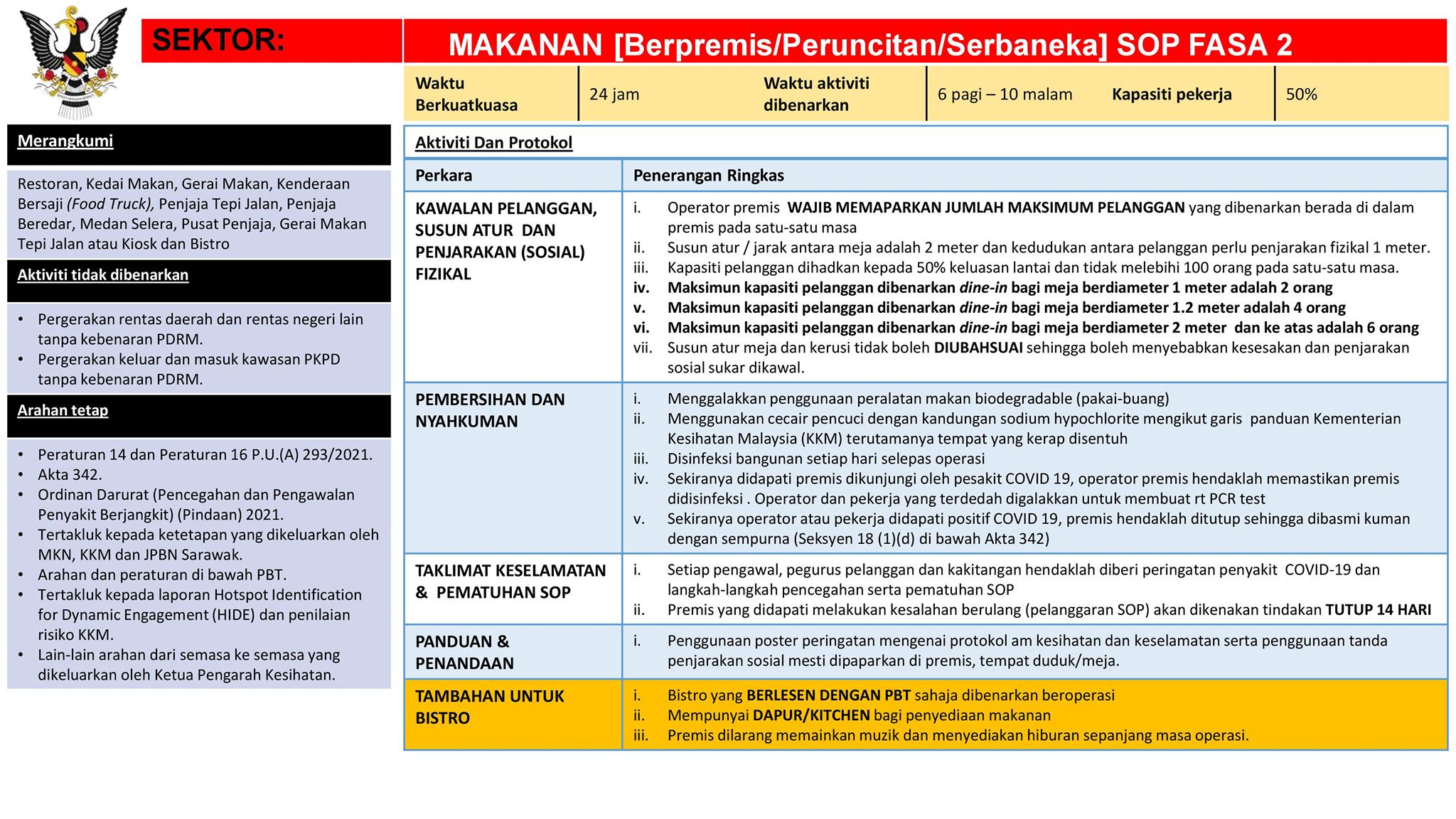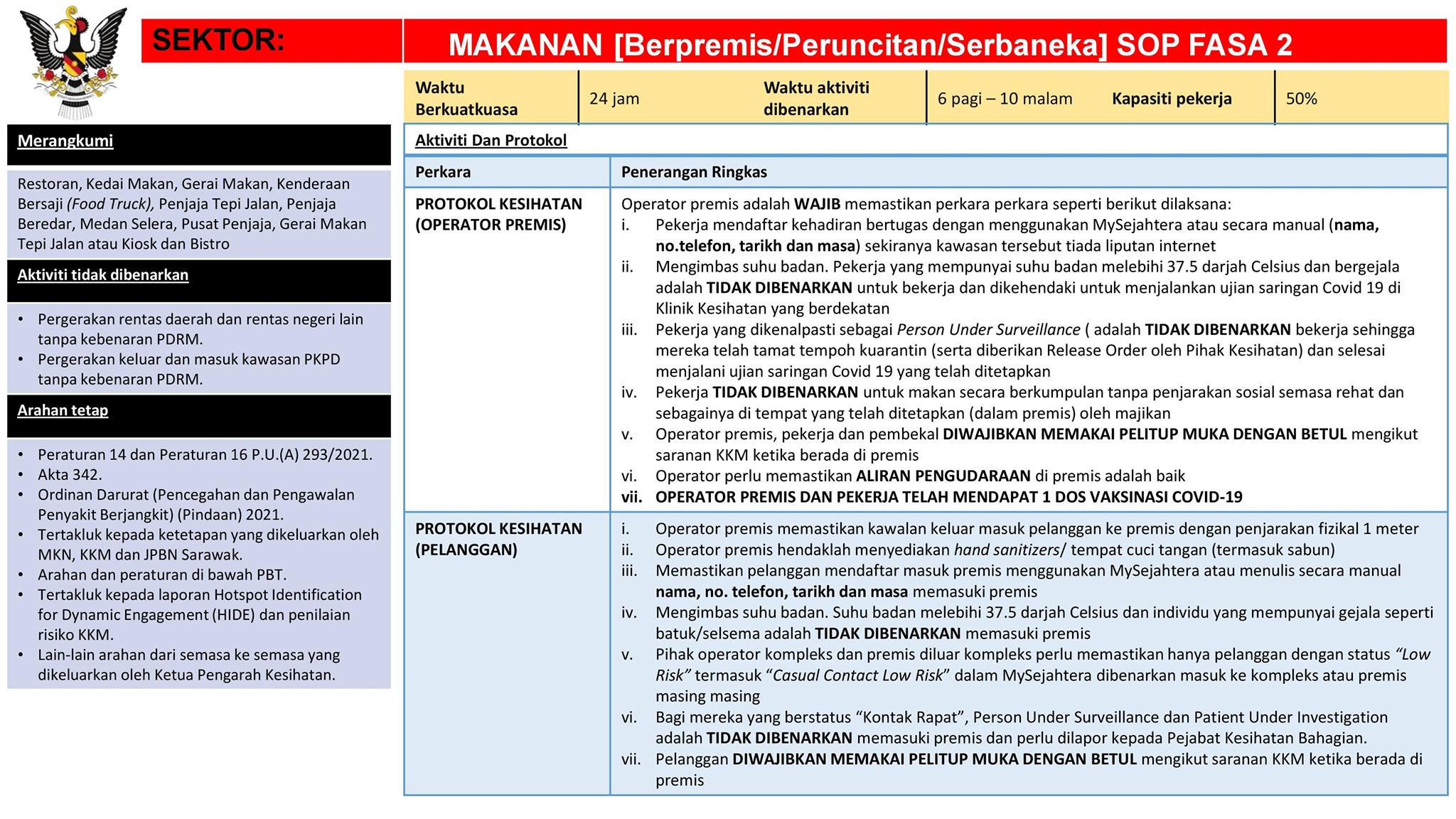 What dine-in means to many
Dine-in means that many will get to enjoy their favourite dishes fresh from the stove.
It is something many have missed since Sarawak declared a complete Movement Control Order (MCO) in May.
Mee Kolok in particular will be well eaten since tapao-ing the dish makes it rather 'square'.
While the number of food shops re-opening for dine-in will gradually increase, the move to insist only vaccinated workers can work will help push for increased vaccinations.
It is therefore hoped that the number of Covid-19 cases will continue to dwindle and that most eateries will be able to remain open.
By the way, if you are not in Sarawak and you want to eat Mee Kolok or Sarawak laksa, you can try locally produced ones.