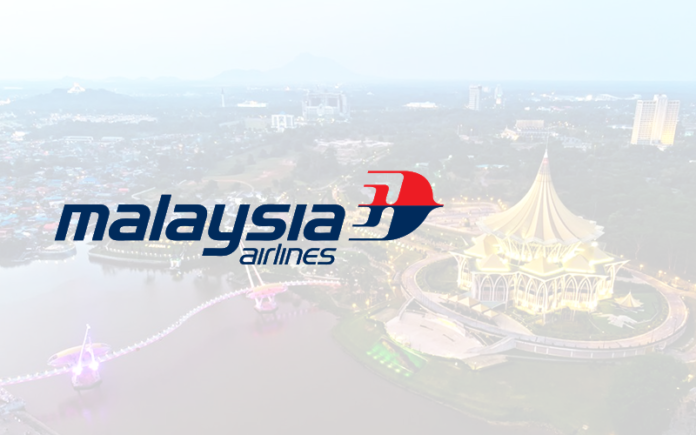 SUBSCRIBE TO MySARAWAKTELEGRAM TO GET NEWS & UPDATES ON SARAWAK.
The Ministry of Transport Sarawak has released the Kuching Covid-19 flight schedule today.
So, if you intend to leave or fly into Kuching from outside of Sarawak, then this is important to you.
The Sarawak Disaster Management Committee (SDMC) today announced that there would only be a maximum of three commercial flights to Kuching.
The flights will be offered by Malaysia Airlines (MAS), AirAsia, Malindo Air and SCOOT.
Kuching Covid-19 flight schedule: 13 flights in total
Flights to and from Kuala Lumpur take up the bulk of the flights, with MAS and Malindo offering five flights weekly, while AirAsia offers just two flights.
Kuala Lumpur is the only domestic destination outside of Sarawak.
The second and only international destination operated from 15 January 2021 is Singapore, with SCOOT flying only one flight to the republic.
The single flight by SCOOT arrives on Sunday at 9PM.
In total, there's 13 commercial flights arriving into Kuching International Airport with Sunday having the most flights.
The Kuching covid-19 flight schedule can be seen below.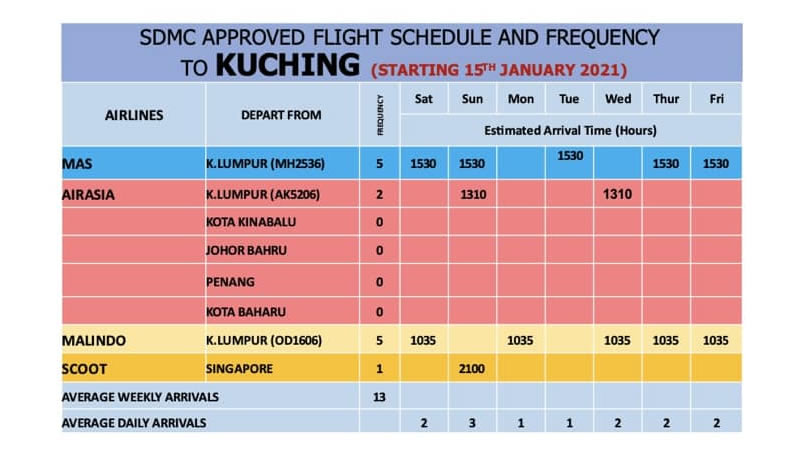 Kuching Covid-19 flight schedule follow quarantine room capacity
The reduction of flights into Kuching (and Sarawak) is not unexpected.
SDMC had said that the number of incoming flights to Sarawak (which include Kuching) will no longer be according to demand, but rather according to the availability of quarantine rooms at designate quarantine centres.
The move is to ensure all arrivals in Sarawak will be able to undergo the full 14-day quarantine as required by SDMC.
Airlines have also been advice by the Ministry of Transport Sarawak to only sale tickets on approved flight schedules.
Trying to reduce numbers of Covid-19 infections
Last week, Sarawak was hit hard with three digit Covid-19 infections as new clusters emerged all over Sarawak.
The spike was believe to had happened after the government relaxed the mandatory 14-day quarantine period for arrivals from outside the state.
Those able to show a health declaration that states they are not infected by Covid-19 were allowed shorter quarantine at designated centres, and asked to later observe home quarantine.
The inadequate number of quarantine centers was one reason such measures were taken.
Unfortunately, such move saw an immediate spike in Covid-19 cases, with Sarawak recording triple digit infection rates in a day. The infection rate was at its peak yesterday, with 180 cases detected, mostly from Sibu.
SDMC chairman, Datuk Amar Douglas Uggah Embas later apologized for the mistake, and reinstated the mandatory 14-day quarantine at dedicated hotels.
To address the lack of quarantine rooms, SDMC also announced they would match the number of flights with the number of incoming flights, as they promised they had learned from the mistake.
More restrictions imposed
In line with the upward trend of Covid-19 cases in Sarawak and Malaysia, SDMC has called members of the public to stay at home.  Those having close contact to Covid-19 patients were also urged to get themselves tested.
The committee also started publishing locations where Covid-19 infected patients had visited. They also started isolating three major zones with high Covid-19 infections with some longhouses in Sibu also been placed under the Movement Control Order (MCO) which will further restrict their movements.
SDMC also now requires all intending to enter Sarawak to adhere to new Standard Operating Procedures (SOPs) including getting a negative Covid-19 health declaration prior to entry to Sarawak from tomorrow (16 Jan 2021) onwards.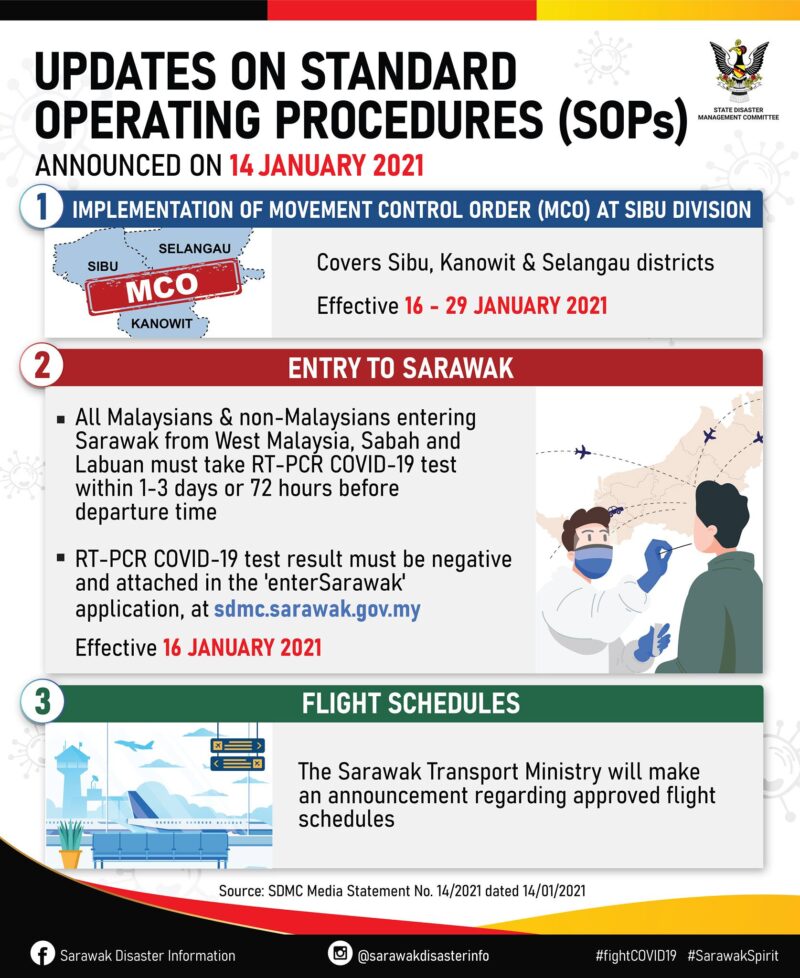 The move is seen as necessary since the virus has now penetrated the rural areas of Sarawak.
So far, the move seems to have worked with Sarawak recording less infections today.
However, with more active testing being done in high risk areas, the number is not a viable indication if things are improving.
That said, it is wise that all of us refrain from going out unnecessarily so that the Covid-19 chain of infection can be reduced significantly.
We did it countless times, and there's no reason why we can't do it again successfully again this time.