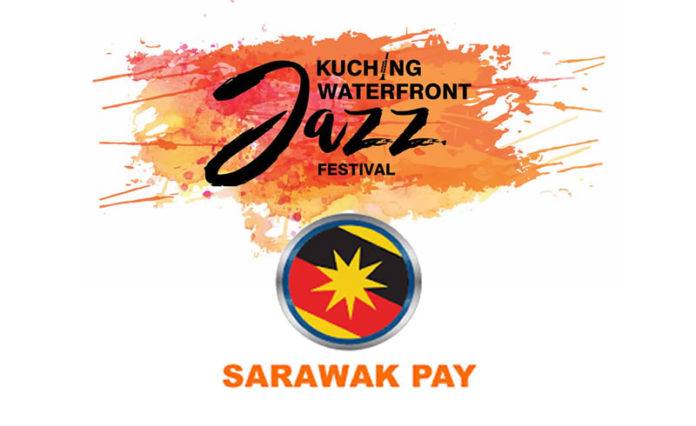 SUBSCRIBE TO MySARAWAKTELEGRAM TO GET NEWS & UPDATES ON SARAWAK.
The annual Kuching Waterfront Jazz Festival (KWJF2019) returns with the use of Sarawak Pay as an option for payment on the 27th & 28th September this year.
The festival will be held at the Waterfront Walkway, Grand Margherita Hotel.
Sarawak Pay is a popular cashless eCommerce app used in Sarawak.  According to the organizers of the festival, those using Sarawak Pay to buy their KWJF2019 tickets stand to enjoy discounts.
Performers at the 3rd KWJF include Ning Baizura (Malaysia), Saxx In The City (Indonesia), Sitti Navarro (Philippines), Ushera (Malaysia), Nisa Addina (Sarawak), Dave Brewer & The DooDaddies (Australia) and Z Yan (Malaysia) and more to be announced soon.
The jazz festival was created in 2017 by Sarawak Economic Development Corporation (SEDC) to highlight the Kuching Waterfront and to serve as a platform to nurture local music talents as well as supporting local businesses.
"Through the KWJF Jazz Band Search talent competition, local bands get a chance to perform in the concert line-up alongside other performers and we hope this helps to create more exposure for them," said Mr. Edwin Abit, SEDC Deputy General Manager (Commercial Sector) recently.
"Additionally, this year we have partnered with Sarawak Pay app to encourage e-commerce and cashless transactions. In fact, there is a special discount only for those who purchase KWJF tickets using the Sarawak Pay app," he further added.
Apart from the music concert, KWJF2019 promises its festival goers various offerings of food and beverages, arts, crafts, activities and workshops. The family-friendly event is a free-standing event with several screens and lounge areas across the festival grounds.
Do read my preview of the KWJF2019 if you want to know more about this year's festival.
Else, you can also read my complete guide on the Kuching Waterfront Jazz Festival itself, or read about my experience at the KWJF2018, or watch my vLog on the festival.