The Kuching Waterfront Jazz Festival 2019 (KWJF2019) will be happening on 27 – 28th September 2019.
This year, organizers of the the festival have decided to prepare earlier in anticipation of more festival goers.
On a personal note, I really enjoyed my first time at the jazz festival last year and you can read about it here.
READ ABOUT MY EXPERIENCE AT KWJF2018
PERFORMERS OF THE KWJF2019
The Kuching Waterfront Jazz Festival 2018 had the likes of Dayang Nurfaizah, which makes the task to top last years festival pretty difficult.
However, the initial line-up this year will see Ning Baizura headline the performers line-up together with Nisa Adinna, Dave Brewer and Doodadles and Zyan.
The full artist list is as follows:
1. Ning Baizura (Malaysia)
2. Harvey Malaihollo (Indonesia)
3. Saxx In The City (Indonesia)
4. Xanaduduo (UK/Sarawak)
5. Z Yan (Malaysia)
6. Q Sound (UK/Malaysia)
7. Dave Brewer & The DooDaddies (Australia)
8. Ushera (Malaysia)
9. Nisa Addina (Sarawak)
10. Sitti Navarro (Philippines)
11. Dawn Wong & The Shanghai Jazz Club (Singapore)
One more performer would be from Sarawak and selected from the Jazz Search competition done in Kuching.
THE KWJF 2019 SCHEDULE
Since the festival is still months away, there is yet to be a festival guide prepared.
Do come back to this post in the future and I will update you when I get the latest information.
DOWNLOAD THE KWJF 2018 FULL SCHEDULE (NOT AVAILABLE YET)
THE JAZZ FESTIVAL FOOD BAZAAR
The food bazaar at the Kuching Waterfront Jazz Festival 2019 will be definitely something to look forward to during KWJF2019.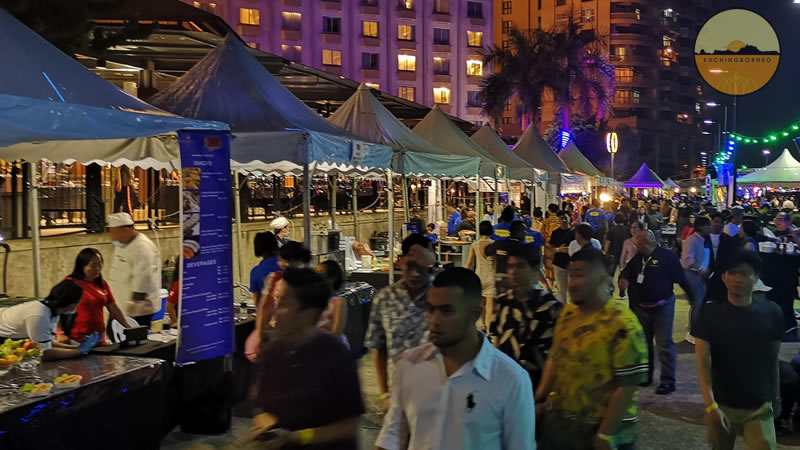 It will feature local and international dishes, and you will be able to enjoy your meal just beside the Sarawak river while enjoying the mesmerizing sunset of Kuching.
Drinks come in the from of wine, beer, fruit juices and many more.
Food prices are slightly higher than usual, but the quality of each dish is definitely there.  There is word that KWJF2019 will encourage ewallet SarawakPay during the festival hence making it a good idea to download the wallet and fill it up before you go.
DOWNLOAD SARAWAKPAY (ANDROID) DOWNLOAD SARAWAKPAY (IOS)
THE CRAFTS AND ARTS BAZAAR AT THE KWJF2019
The crafts bazaar would bring Sarawak's fine crafts and art to the festival.  There would be also sales of performers music and souvenirs.
Last year, there was also limited edition Kuching Waterfront Jazz Festival 2019 tshirts on sale at the crafts bazaar, so I do expect this to continue again this year.
WHERE TO BUY TICKETS FOR THE KUCHING WATERFRONT JAZZ FESTIVAL 2019
There has not been any increase for the KWJF2019 tickets. In fact, compared to last year, the prices of this years' festival is lower for adults.
Early birds will get further reduction in their ticket price, while those opting to buy before the festival still get to save on their purchase.  Please note the last day each offer ends to ensure you do not miss out on the cheaper tickets to the festival.
Special discounts have also been announced if you pay for the tickets using SarawakPay, but the value of discount was not elaborated.

You can pre-purchase your tickets online at the link below.
BUY KUCHING WATERFRONT JAZZ FESTIVAL 2019 TICKETS
If you want to save, I highly encourage you to pre-puchase your tickets as tickets might be sold out fast. This is judging by the fact that the event was already popular last year despite the fact it was the first.
IMPORTANT KWJF FESTIVAL GUIDELINES & TIPS
In order to enjoy the Jazz festival to the fullest, please observe the following tips.  These tips are lifted from the organizers.
Parking would be available at, Grand Margherita Hotel, Riverside Majestic Hotel, UTC carpark, Tun Jugah Shopping Complex
Rain or shine, this event is solely outdoors.
There is however a marquee!
It is a free standing event. Expect to sit on the ground and have fun! That being said, bring along some floor mats etc
Always keep your coded wrist band intact
Each wrist band is good for one person.
Dress to the nines or better, dress for a night of fun and relaxation.
Umbrella and rain coat in case it rains
For ladies, forget your high heels. Wear comfy dance shoes instead
Variety of food and drink counters available in a picnic atmosphere
Information counter, First Aid Station and public toilets are available for your convenience
Merchandise/CDs/Souvenirs are on sale. Don't forget to get something for yourself.
Be there early.  There are usually long queues at the gate for tickets or access to the venue due to ticket verification and other security measures.
Please do not bring non-permitted items (knives, sharp items) as they will be confiscated.
No outside food & drinks and animals are allowed to be brought inside the venue.
I have also added some tips based on my personal experience going to the festival. They are:
Come early. The opening acts are pretty impressive!
Don't bother to drive. Take a cab, taxi or use GRAB (link below)
Bring cash because ATMs are quite a distance
Pack light
Make sure your bag is waterproof or you have plastic bags
Slippers are best. Shoes can get dirty if it rains.
GETTING TO THE KWJF2019
The Kuching Waterfront Jazz Festival 2019 will at the MBKS Community Hall in Padungan.
The shift in venue is due to the haze situation in Kuching which reached over 200 API in recent days.
If you are staying at hotels located within Kuching city centre, you may need to find a ride to go to the MBKS community hall.
If your hotel is quite far, or you are from out of town, the Google Map below would still be a major help, although using GRAB would be highly encouraged.
On your GRAB App, just look for the Padungan Community Council, and rates for your transportation would be displayed. Else, take a cab/taxi and ask them to take you to the location.
WHERE TO STAY DURING THE KWJF2019?
The best place to stay for the Kuching Waterfront Jazz Festival 2018 is of course the Grand Margherita Hotel Kuching. It is of course the venue of the festival and you can see the venue from your hotel room window.
BOOK A ROOM AT GRAND MARGHERITA HOTEL
Imperial Riverbank Hotel Kuching is also very close to the venue, making it my second choice if I went to the KWJF.
BOOK A ROOM AT IMPERIAL RIVERBANK HOTEL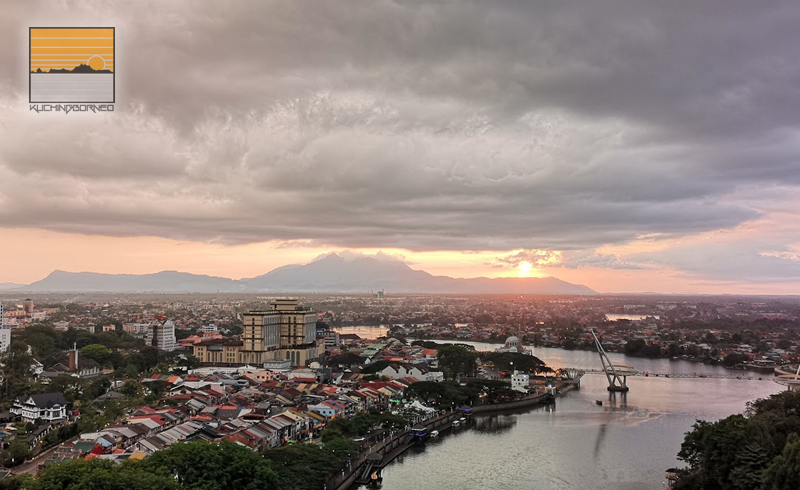 Other good choices include Riverside Majestic Hotel and Hilton Kuching, both just minutes from the venue itself. In my opinion, Riverside Majestic offers luxury at amazing prices (You can read my personal review here), while Hilton is a trusted brand by itself.
BOOK A ROOM AT HILTON HOTEL KUCHING
If the three hotels are not your choice, or are fully booked, check out this list of hotels in Kuching City Center. I've compiled them specifically to help those unfamiliar with Kuching. These hotels are within the Kuching City Centre, and a walking distance to the Kuching Waterfront Jazz Festival Venue.
RELATED ARTICLE AND TIPS ABOUT THE KUCHING WATERFRONT JAZZ FESTIVAL
I constantly update tips and local guides about my hometown to ease tourist and travelers. I believe this would be great help for anyone coming to Kuching.
You can read them in the links below:
P/s: I will update this post from time to time, so bookmark it to get the latest details on the KWJF2019! – Last updated 22 June 2019.