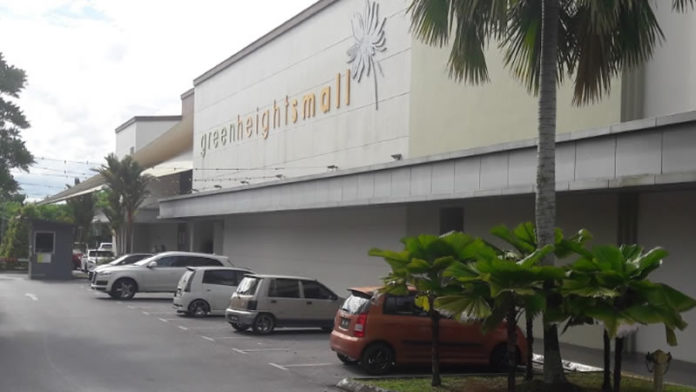 Green Heights Mall Kuching prides itself for being 'a neighborhood small mall', serving those around Green Heights in Kuching.
Opened in 2008, the three storey mall includes one basement parking space and two retail outlet floors.
The mall was developed by property developer PSB Properties, a subsidiary of Permodalan Sarawak Berhad.
Green Heights Mall pushes for eco-friendly and green campaigns on its premises. These efforts see the mall and its tenants push for participation in the usage of eco-friendly shopping bags, mini-recycling bins placed around the mall, the optimal use of natural lighting and energy saving bulbs, and bicycle parking to promote healthier transportation alternatives.
On the weekends the mall usually runs a flea market on the ground floor where shoppers can find unique products made by local artisans
HOW BIG IS GREEN HEIGHTS MALL KUCHING
The mall has over 42,000 sq ft of commercial area and it spans over two storeys; the ground and the 1st floor.
FACILITIES AT GREEN HEIGHTS MALL
Facilities at Green Heights Mall Kuching include secured basement and outdoor parking, recycling stations and 24 hour security.
The mall is the only in Kuching so far with bicycle parking.
GREEN HEIGHTS MALL OPERATING HOURS
Like most business in Kuching, Green Heights Mall opens from 10AM daily.
They do however close earlier than most malls, which is at 9PM.
HOW TO GO TO GREEN HEIGHTS MALL
The mall is slightly hidden from Jalan Tun Jugah, which is a main road to the Kuching International Airport.
However, it is visible from Jalan Datuk Bandar Mustapha. To get here, check out the map below.
Using ride sharing apps such as Grab, or hailing a taxi is the best way to get to this mall.
TIPS ABOUT GREEN HEIGHTS MALL
Park near the entrance. The mall is pretty small and isn't too packed so parking is quite easy.
HOTELS NEAR GREEN HEIGHTS MALL
While quite far from the city centre, hotels are available nearby Green Heights Mall.
These hotels are located just minutes away from the mall:
If you need more hotel options, check out HotelsCombined.com for best room rates in Kuching.
SHOPPING IN KUCHING
Kuching is home to a good number of shopping malls and shopping destinations, as the city slowly cements itself as a shopping paradise among locals and tourist.
The growing number of shopping malls in Kuching has grown significantly in the past ten years with the number of dedicated malls listed in out Kuching Shopping Malls guide.
For fresh groceries, Kubah Ria in Satok is the biggest wet market which not only has a huge variety of fresh jungle produce on a daily basis, but also houses the weekly and busy Satok Sunday Market.
Souvenir seekers on the other hand can check out our list of Kuching's best souvenir locations or just indulge in some perfect hotels near the beach in Kuching.
Recommended reads
Find a hotel in Kuching