SUBSCRIBE TO KUCHINGBORNEO.INFOTELEGRAM TO GET NEWS & UPDATES ON KUCHING.
Yesterday, premium beer brand HEINEKEN Beer curated a special Dayak food and beer pairing menu yesterday.
The event saw its iconic beers, stouts and ciders matched with the exciting flavours present in traditional Dayak cuisine. Dayak food can be found easily in Kuching as listed in KuchingBorneo's Dayak food guide.
The pairing session was done to enhance and elevate meal experience, hence opening a whole new way of balancing and contrasting flavours on the plate.
During the event, Ng Eng Kiat, Corporate Communications Manager of HEINEKEN Malaysia said, "As Malaysia's leading brewer, we at HEINEKEN have always been committed to bringing enjoyment to consumers around the world. Whether celebratory, or in times of building friendships, beer is representative of human desire to share and celebrate new beginnings. This Gawai, we want to celebrate that through good food and good beer. The accentuating notes and flavours of our portfolio can make a good meal great. With this event, we hope to share a whole new way of experiencing traditional flavours on a plate."
The traditional Dayak dishes which were paired were prepared by Livan Lah, owner and chef at LEPAU Restaurant, Kuching.
She prepared Pansuh (Bamboo) Chicken, Dayak Sour Eggplant with Smoked Beef, Dinuh (Kayan Traditional Glutinous Rice Fritters), Stir Fried Rubbed Tapioca Leaves with Tepus, and Orang Ulu BBQ Platter; all of which were enjoyed with a range of HEINEKEN Malaysia's beers, stouts and ciders.
Each was carefully selected and paired to match the flavour profiles, textures and aromas of the traditional Dayak dishes.
To know the pairing of Dayak food and beer, read on below.
DAYAK FOOD AND BEER: There's a beer for that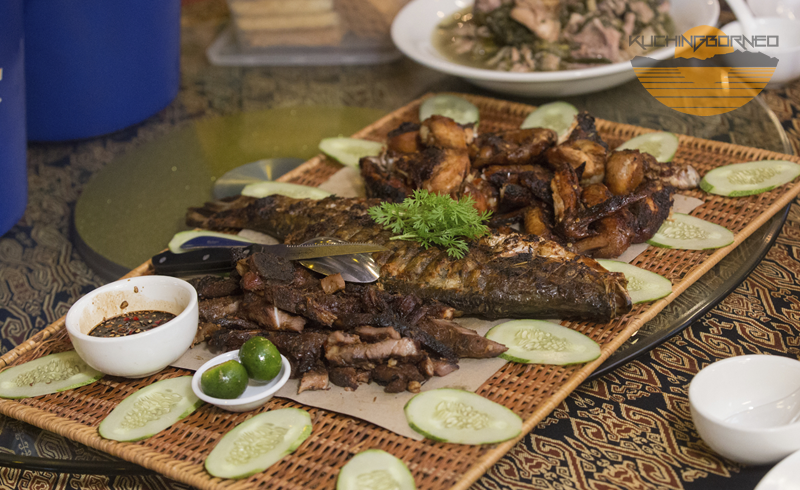 Lager is the world's favourite type of beer and can be paired with a wide range of food from sweet to savoury.
Tasting Notes : Peppery bitterness, clean, gentle, sweet
Food Match : Pansuh Chicken, Stir Fried Rubbed Tapioca Leaves with Tepus, Orang Ulu BBQ Platter
Best Paired with : Beef, Seafood, Noodles, Light Cheeses
Stout is the darkest beer of them all. The colour and flavour derive from the dark grain used to make them – including roasted malt, roasted barley, or other dark grains. These ingredients produce bold flavours – expect espresso, chocolate and roastiness.
Tasting Notes : Roasty, chocolate, espresso, dried fruits
Food Match : Dayak Sour Eggplant with Smoked Beef
Best Paired with : Beef, Chicken, Seafood, Dessert
Cider is primarily made with apple juice and is a refreshing alternative to beer, especially for those who prefer something a little sweeter on the tongue.
Tasting Notes : Tangy, crisp dryness, refreshing
Food Match : Dinuh (Kayan Traditional Glutinous Rice Fritters)
Best Paired with : Chicken, Pasta