The construction of Kuching's first ever Gothic architecture church had begun today with a special blessing conducted to mark the earth breaking of the church.
Owned by the Catholic Church, the St Peter's new church is expected to be completed in four years.
Construction of the church will take two years, while another two years will be used for interior and furnishings.  The total cost of construction is RM38 million.
According to the DayakDaily report, the church is set to be "one of the most prominent landmarks in Kuching landscape" once completed.
The same report also noted that the new St Peter's Church is beautified with stained glass windows made by Italians. These men are already in the Kuching and will work on the glass in Kuching.
Online daily Borneo Post mentioned that the church will be fully air-conditioned.
It elaborated that the masterplan for the new church includes a big church hall for the parish and school activities.
Also included in the masterplan is an eight-storey hostel block for boarding school students, a four-storey hostel for faith formation programmes.
Other buildings in the masterplan are the current columbarium, parish centre, rectory, convent and school.
Once completed, the beautiful new Gothic architecture church which will be able to house 1,200 worshipers at any one time, with a day chapel at the back ready for masses that cater for fewer than 200 worshipers.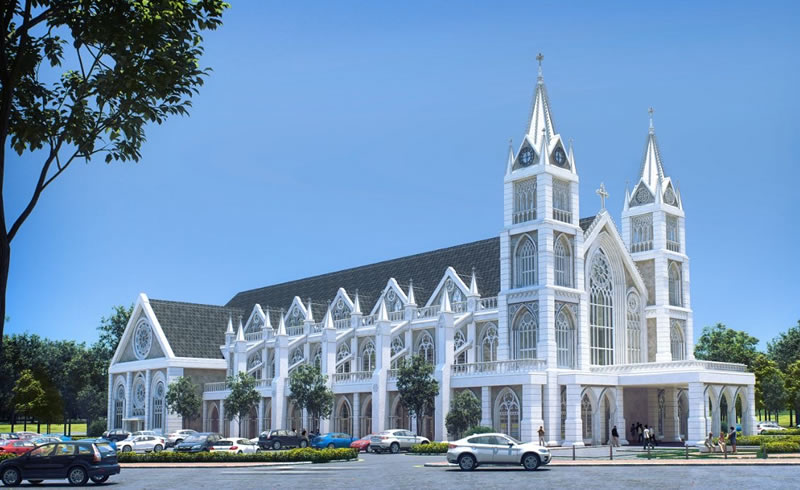 St Peter's church Reverend Fr Vincent Chin was quoted by DayakDaily as saying that the church had to be built as there were already signs of cracks in the current St Peter's church.
The church was designed by Architect Design Practice and will be built by Pembena Emas Sdn Bhd.
Aside from this new St Peter's Church, the St Ann Padawan Catholic Church is another unique church building already completed in Kuching.