It is not a secret that the Sarawak General Hospital (SGH) will be undergoing a lot of construction works in the coming months, as the contract to manage and build the much needed multi-storey carpark at the hospital has been tendered out and awarded to Asaljuru Weida.
Details of the agreement as reported by The Edge in April 2017 says that Asaljuru Weida was awarded "a 20-year government concession worth RM351 million to build new buildings and facilities for the Sarawak General Hospital under a build-lease-maintain-transfer model".
The Edge further said that Asaljuru Weida "will also provide asset management services to the new buildings and facilities upon completion, as well as operate the medi-hotel and car park", meaning that the company will operate and manage the facilities they have built for the hospital, before they would transfer it to the hospital's care after a period of 20 years'.
If you are wondering how the new buildings would look like, then check out the photo below.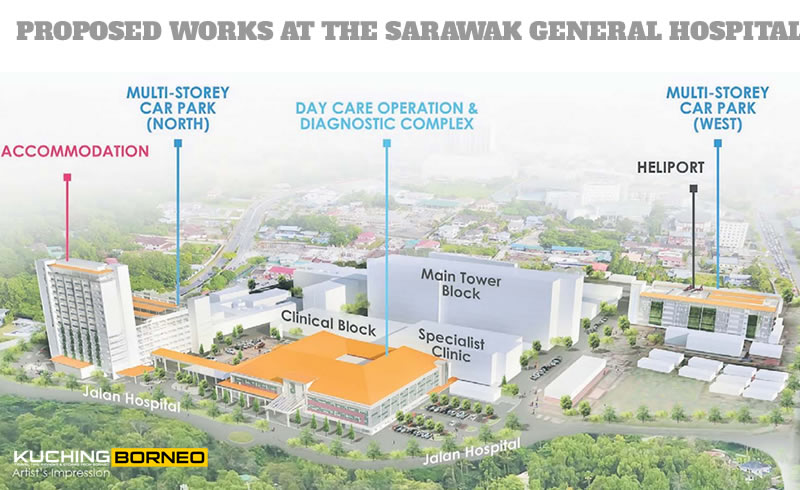 As the image shows, there would be two multi-storey carparks built in the next three years, with one of the multilevel carpark also having a 160-room hotel (known also as medi-hotel), which includes nine commercial lots and a food court.
Up-front on the existing carpark, a new medical complex is to be built to for day care operations as well diagnostics, hence pushing the building of the hospital way towards the roundabout as you can see below.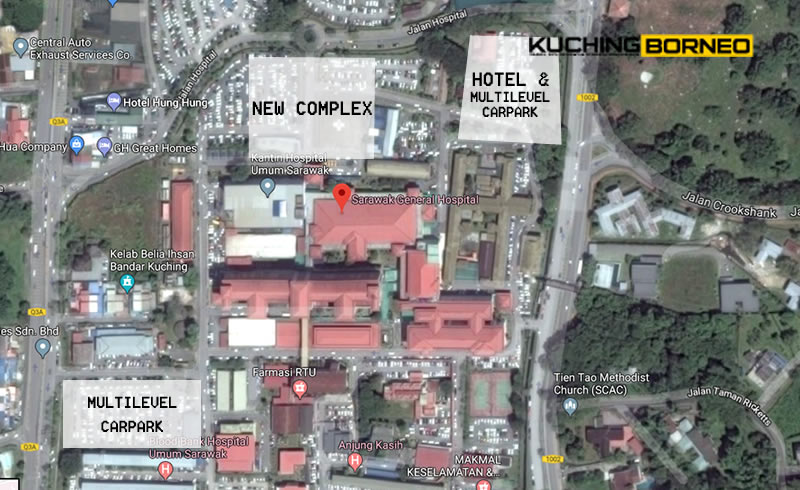 Based on what has been revealed, the new buildings will be built on empty space within the hospital compounds, with most buildings taking place on current parking lots.
During the time of construction, finding parking at SGH would likely be even more difficult, but once all the blocks are ready in three years, 1,700 parking areas would be made available for the use of the public.