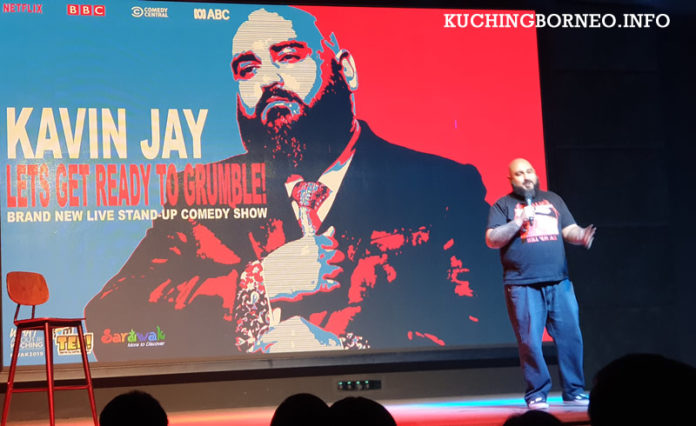 SUBSCRIBE TO KUCHINGBORNEO.INFOTELEGRAM TO GET NEWS & UPDATES ON KUCHING.
Kavin Jay entertained a crowd of about 100 last night at the Chemsain Auditorium.  He was performing for his "Ready to Grumble" show.
I've already seen Kavin perform before, so I was excited to see what he had to offer this time around.
I do believe that Kavin's strength when making comedy is how he can relate comedy to our everyday life.
OPENING ACT BY RIZMAN
Rizman opened the show telling about his life and his religion dilemma.
He talked in rather detail about how he was trying to gain weight, while at the same point made it pretty clear he was a Muslim.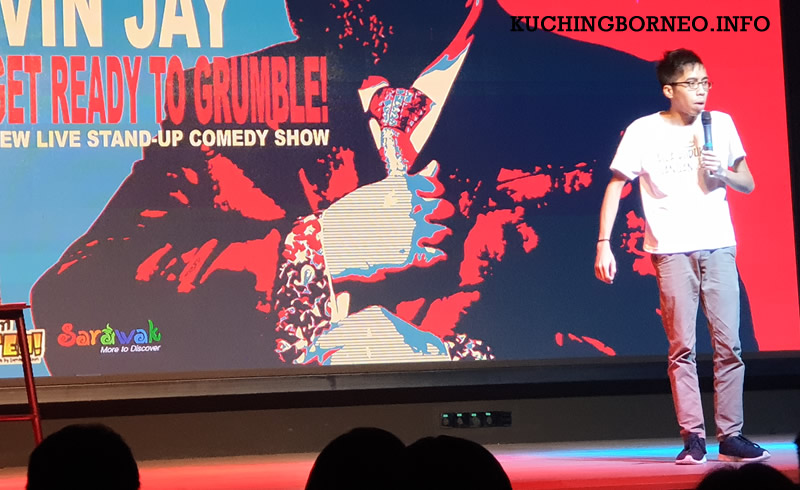 He definitely lightened up the mood and I could say he did pretty well on stage.
I'd love to tell you what he talked about in detail, but giving out too much would probably spoil the joke when he told it to you when you do attend his shows.
THE GRUMBLING KAVIN
Next up was the man himself, Kavin.
Kavin came on stage with the audiences giving him the loud applause he deserves.
Kavin started his show strong by telling us about his dieting problems as well as his experiences when he traveled overseas to do his shows.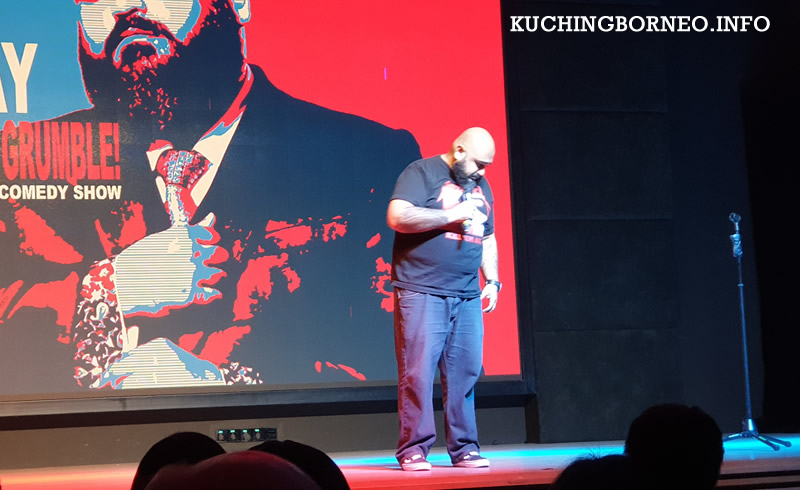 He also mentioned a fair bit about cats and dogs, and other daily and current incidents which we could relate to ourselves.
To me, this is the best kind of comedy – being able to poke fun in out daily routines and also being able to get the audiences engaged.
Kavin didn't disappoint and I was really happy with his show. Like Rizman's case, I do not want to talk about the jokes made in detail, so if you want to know what they are, don't hesitate to watch one of Kavin's shows in the future.
MORE STAND UP COMEDY IN KUCHING
Well, speaking of stand-up comedy in Kuching brings me to Talent's by Events Horizon (TEH).
TEH had been bringing in plenty of stand-up comedians to Kuching in the past and they know they type of comedians that get the best crowd in town.
This year, they brought in MACC and Kavin for What About Kuching, and both shows were well received by Kuching people.
In fact, the MACC show was sold out weeks before it was supposed to go on.
That said, if you want to know when is the next stand-up comedian coming to Kuching, follow their Facebook page.