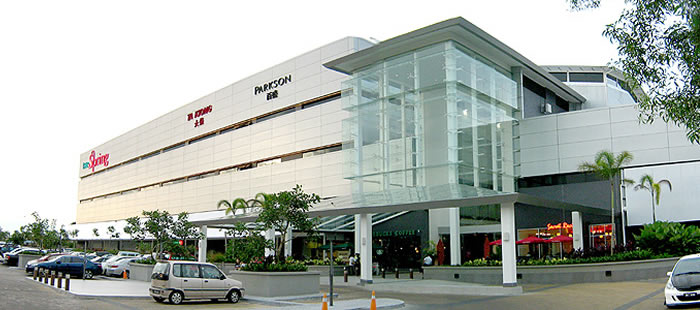 Details:
The Spring Shopping Mall is currently Kuching's largest mall housing many major brands. It has been hailed as one of the best malls in Sarawak and Borneo by many due to it's 'not so big, but not so small' size, as well as the fact the mall keeps things happening.
The mall interior is clean and is well kept shiny, while the tenants are off major labels and local and international brands. Parking is adequate, but you may find yourself in a little traffic jam shall you come during public holidays and weekends.
Year Operational:
January 2008
Parking Bays:
Weekdays: Basement (RM2 fee/entry), Premium (RM3/entry), Outside (RM1/entry).
Weekend & Public Holidays:  Basement (RM2 for 1st 3 hours, and extra RM1 for every hour after that), Premium (RM3 for 1st 3 hours, and extra RM2 for every hour after that), Outside (RM1 for 1st 3 hours, and extra RM1 for every hour after that).

Number of floors:
4 storey including basement.
Operating hours:
10AM – 10PM daily, Cinema and some cafes opens till late.
Amenities & Type of tenants
Customer service counters, Free washrooms, Premium washrooms, bank, ATM machines which are MEPS friendly, paid parking basement and area, elevators, public benches, lifts, ICT shops, telecommunication shops (DiGi and Celcom), Apparel and clothing shops, home decoration shops, food court, cafes, fitness shop, fast food restaurant, watch shop, karaoke by KBOX, Cinema with 2D and 3D projection by MBO Cinemas.

Address:
Jalan Simpang Tiga, 93300 Kuching, Sarawak
Map: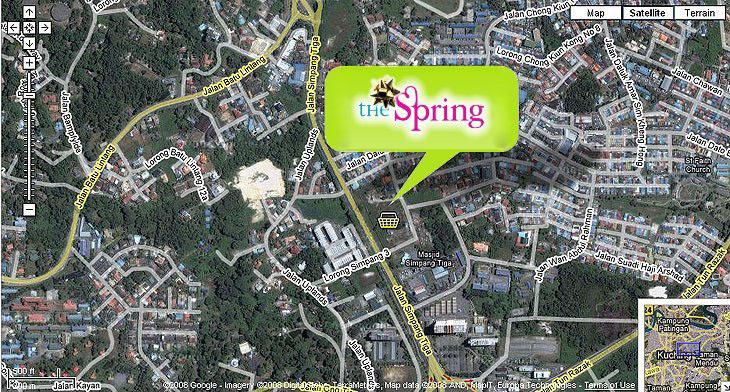 Website: http://www.thespring.com.my