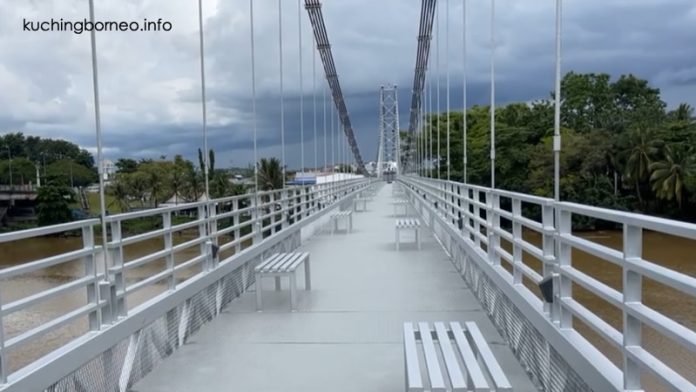 SUBSCRIBE TO KUCHINGBORNEO.INFOTELEGRAM TO GET NEWS & UPDATES ON KUCHING.
The popular Satok Suspension Bridge will be closed until further notice as there are works involving the installation of lights being done on the bridge.
According to a news report by DayakDaily, the closure started on 1 November and no end date has been set.
It is however expected that the bridge will be reopened when the light installation works are completed.
The lights, once installed, should make the bridge look even more interesting at night.
In the DayakDaily article, JKR Kuching was also quoted as saying that the closure meant that the pedestrian bridge will not be accessible to the public.
In fact, if one were to go to the bridge now, they won't also be able to pass or use the Satok Suspension Bridge as scaffoldings have closed and blocked the path on the bridge.
The suspension bridge is a popular spot among locals since it was opened last August with locals enjoying the view on the bridge particularly during evenings.
If you need more information about the bridge, do feel free to read about the Satok Suspension Bridge, or you can also read about the nearby Medan Niaga Satok which is also a very popular destination among locals and touorist.
Also, do follow KuchingBorneo on Facebook for more news and updates about Kuching.