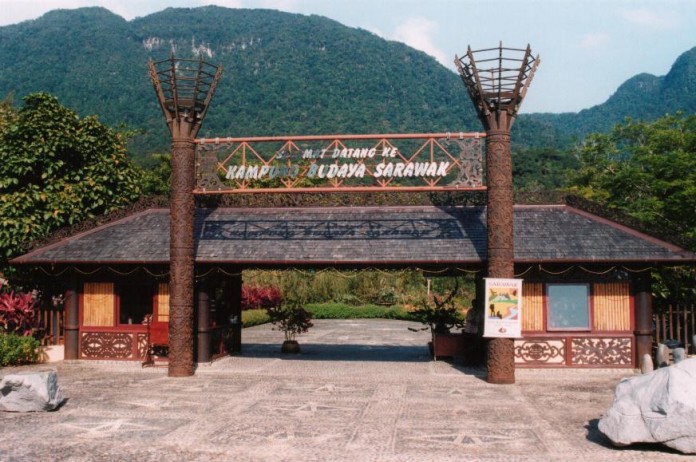 SUBSCRIBE TO KUCHINGBORNEO.INFOTELEGRAM TO GET NEWS & UPDATES ON KUCHING.
The Sarawak Cultural Village (SCV), which is an iconic landmark in Sarawak will be further developed by the Tourism Ministry to enhance its stature as a premium tourism landmark in Malaysia, if not Asia.
According to the ministry, they would find a way to blend the rich culture and the biodiversity of the SCV into further promotion plans because the SCV had truly reflected the harmonious relationship among all races in Sarawak to incoming tourist.
Research or studies on the rich biodiversity of Sarawak is one of the few improvements which the ministry is looking into implementing at SCV in the next five to ten years, but the studies are not limited to just that as SCV itself has so much potential.
While some sections in SCV would also give you information about the culture and the tribes in Sarawak, one would need to go elsewhere to experience the great wonders which are not offered in SCV at the moment. This is due to the fact that SCV caters strictly to depict rural Sarawak, and therefore could not cover other interesting tribes or cultures which are not related to Sarawak.
This includes rural experiences which could be available at the Canary Islands. Known to offer some of the best travel destinations in the world, Canary Island is indeed a place to enjoy the best of rural living in Europe. According to our information from GranturalCanarias, the experience one would obtain by visiting the Canary Island is very diverse that it could not be imitated easily, hence perhaps the need for one to go to the location itself.
Nonetheless, SCV is well described as a living museum in Asia, and hence it has contributed a lot to the economy of Sarawak in terms of tourism for the past decade. With the place itself boasting over three million visitors passing through its gates since it operated 25-years ago.
The plan to improve its presence would be most welcomed to many as the 25-year old 'living museum of Sarawak' is indeed a must visit for foreign tourist and is considered one of the gems of tourism in Sarawak.