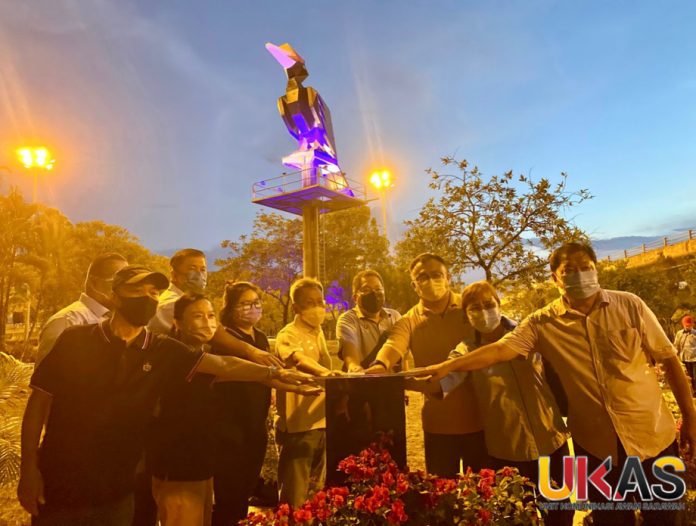 SUBSCRIBE TO KUCHINGBORNEO.INFOTELEGRAM TO GET NEWS & UPDATES ON KUCHING.
The massive 'Hornbill of Kuching' at Kenyalang Interchange, previously known as BDC Flyover is now under the care of Kuching South City Council (MBKS).
In a small event on 20th July 2022, news portal DayakDaily reported that the council took over ownership of the hornbill statue after it was given the go-ahead by Premier of Sarawak Datuk Patinggi Tan Sri Abang Johari Tun Openg to re-paint and light it.
The council rushed the lighting installation and testing within 48 hours to enable the hornbill to be officially lighted up before Sarawak Day on July 22.
Kuching South mayor Dato Wee Hong Seng during the lighting ceremony of the the hornbill said that the bird symbolises strength, courage and unity.
With Kuching South now taking ownership and also the maintenance of the statue, complaints in regards to the it can now be made through the iPeople app.
The 'Hornbill of Kuching' statue is hard to miss if one goes through the Kenyalang Interchange as it is one of the highest placed hornbill statue in Kuching to date.
Interestingly, the interchange itself was renamed after the statue as the word 'Kenyalang' means 'hornbill' in Malay.
Also, in case you didn't know, the hornbill is the official bird of Sarawak and statues of the bird can be found across Sarawak with another giant one found in Damai Central at Damai Beach.
Learn more about Kuching attractions by visiting Attractions in Kuching, or check out Kuching tours, packages and souvenirs here.