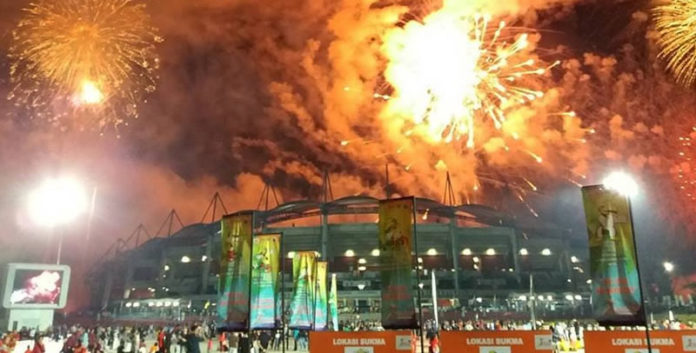 The closing ceremony of the Malaysian Sports (SUKMA) Sarawak edition happened last night with the skies of Kuching City lighting up with a massive fireworks display.
The event which was attended by not less than 40,000 spectators and athletes saw members of the public come to the Stadium Sarawak at Petra Jaya from as early as 2PM, despite the show starting only at 5PM with the pre-show.
The full scale closing ceremony which was televised over RTM 1 started at 8:30PM, and the closing ceremony officially kicked off at 9PM after the arrival of Datuk Zahid Hamidi, the Deputy Prime Minister of Malaysia.
Interesting performances from Kuching schools and university volunteers soon took center stage as the athletes occupied the field.
Small fireworks were also blasted out as performances went on, but the biggest ones came at the end of the show at about 10PM, with the sky above Stadium Sarawak turning a bright yellow due to the grand explosive celebration.
For a video of the fireworks, do check out the video below.
The games will be hosted by Perak in 2019.