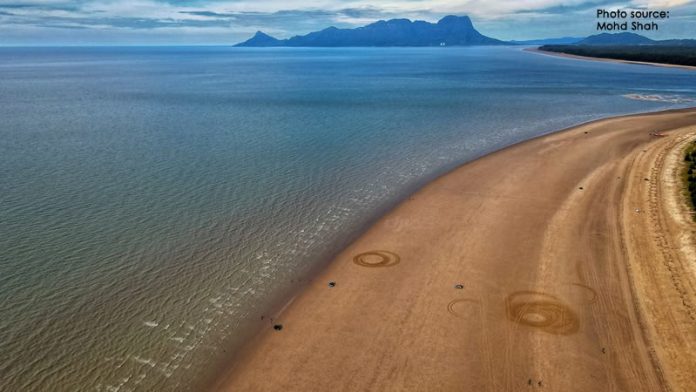 SUBSCRIBE TO KUCHINGBORNEO.INFOTELEGRAM TO GET NEWS & UPDATES ON KUCHING.
Trombol beach, also known as Golden beach, has recently shot to fame and the local council plans to improve facilities and amenities in this increasing popular destination.
According to a news report by DayakDaily, the Padawan Municipal Council (MPP), there are plans to upgrade facilities at Trombol Beach to provide better comfort to visitors.
Among the facilities that are proposed are the improvement of roads leading to the beach, a dedicated space for hawkers, parking lots, toilets and garbage bins.
Good that Trombol beach will be improved
Trombol beach recently shot to fame after locals started publishing about the beautiful beach on their social media.
Locals went to the beach to enjoy the beautiful scenery some even drove their vehicles on the wide beach.
Others have also decided to make money out of the sudden popularity of the beach by setting up stalls selling food and drinks to cater to the growing number of visitors.
The sudden influx of visitors, and the lack of amenities at this beautiful beach had increase rubbish density, and this had made rounds on social media recently, much to the annoyance of many.
That said, MPP's move to plan and further upgrade the facilities here is much welcomed, but it is also hoped that visitors will also take good care of the beach cleanliness when visiting it.
Do read more about Trombol beach and nearby attractions and hotels to the beach.