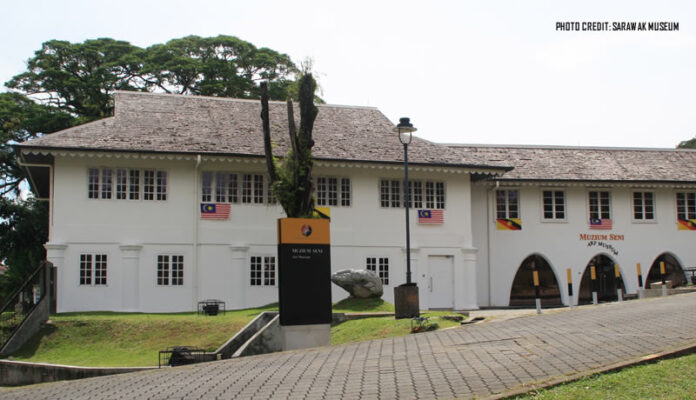 SUBSCRIBE TO KUCHINGBORNEO.INFOTELEGRAM TO GET NEWS & UPDATES ON KUCHING.
Sarawak Art Museum building was built after the war and completed by the end of 1949.
It has been used as reading rooms and libraries throughout the State. Before the construction of this building, there are about 4500 new books were placed under the care of Sarawak Museum curator.
Representative of the British Council has used this building as the State Library until 1958 before submission to the Sarawak Education Department. Empty space in this building is often used members of the Sarawak Art Club to showcase their artwork as well as a space for social gatherings Christmas and New Year celebrations. In 1959, the building was handed back to Sarawak to become the museum library and archives of the State for the reference of the curators and researchers around the world. Repair work as a whole was carried out in 2001 to serve as the Sarawak Museum of Art.
Art Museum was opened for public viewing at the date of 20 September 2006 by Pehin Seri Hj. Taib Mahmud is represented by Assistant Minister Datuk Haji Hamdan.
WHAT TO EXPECT
Besides displaying primitive, contemporary and modern artworks, it also exhibits sculptures, ethnographic and traditional crafts.
ENTRANCE FEE
Entrance to the museum is free.
LOCATION
OPENING HOURS
Monday to Friday
9:00 am – 4:45 pm
Saturday, Sunday, Public Holidays
10:00 am – 4:00 pm
Closed on 1st Day of Main Public Holiday, T.Y.T Birthday, Labour Day & Malaysia Day