SUBSCRIBE TO MySARAWAKTELEGRAM TO GET NEWS & UPDATES ON SARAWAK.
Now is definitely not the time to fly as tickets on Kuching economy flights soar above the usual rates.
The number of flights to Kuching had been significantly reduced during the Movement Control Order (MCO), and major airlines like AirAsia even ceased operations due to travel restrictions under the MCO.
With the Conditional MCO (CMCO) introduced on May 12, airlines had begun increasing flights into Kuching or restarted their services for the Kuching – Kuala Lumpur (KL) – Kuching route as 'the new normal' kicks in.
Checks on major airline servicing Kuching Airport however reveal that prices of tickets to and from Kuching have not yet returned to the usual affordable rates for June 2020.  In fact, the big three airlines servicing Kuching Airport had their prices inflated.
AirAsia which currently seems to serve the route only on Tuesdays and Fridays so far charges RM1,000 one-way for a no-frills flights, with at least RM2,000 needed for a return no-frills flight.  The prices seem to be similar for the month of July 2020 with the same carrier.
This is a huge jump from the average fare of between RM149 – RM500/way on the low-cost airline prior to MCO.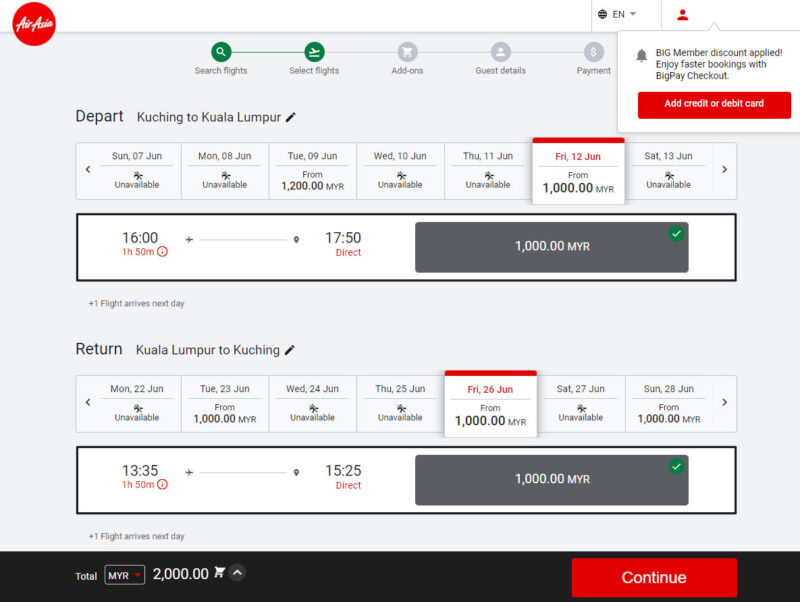 Rates for the airline however start to drop to RM289/way in August 2020 as the airline seems to increase its flights, offering daily flights on the route.
Malaysia Airlines on the other hand seems to serve the Kuching – KL – Kuching route on Mondays, Fridays and Sundays.  Checks show that some one way economy class tickets from KL to Kuching are priced much lower for Malaysia Airlines if compared to AirAsia during the same travel window in June 2020.
However, after adding taxes, the economy class fares offered by the full fledged airline becomes either similar, or goes significantly higher than AirAsia.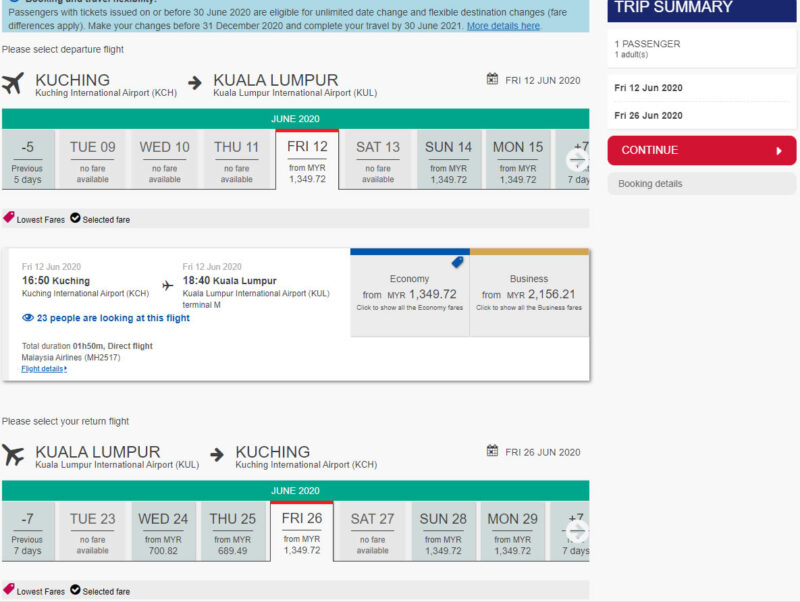 The prices of Malaysia Airlines economy class tickets however start to dwindle in July 2020 with a return ticket for the same route goes below RM1,500 inclusive of taxes.
The airline also seems to plan an increased in flight frequencies for the route in July 2020.
If you need to fly out, you can check the exact flight prices at their official website www.malaysiaairlines.com.
Hybrid airline Malindo Air also priced their Kuching – KL – Kuching economy flight tickets beyond the RM2,000 mark for June 2020.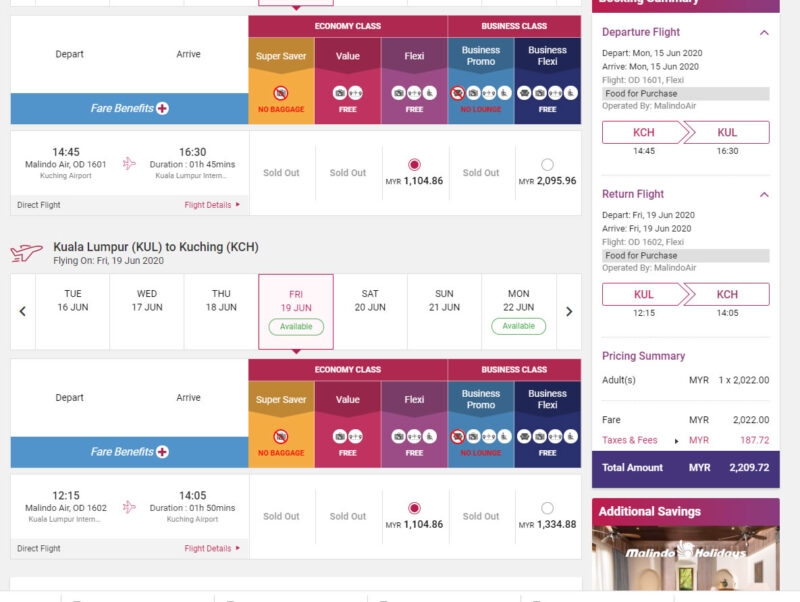 The airline flies twice on the Kuching – KL – Kuching route for June 2020, but a surge of planned flights in July 2020 seems to push the prices of airfares below RM700 with taxes included.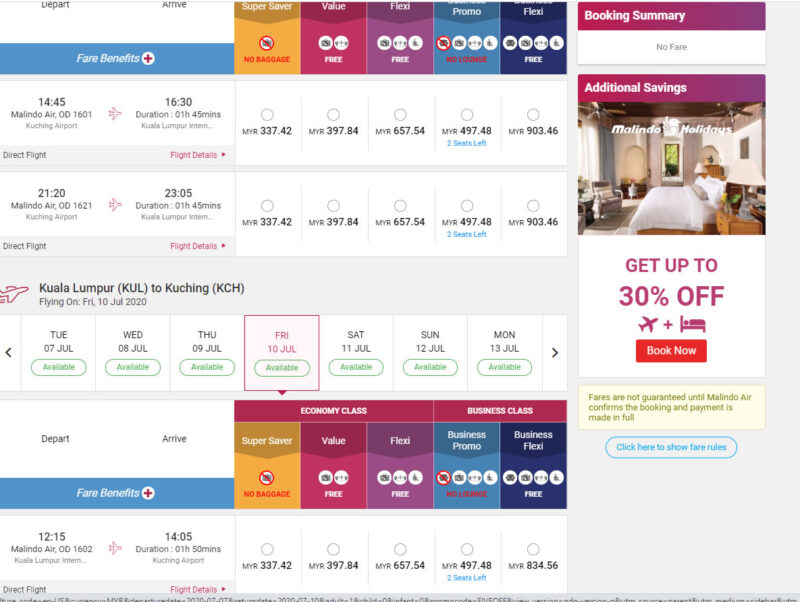 It is important to note that all airline serving the Kuching – KL – Kuching route will likely change their fares in accordance to demand and supply for the route in the near future.
Fares are likely to go lower as more flights are restarted by airlines.
It is expected that airlines will also push promotions to increase load, hence likely returning fares to what it used to be.
However, as it seems during my checks today, June 2020 isn't the best time to fly to Kuching (or KL), unless you are prepared to spend more than RM2,000 for your return Kuching economy flights.
GO HERE TO CHECK FLIGHT SCHEDULES AT KUCHING AIRPORT