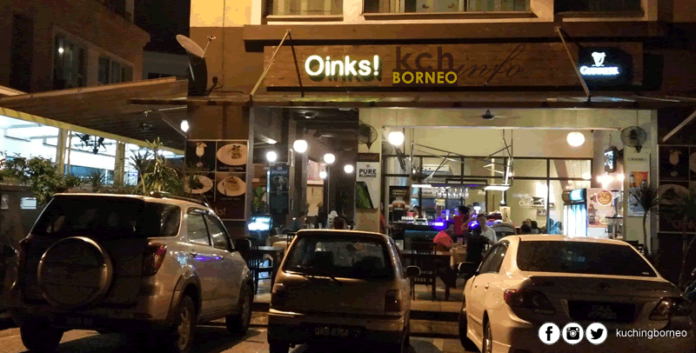 SUBSCRIBE TO KUCHINGBORNEO.INFOTELEGRAM TO GET NEWS & UPDATES ON KUCHING.
Oinks! has been around for quite sometime, but I only recently had the time to review the restaurant.
As the name suggest, Oinks! is all about pork, and they show photos of this pinkish animal around the restaurant, just as a reminder of the name.
When it comes to food, Oinks! is generous in portion with any one dish, good to be shared by two.  The food quality has been consistent throughout the years, and they have a lot of regulars.  Their signature dish would be their German sausages, but don't be surprised to learn that many have also listed other unorthodox dishes as their favourite course here.
For those with families, baby chair is provided, but you may want to book the tables in the aircond area as they are highly limited.
One of my favourite thing about Oinks! is their large selection of drinks, which includes a huge variety of beer, liqour, wines and fruit juices.  They also have a couple of different cup sizes when you make your order.
Below are some photos of Oinks!