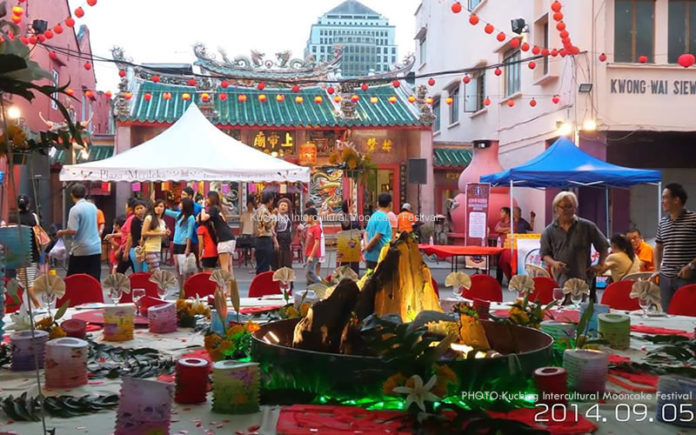 The 18th Kuching Intercultural Mooncake Festival (KIMF) will take place from September 6 to 13.
It will be held from 6.00 pm to 11pm along Carpenter Street and Ewe Hai street in Downtown Kuching.
PREVIOUS EDITIONS OF THE KUCHING INTERCULTURAL MOONCAKE FESTIVAL
2016: 09 – 15 September
2017: 28 – 04 October
2018: 17 – 24 September
2019: 06 – 13 September
WHAT TO EXPECT FROM THE KUCHING MOONCAKE FESTIVAL
The Kuching Intercultural Mooncake Festival brings together participants from all races, cultures and walks of life to celebrate the Mid-Autumn Festival, with many non-Chinese locals not only joining in as audiences and patrons, but as vendors and competition participants, showing Sarawak's  inherent multicultural nature.
The Festival features food, music and cultural performances along a lantern-lit scenic street, one of Kuching's oldest streets.
HOTELS NEAR THE KUCHING MOONCAKE FESTIVAL
The nearest hotels near the the festival grounds are the Waterfront Hotel and The Ranee Boutique Suites Kuching.
However, if you need other options, the ones below are highly recommended as well, and are within walking distance from the museums.
Alternatively, you can also check out our hotel listing of thousands of hotels in Kuching in our hotel listing page.