SUBSCRIBE TO MySARAWAKTELEGRAM TO GET NEWS & UPDATES ON SARAWAK.
Zip around Kuching on this half day guided Kuching bicycle tour of the city. Combine history and culture at a leisurely pace as you visit historic buildings, a floating village and an open-air market.
Traverse the city with ease; your guide leads the way, so you won't get lost. Although some pedalling is required, this is one of the easiest ways to see the city's highlights.
See a unique way of life: venture up the Sarawak River to a floating kampong that few tourists visit.  Take advantage of hidden lanes throughout the heritage zone: your guide knows where to go.
Witness the lush green landscape and picturesque mountains that surround the city, and enjoy experiencing Kuching in a unique and interesting way.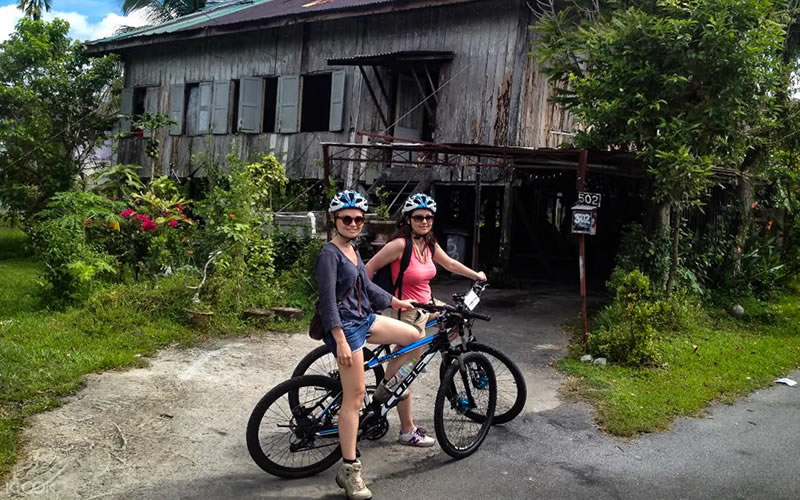 Visit the Sarawak State Museum and marvel at its European-style architecture. Learn more about the long history of this state and the diverse wildlife of Borneo as you explore the museum's extensive collections.
The tour also brings you to make a quick stop at a local mosque to get a glimpse of the locals' deep connection with their religion.
You will also be able to ride your bike across the Sarawak river and pass by the famous Kuching Waterfront.
Bike along the narrow alleyways to discover the strong art scene of the city. See some murals that reflect the vibrant and dynamic culture.
After that, you'll have a satisfying and filling dinner at one of the popular restaurants in the area.
Guide's on this Kuching bicycle tour are English-speaking and will accompany you for the entire tour to make sure that you enjoy and have a better understanding of each location that you'll visit.