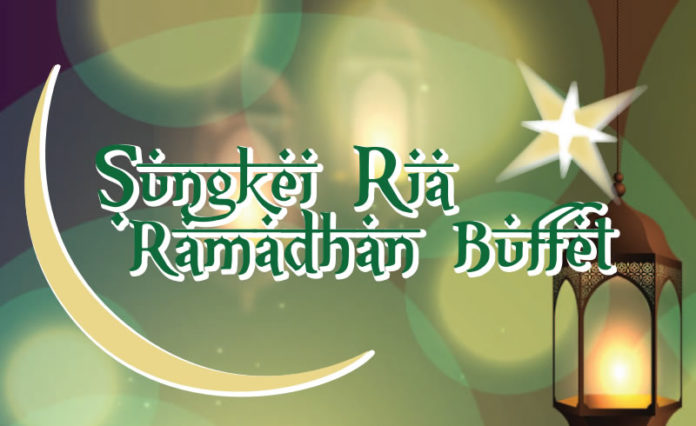 Riverside Majestic Hotel's Ramadhan Buffet returns again as the month of fasting begins tomorrow in Kuching.
Known as Sungkei Ria Ramadhan Buffet, the 17th May to 14 June 2018 buffet would be set-up at the Café Majestic Coffee House on a daily basis from 6:30PM to 10PM.
I prefer to call it Riverside Majestic Hotel's Ramadhan Buffet because I get to mention the name of the hotel, hence immediately putting a venue to the Ramadhan buffet.
WHAT TO EXPECT AT THE BUFFET
Anyway, the Riverside Majestic Hotel's Ramadhan Buffet spread features mouth-watering Traditional Malaysian Kampung and International cuisines in a relaxing ambiance and atmosphere.
Live cooking station are available with the culinary team under the stewardship of Chef Suria whipping up orders on the spot and the live cooking stations.
The Ramadhan buffet itself has gained popularity over the years for its freshest selection of fish, crab, prawn, lamb shoulder and sliced beef at the Grill Station.
Local favourites like Bubur Lambuk, Bubur Pedas, assorted dates and a selection of homemade and local breads are also part of the daily menu.
The list of food is indeed enormous and they include numerous types of Rojak Buah, Rojak Sotong, and Rojak Singapore, Laksa Sarawak, Belacan Noodle, assorted Sushi and Maki, Coconut Chutney, Roti Canai, Murtabak Laksa Kolok, Lok-Lok, Yong Tau Fu, Char Kuey Tiaw, Mee Kolok, assorted Dim Sum, assorted traditional Malay kuih, beverages and desserts.
There's also local ulam-ulaman served with a selection of sambal, and varieties of kerabu such as Kerabu Hati Ayam, Kerabu Pucuk Ubi, Kerabu Daun Selon and Kerabu Lumek, served alongside the wide selection of fresh salads.
At the carving station, guest can opt for Roasted Lamb, Biryani Rice, Tomato Rice, Nasi Minyak, Naso Bokhari, Nasi Hujan Panas and Acar, with the buffet itself serving dishes like Soup Terung Asam, Daging Salai Berempah, Ayam Bergajus, Sayur Rampai Cendawan, Daging Dendeng, Udang Goreng Petai, Ketam Lemak Nenas, Kambing Goreng Berempah, Soto Madura, Rendang Daging Minang, Ambal Bercili, Ayam Bakar Sos Cili Pedas, Daging Rusuk Masak Merah, Umbut Masak Lemak, Kambing Panggang Lada Hitam, Ikan Siakap Kukus Teo Chew, Ikan Keli Masak Tempoyak and Japanese Tofu with Minced Chicken.
For Muslim guests' convenience, Riverside Majestic Hotel will also provides designated male and female prayer rooms and a section for wuduk.
PRICES AND SPECIAL PROMOTIONS OF RIVERSIDE MAJESTIC HOTEL'S RAMADHAN BUFFET
The typical price for adults who want to enjoy the buffet is RM92 nett with children charged RM46 nett.
But, Riverside Majestic Hotel is offering guest a special price from as low as RM69.00 nett per adult if booking of the Riverside Majestic Hotel's Ramadhan Buffet is done online.
BOOKING A RIVERSIDE MAJESTIC HOTEL'S RAMADHAN BUFFET
For reservations of this buffet, guest can contact the hotel's F&B Department at +6082532222 extension 8842.
Else, get the promotional prizes mentioned above for the buffet, book your tickets at www.riversidemajestic.com/deals.
If you want to enjoy 20% discount for the buffet, you can do so by booking a room at the hotel here.