Those looking to have a house a bit outside of Kuching City are in luck because a new housing project by Borneo Development Corporation (Sarawak) – BDC is available in a new housing estate named Taman Stakan Jaya.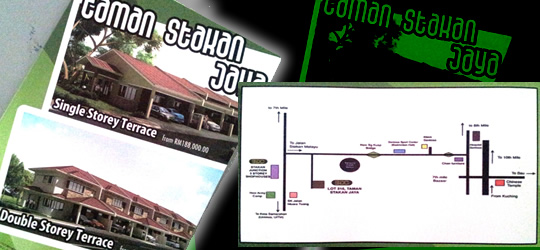 The project is located not far from SK Jalan Muara Tuang, and it consist of double storey terraces and single storey terraces.
According to the information given to us, prices start from RM188,000 for the single storey units, and RM328,00 for the double storey units.
If location is to be considered, Taman Stakan Jaya is one good spot to stay as it is sandwiched between Kuching City and upcoming Samarahan town.  Also nearby are several schools including University Malaysia Sarawak (UNIMAS) and UiTM.  Despite a little distant from 7th Mile (Kota Sentosa) for now, we hugely expect this will change in the next 10 years or less as this area is now booming with huge development projects.
The land is gazetted under 'mixed' which means it is open for everyone regardless of race.  Those interested can contact the developers BDC at 082-452958.