KUCHING CITY: Hundreds of devotees, members of the public, photographers and foreign tourists gathered at Carpenter Street's Siang Ti Temple as early as 7pm on Friday to participate in the Hungry Ghost Festival, also known as Yu Lan.
The event was organised by the Kuching Teochew Association.
It started with an offering ceremony, where a series of prayers and rituals were led by association president Kapitan Tan Kit Leng.
This was followed by the burning of joss paper (ghost money) contributed by the devotees, as offerings to the ghosts and spirits including deceased family members.
The nearly hour-long burning ceremony ended with the offering of items made of paper such as houses.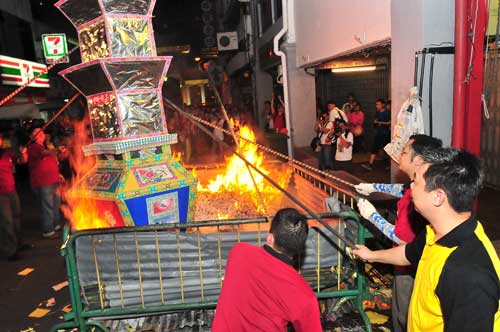 As with other Hungry Ghost events, the ceremony known as Qiang Gu, where devotees are allowed to grab the offerings, usually in the form of food, was the climax.
For Siang Ti Temple's Qiang Gu ceremony, devotees waited to grab lucky number tokens, which were later exchanged for the numbered offerings.
The Hungry Ghost Festival is celebrated on the 15th day of the seventh month in the lunar calendar.
-Borneo Post