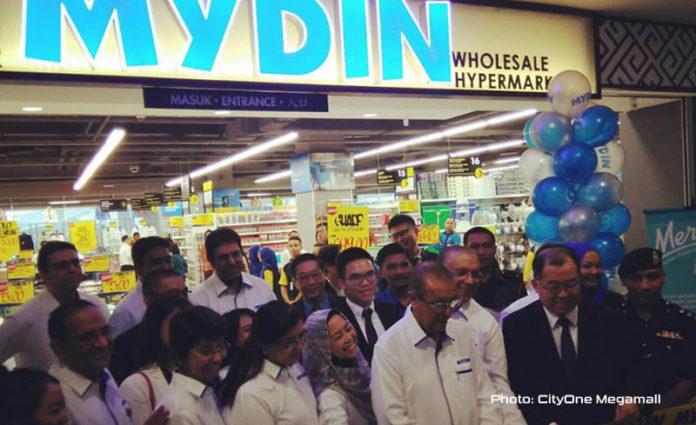 SUBSCRIBE TO MySARAWAKTELEGRAM TO GET NEWS & UPDATES ON SARAWAK.
Pasaraya besar Mydin hari ini telah secara rasminya membuka cawangan CityOne Megamall di Kuching pagi tadi.
Pengarah Urusan Mydin Mohamed Holdings Bhd., Datuk Wira Dr. Ameer Ali Mydin merasmikan pembukaan cawangan tersebut, yang mana juga merupakan cawangan Mydin yang kedua di Sarawak, selepas cawangan pertama di Bandar Baru Semariang dibuka pada tahun lalu.
Mydin CityOne Megamall diletakkan di kawasan seluas lebih 90,000 kaki persegi, dan pelaburan berjumlah RM25 juta telah dibuat untuk membolehkan cawangan tersebut dibuka. Adalah difahamkan bahawa Mydin Cityone menggunakan kawasan seluas 64,880 kaki persegi untuk menjual pelbagai barangan seperti makanan, minuman, pakaian, peralatan dapur dan banyak lagi, manakala kawasan selebihnya adalah kawasan yang dimiliki pusat membeli-belah CityOne.
Sebagai tanda pembukaan pasaraya tersebut, Mydin kini menawarkan beberapa barangan pada harga rendah untuk semua pengunjung dengan Dr Ameer turut mengesahkan bahawa satu lagi cawangan di Petra Jaya akan dibuka pada hujung tahun ini.
Selain Kuching, Mydin turut merancang untuk meluaskan jenamanya ke Sibu, Bintulu dan Miri pada masa hadapan.