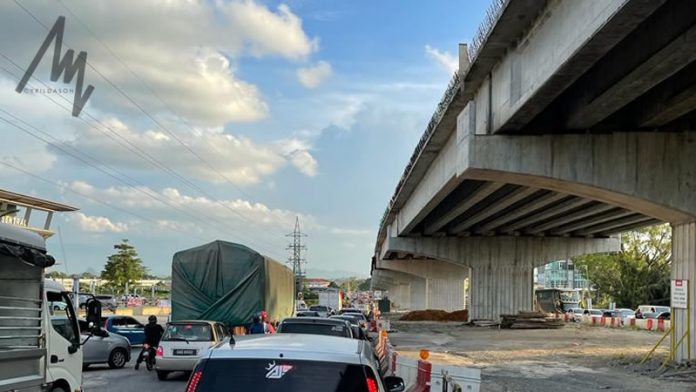 SUBSCRIBE TO KUCHINGBORNEO.INFOTELEGRAM TO GET NEWS & UPDATES ON KUCHING.
The Sarawak Public Works Department (JKR Sarawak) today announced that traffic from Jalan Lapangan Terbang will not be allowed to turn into Kuching at the Mile 6 junction from 20 October 2021.
This comes as JKR Sarawak proceeds with the closure of the junction under the new Mile 6 underpass.
What this means
The closure means that traffic from Kuching International Airport heading to the Mile 6 junction will now be asked to either proceed directly to their left (leading to Kota Sentosa and Serian), or do a U-turn in front of Kuching Sentral.
Traffic from Kuching will also no longer be able to do a u-turn at Mile 6, but can still turn left into Jalan Lapangan Terbang.
It also means that traffic from Serian can travel smoothly to Kuching, but those intending to head right into Jalan Lapangan Terbang will need to go straight and make u-turn at Mile 4 interchange.
Those wanting access to the Kuching International Airport from Serian would also need to travel further to do so.
To get to the Kuching Airport, a person coming from Serian side will need to drive straight to Mile 4 interchange and choose to either opt for a journey via the Kenyalang (BDC) interchange, or make a U-turn back into Jalan Kuching – Serian before sliding left into Jalan Lapangan Terbang before the Mile 6 junction.
Motorist frequenting the road suggest that those intending to go to the airport use the Kenyalang Interchange as it would be faster to reach the airport considering the road leading to Mile 6 is expected to be pretty jammed.
Visuals of the road closure as well as traffic diversion can be seen below.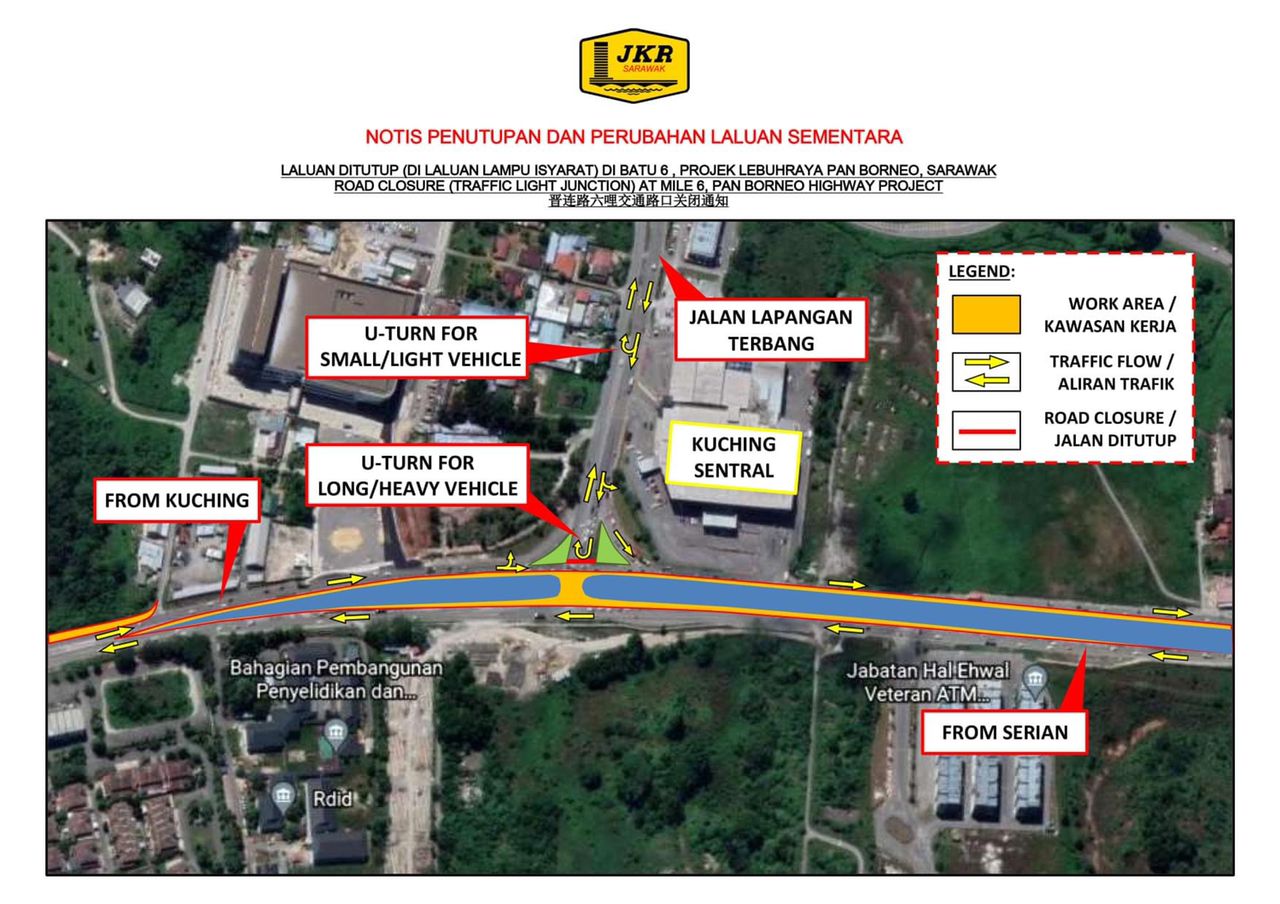 Road closure only temporary
The road closure is only temporary and traffic is expected to improve after November 20th when the junction at Mile 6 is reopened, although it may take until the Mile 6 and Mile 7 interchanges to be fully operational to have smooth traffic flow.
It is worth noting that the junction at Mile 7 is now reopened and operational but the narrow lanes are still causing slow moving traffic in the area.
That said, those travelling via the Kuching – Serian road are highly advices to plan their journey as the traffic situation might cause slower traffic flow especially from Mile 4 to Mile 7.
Anyway, if you are passing through Mile 5 until Mile 11 of the Kuching – Serian road (Pan Borneo highway), do be careful as most of the stretch is still under construction with heavy machinery used to build the interchanges.
Do follow KuchingBorneo.info on Facebook and Telegram from more updates on Kuching, or if you need Spotify Premium from RM7/month so that you don't feel bored during the traffic jam, you can subscribe it here.