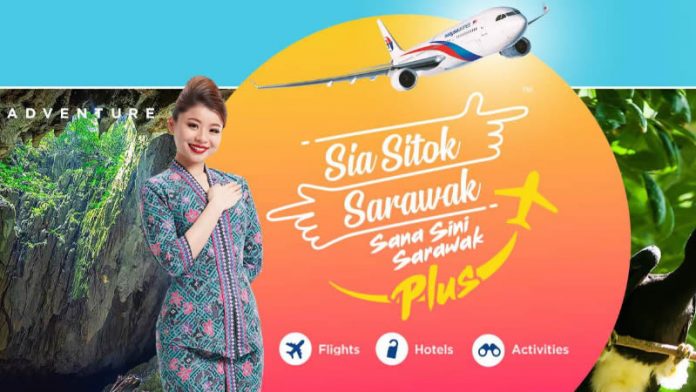 SUBSCRIBE TO KUCHINGBORNEO.INFOTELEGRAM TO GET NEWS & UPDATES ON KUCHING.
Malaysia Airlines is now the official airline for Sarawak's 'Sia Sitok Sarawak Plus' campaign.
Malaysia Aviation Group Bhd (MAG) and the Sarawak Tourism Board (STB) has decided to join hands to promote Sarawak as a tourist destination for one year, namely this 2022.
According to an article by The Edge, the parent company of Malaysia Airlines, agrees to work hand in hand with STB to jointly work to market and promote events involving STB, Malaysia Airlines, Firefly, MASwings and MHholidays.
Both companies in a statement said they will also work together on inter-organisational partnerships involving Sarawak tourism and corporate social responsibility activities.
The understanding will see Malaysia Airlines become the official airline for STB's travel promotion which is 'Sia Sitok Sarawak Plus'.
Besides that, an increase in connectivity to Sarawak, with more direct flights into main Sarawak cities is also expected thanks to the understanding.
If you are interested to check out the latest promotions to fly in to Sarawak, check out the Malaysia Airlines website.
'Sia Sitok Sarawak Plus'
Sia Sitok was first launched by STB when the Movement Control Order (MCO) was lifted.  Previously, it was aimed at boosting domestic travel in light of tight travel bans.
'Sia Sitok Sarawak Plus' on the other hand targets in-bound tourist as STB works to further increase tourist arrivals.
This comes as Sarawak has already moved into phase four of the National Recovery Plan (NRP).
Options when coming to Kuching
If you have already secured your flight to Kuching, book a stay at one of Kuching's best hotels through our Kuching hotel listing page which list hotels according to locality and your travel needs.
Alternatively, you can also check tour packages in Kuching, or check out the attractions in Kuching to plan your visit.
Last but not least, do read about the latest SOPs when flying into Kuching to ensure your trip will go on smoothly.