SUBSCRIBE TO KUCHINGBORNEO.INFOTELEGRAM TO GET NEWS & UPDATES ON KUCHING.
The Sarawak government has massive plans when it comes to the Kuching waterfront upgrade.
The plans if materialized, will see the waterfront stretched until the Satok Suspension Bridge, running along side the Sarawak river.
Sarawak Chief Minister, Datuk Patinggi Tan Sri Abang Haji Abdul Rahman Zohari bin Tun Abang said the plan for such improvements stretches from the Darul Hana Bridge until the newly rebuilt Satok Suspension Bridge.
In the chief minister's speech during the re-opening of the Satok Suspension Bridge recently, Zohari said that there will be four phases of work to complete.
The first phase is currently on-going, with works now happening at Kampung Sungai Bedil – Kampung Lintang (see photo below).
He further added that the next phase will involve the stretch from Kampung Lintang to Kampung Tupong Tengah, while the last phase will involve the surroundings of the Satok Suspension Bridge up to Kampung No. 3.
I am personally not aware about the improvements which are planned so far, but the chief minister did say that he envisioned these upgrades to enhance the river cruise along the stretch.
He also said that these upgrades will also allow the community to cycle and exercise.
If you visit the Kuching Waterfront now, a pathway with fountains can be seen leading to a 'floating' structure, which is believed to be the planned English teahouse.
In between the State Legislative (DUN) building and the Astana, there's also construction activities on-going (seen below).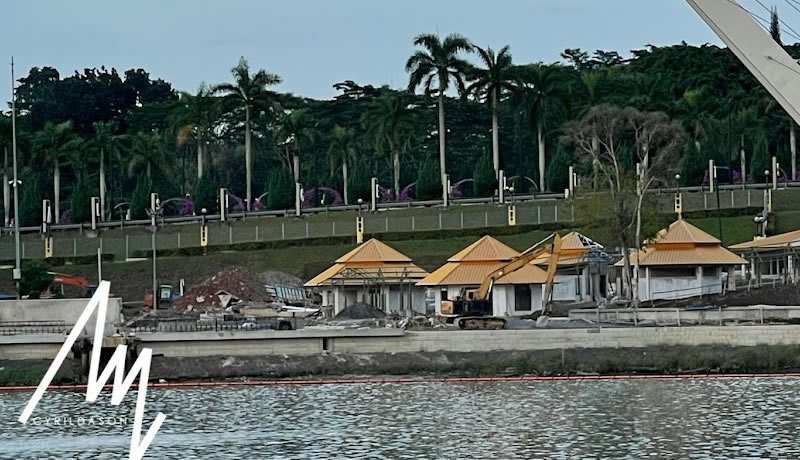 It is believed that his is the new Pangkalan Sapi esplanade being built.
Timely upgrade for Kuching's waterfront
Personally, I am all for the improvements because I've always felt Kuching hasn't reached it true potential as a tourist destination.
In fact, I do feel so much more can be done to further beautify Kuching City and I am glad that the government is taking initiative to improve the riverbanks/waterfront to make it not only an interesting recreational place, but also a tourist attraction by itself.
The current Kucing Waterfront itself is already a very popular destination among locals and tourist.
Also popular in Kuching is the Darul Hana Bridge, as well as the Kuching Air Raid Shelters.
Else, you can also book a trip and tour to Kuching, check out special and discounted tour packages on Shopee.  You can also book hotels in Kuching based on your preferred location by referring to my Kuching hotel listing.