The full KWJF 2018 schedule has been made available to KuchingBorneo today and we are pleased to share it with all of our followers.
The Kuching Waterfront Jazz Festival (KWJF) 2018 is the most anticipated jazz festival in Kuching after it became a huge success last year.
Based on the full KWJF 2018 schedule, the first day would see recently crowned KWJF 2018 Band Search winner, Sang Voyage open the colourful event at 6:05PM.
It would then be followed by regional artist from Malaysia and Indonesia, including award winning songstress Dayang Nurfaizah.
Other bands in the line-up for day one are Jolynn J Chin, Atilia Harun, Aditya, Alemay Fernandez and TULUS.
At the end of day one, a finale directed by Asif Pishori is scheduled before midnight.
The second day would also start with a Malaysian band. D'Cipta Band would be performing as the opening act followed by regional band Tuku Kame Jazz, and Aisyah Aziz.
Performers that would then take the stage are Natalie Gillespie (Australia), Carmen Souza Trip (Portugal), Blues Gang (Malaysia) and Tompi (Indonesia).
Like the first day, a finale directed by Asif Pishori is also scheduled as the closing of the KWJF 2018.
The full KWJF 2018 schedule can be seen below.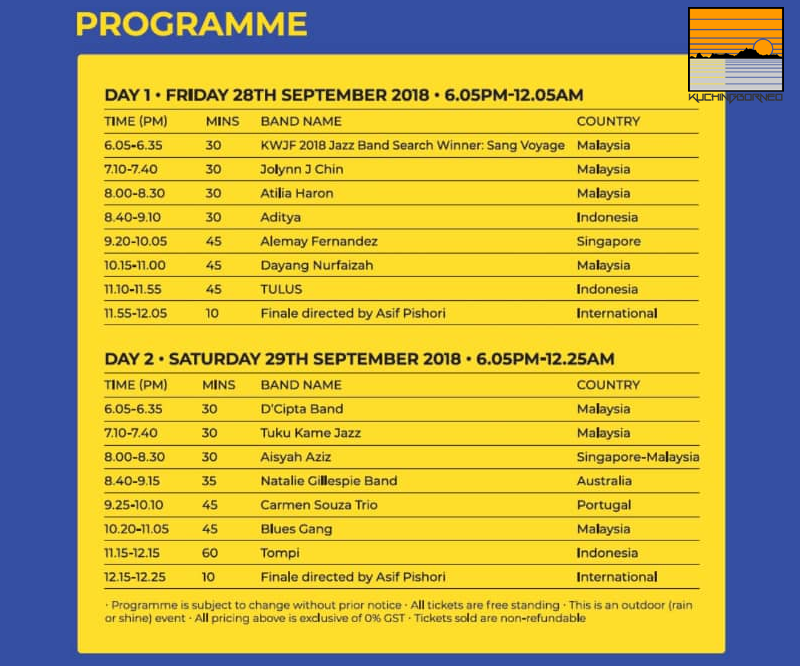 If you need more information about the KWJF 2018 including recommendations of places to stay, or ticket sales, do check out the preview of KWJF 2018 I did.
Else, you can also get to know more about the festival at the general Kuching Waterfront Jazz Festival page.
See you there!