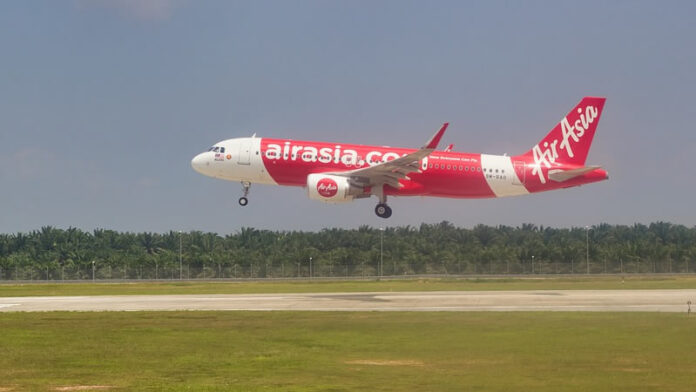 SUBSCRIBE TO KUCHINGBORNEO.INFOTELEGRAM TO GET NEWS & UPDATES ON KUCHING.
Low cost airline, AirAsia, will start using aerobridges at the Kuching International Airport (KIA), allowing its passengers to enjoy better convenience when boarding and disembarking.
DayakDaily today reported that the airline had finally agreed to use the facility, and the decision was relayed by Sarawak Transport Minister, Dato Sri Lee Kim Shin.
Aside from Kuching International Airport, AirAsia will also start using aerobridges in other Sarawak airports like Miri Airport, Bintulu Airport and Sibu Airport.
Use of aerobridges by AirAsia welcomed
The move will likely gain positive response from AirAsia passengers who had for years complained about the inconveniences caused by using staircase to board and disembark AirAsia flights in Kuching.
The use of aerobridges will not only be more convenient, but also make it easier for the elderly and disabled to board AirAsia flights.
It will also protect passengers from the hot and wet weather in Kuching, while adding safety precautions for passengers who now do not need to climb and descend stairs prior to boarding or disembarking.
No date announced
The article by DayakDaily didn't mention the date for AirAsia to use the aerobridges at Kuching International Airport or other airports in Sarawak.
However, it has been noted that AirAsia had increased the number of flights to and from Kuching in recent weeks with it being the airline serving the most routes from Kuching to date.
AirAsia is also currently offering 30 per cent off all seats for flights from Kuala Lumpur to Kuching, Miri, Sibu and Bintulu to mark the reopening of interstate travel into Sarawak.
A statement by the company said that flights are available for booking on the airasia Super App by clicking on the 'Flights' icon from now until October 24, 2021, for travel from October 25, 2021, until May 31, 2022.