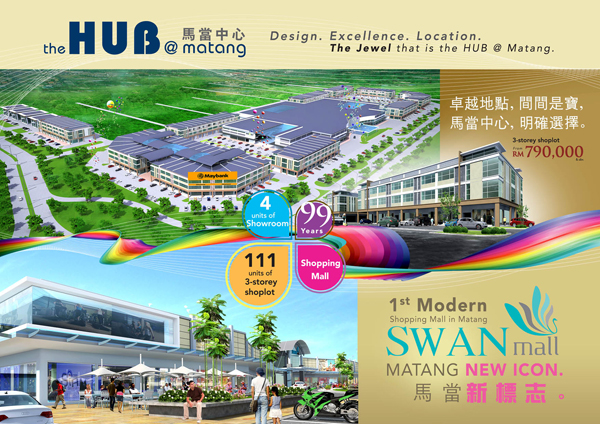 Introduction
Swan Mall is an exciting 3-storey mall located in Matang Jaya's new Hub@Matang commercial area. The mall will be covering an area of 210,000 sq feet, and is slated to be open by 2014.  HSL and GSM Supermarket were reported to be the anchor tenants of the mall in 2013.
Press details have reveled that the mall will have one of Kuching's biggest central court/event space covering an area of over 10,000 sq ft.  It will also have a hypermarket, a departmental store, a food court and 177 retail outlets.

Year Operational:
Launched on Oct 2, 2012. Currently under construction

Parking Bays:
Yet to be known
Number of floors:
2-storey mall.
Operating hours:
unknown
What's special here:
Slated to have the largest open space/event area in Kuching which makes it a attractive to event organizers.
What needs to be improved:
N/A
Amenities:
N/A

Address:
Taman Matang Jaya, Jalan Matang, 93050 Kuching.
Contact Number:
Tel : N/A
Fax : N/A
Website: N/A