SUBSCRIBE TO KUCHINGBORNEO.INFOTELEGRAM TO GET NEWS & UPDATES ON KUCHING.
Malaysia Airlines will resume its Kuching – Penang flights from this month (December 2021) until March 2022 with the airline flying the route twice a week.
In April 2022, the route is expected to be handed over to its sister company Firefly.
According to a news report carried out by The MalayMail, the airline in the meantime will utilize their B737-800 aircraft to service the route with dates for the flight beginning at RM219/way.
Those interested to check Malaysia Airlines flights for the Kuching – Penang route can do so via their website www.MalaysiaAirlines.com.
>> CHECK LATEST MAS FLIGHT PROMO
Flights to Penang actually start from RM194
I did some checking on www.MalaysiaAirlines.com and flights at the time of checking for the Kuching – Penang route were lowest at RM194/way.
Flights at this price however are not direct flight to Penang from Kuching and have a layover in Kuala Lumpur.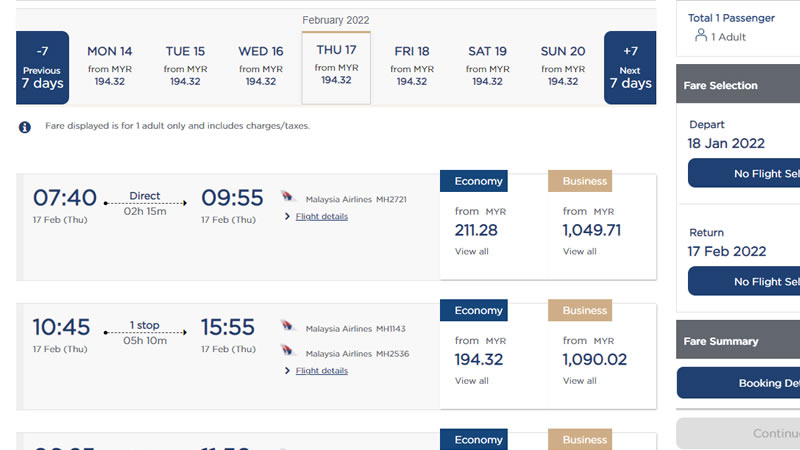 For the direct flights, I observed they start at RM214/way with prices going as high as RM586/way on peak days.
Do remember that the prices I quoted above are at the time of checking and it may differ when you check it.
>> CHECK LATEST MAS FLIGHT PROMO
Connecting two food cities
The ability to fly from Penang to Kuching and back is always welcomed.
Penang itself is known as a food paradise, and with Kuching itself just recently accorded the status of City of Gastronomy, it's fitting that both cities are now back connected by air.
With fares so far affordable (as checked above) between the cities, a trip or food tour to two of Malaysia's best food destinations is now faster and within a days trip.
For more details on what to eat in Kuching, check out my Kuching food listings, and also, don't forget to follow KuchingBorneo on or social media accounts.