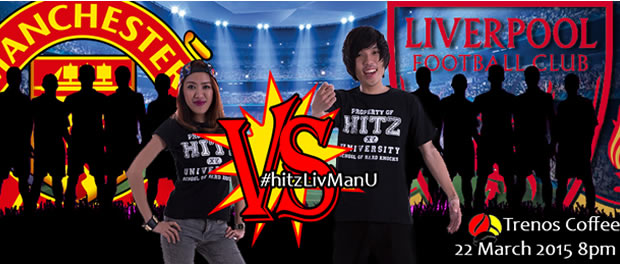 SUBSCRIBE TO MySARAWAKTELEGRAM TO GET NEWS & UPDATES ON SARAWAK.
Gear up now and grab a seat for the Liverpool and Manchester United LIVE matches this Sunday! As hitz fm will be hosting a viewing party for its listener and super fans of both teams at the Trenos Coffee on 22 March 2015, 9.30pm.
To be part of the party, fans need to do is take a selfie with the team jersey and #hitzLivManU. hitz fm announcers Kiyoshi to represent the Liverpool and Natasha for Manchester united will choose 20 die-hard fans each for the on ground battle. The losing team is bound to sing the anthem of the winning football team. There will be also great football merchandise to be won at the LIVE viewing party.
In addition, all chosen fans through the #hitzLivManU will be getting free refreshment at the LIVE viewing party. The event is supported by Trenos Coffee and submission will be close in the 20 March 2015.
For more info, log on to fbsarawak.hitz.fm.