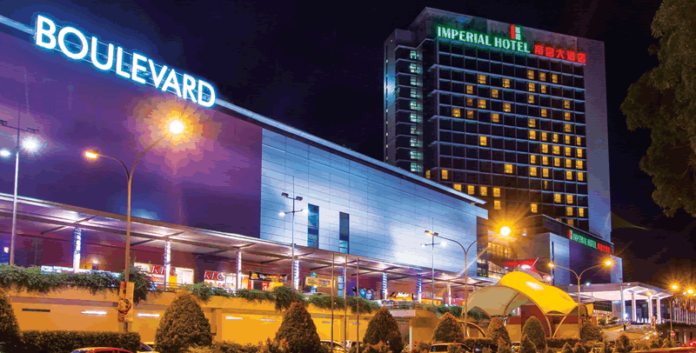 Boulevard Shopping Mall-Kuching (BSM), is strategically located just 5 minutes from Kuching International Airport and has a consumer catchment areas of over 230,000 population consisting of middle to high income group within a radius of 5 miles surrounded by matured housing estates and commercial centres.
In completing the 1.7 million squarefoot of retail extravaganza with its new wing, BSM II ~ which was opened on 1st June of year 2012.
The newly enhanced shopping precincts with more than 230 retails outlets under the theme of "Stylish Avenue", "Enchanter Boulevard", "Savory", "Gizmo Zone" and "Harajuku Mode" will surely fascinate its shoppers of all ages. Raising on top of BSM II are the 4-Star Imperial Hotel and 2-blocks of Apartment Suites (Phase III) whereas its Tower B apartment are now open for enquiries.
After being fully completed in 2014, Boulevard Shopping Mall, Kuching was the "Largest, One-Stop Lifestyle Mall" in Sarawak.
TIME OF OPERATION
10 AM – 10 PM DAILY
ADDRESS, LOCATION & CONTACT
Boulevard Shopping Mall,
Jalan Datuk Tawi Sli,
93250 Kuching, Sarawak, Malaysia
General Line: (60)82-467 999
Fax: (60)82-466 388
Email: boulevardkuching@boulevardmall.com.my
Recommended reads
Find a hotel in Kuching