In the past post, I did a compilation of the top 5 Kuching local food which you should be ordered during dinner. Here, I'd like to share what I think is the best street food for you to try in Kuching.
According to Wikipedia, the definition of street food is "Street food is ready-to-eat food or drink sold in a street or other public place, such as a market or fair, by a hawker or vendor, often from a portable stall.", and since we have lots of small stalls in Kuching, I believe here's the best of Kuching Street Food:
Sarawak Laksa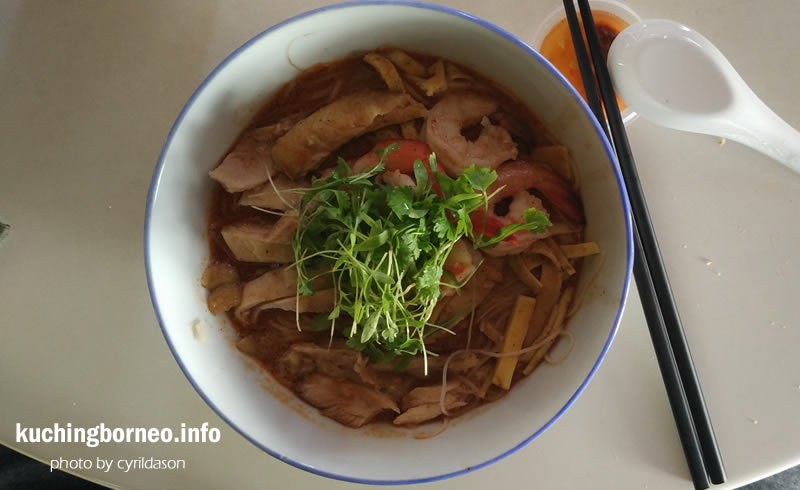 Sarawak Laksa or Laksa Sarawak is a great breakfast food with a specially made by combining a special prawn-based broth thicked with coconut milk.  It is served with a generous amount of shredded chicken (I prefer chunks of chicken instead), omelette strips, prawns, crunchy bean sprouts, and of course prawns.  To add flavour and zest, lime and thick sambal paste can be added.  Since not everyone can serve/make or sell delicious Sarawak Laksa, I've put up this list on where locals in Kuching eat Sarawak Laksa, so do check it out.
Mee Kolok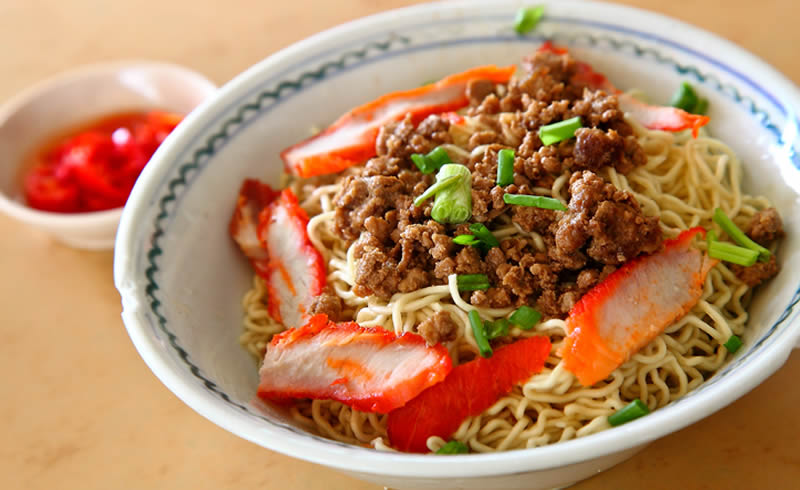 Kolo Mee or Mee Kolok in Malay, is also a popular breakfast dish in Sarawak and there's generally two versions; one being the Mee Kolok Merah (because it's red in colour), and the other being Mee Kolok Putih (because it's white in colour).  There's a bigger version of the Mee Kolok family, but the two I mentioned above, is the main ones. The original mee kolok is basically dry noodles mixed in pork lard, with minced meat, and a generous amount of berbecue pork, but Muslims in Sarawak have also come up with their version, replacing pork lard with soy sauce, and the pork meat with beef meat.  Generally, Mee Kolok isn't difficult to make, and you can enjoy a good bowl in almost every Mee Kolok stall around town.
Kueh Chap (Not halal)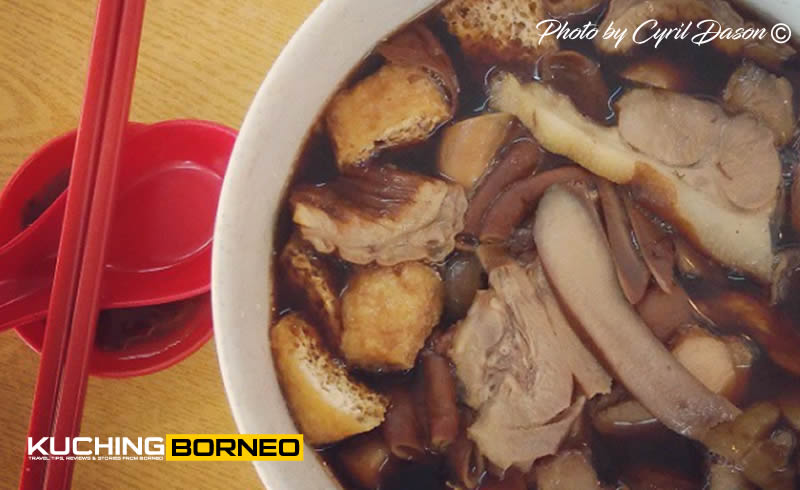 Kueh Chap is not for the faint of heart because this dish is filled with the innards a.k.a 'spare parts' of the pig.  Like Sarawak Laksa, there's a handful of places that serve delicious Kueh Chap in Kuching, and it all goes down to the broth because kueh chap is generally rated by how the soy sauce broth taste like. The most obvious difference between Kueh Chap stalls around town is the broth, in which some can be rather 'smelly', hinting it isn't great. In Kuching, there's only two stalls that serve good Kueh Chap in my opinion, and they are all located at 3rd Mile (Old Batu Kawa town). In the mornings, there's a popular kueh chap stall next to Sports Toto, and during evenings, the kueh chap above the market is considered 'legendary'.
There's actually more street food I could list down here, but I need to get hold of their photos and also locations where they are served in full glory.  So until then, this is the only list I could come up with for now.
SEEKING FOOD IN KUCHING
If you aren't a local, eating out can be rather difficult in Kuching given that you don't know what's good or not.  Well, do read my Kuching food tour guide, if you want to know what locals usually have here in Kuching, or you can also opt to consider these seafood places in Kuching for options during evenings.
If you want to go shopping, and at the same time enjoy a fantastic meal, the Spring mall has the best food court in a mall in Kuching.
Happy food hunting!