That time of year is back again and the famed Pasar Ramadan or Ramadan markets is now available around Kuching for everyone, regardless of race and religion to visit.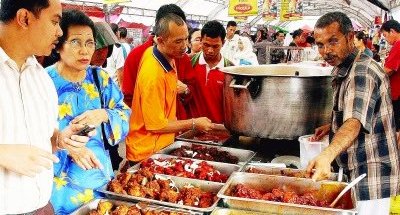 The Pasar Ramadan has over the years mushroomed in Kuching with newer spots identified and turned into such market.  The food available varies, but popular delights in the form of local cakes, local dishes and drinks are normally found in abundance.  Aside from that, visitors can also hope to find grilled chicken and fish.
For the ease of everyone, here is a list of Pasar Ramadan in Kuching:
Synergy Square, Taman Matang Jaya (MP Padawan)
Jalan Lorong 1 Matang Jaya, Taman Matang Jaya (MP Padawan)
Taman Malihah (MP Padawan)
Kota Sentosa (MP Padawan)
Satok (DBKU)
Bandar Baru Semariang (DBKU)
Semarak, Gita (DBKU)
Sukma Ria (DBKU)
Stutong Market (MBKS)
Kem Penrissen (ATM / MP Padawan)
If we didn't list a Pasar Ramadan in your area, please let us know.
Photo above by zamtransportation.blogspot.com