The Kuching LRT is a massive transportation project undertaken by the Sarawak Government to connect major locations in Kuching with key destinations. It is also known as the Sarawak LRT project since it is not exclusive to Kuching, but rather connects the Kuching, Samarahan and Serian divisions.
COST OF LRT KUCHING & TYPE OF TRAINS USED
The Kuching Light Rail Transit (LRT) is expected to cost RM10.8 billion.
Initially electric trains were preferred for the system as Sarawak is a major electricity producer.  However, it is now confirmed that hydrogen powered trains would be used instead.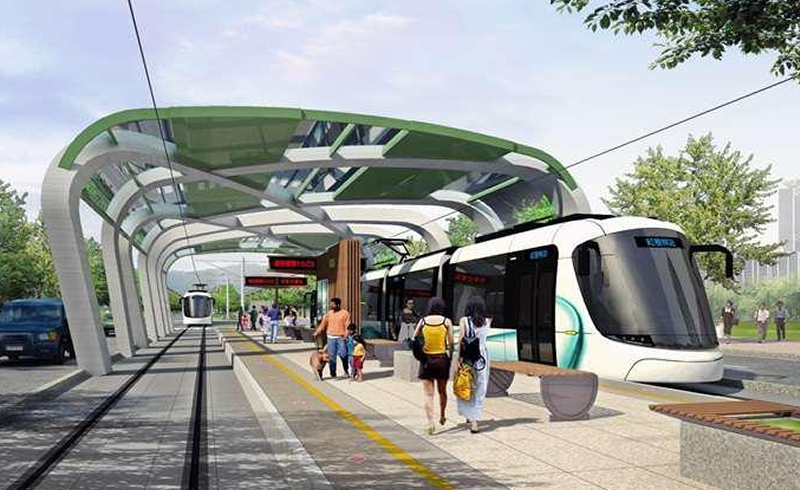 For the Kuching City link, at-grade tram system would be integrated as it is more pedestrian friendly.
THE KUCHING LRT ROUTE
The route of the Kuching LRT which was announced on 29 March revealed that it will by-passing several densely populated areas like Batu Kawa and Matang.
Based on the image uploaded by RTM Sarawak as you can see below, there's three lines for the Kuching LRT, one from Serian to Muara Tebas, another from Muara Tuang to Damai, with the shortest covering the city centre of Kuching, where a lot of Kuching hotels are located.
The second longest line, known as Line 1 or Damai Sentral – Muara Tuang), will starts from Damai Sentral.  It will pass key areas like Stadium Sarawak, Samariang, Petra Jaya, Satok, and UNIMAS, before ending in Sungai Batu, Muara Tuang in Samarahan. The journey covers 60KM and there will be 24 stations.
The second route, known as Line 2 (Muara Tebas to Serian) is the longest. It would see the the Kuching LRT stretching for about 84KM from Senari Port in Muara Tebas to Serian. 25 stations have been planned out with key locations like Siburan, Kota Padawan, Kota Sentosa, BDC, CityOne Simpang Tiga, Kuching International Airport, Kuching Ithmus, Demak Laut, and Sejingkat mapped into the route.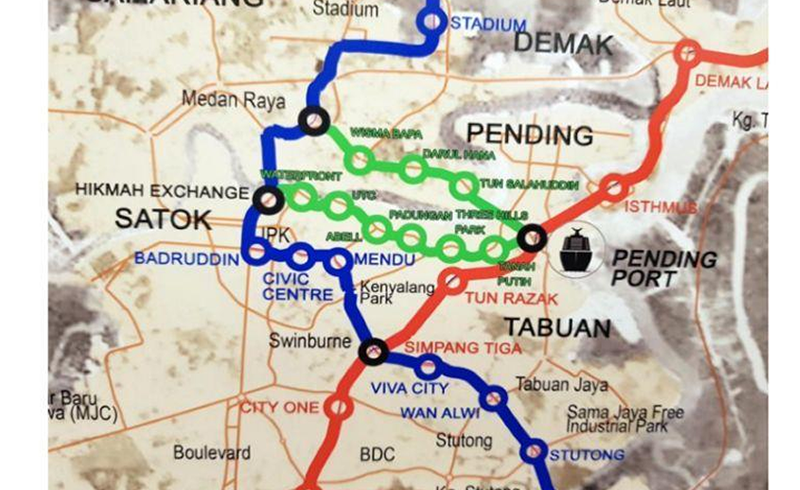 The third and shortest line, known as Line 3, or Kuching City Line, would serve 12 stations in Kuching City.  From the looks of it, government offices and tourist spots would be covered by this line.  The train would have stations at the Kuching Waterfront, UTC, Jalan Abell, Padungan, Three Hills Park, Tanah Putih, Tun Salahuddin, Darul Hana and Wisma Bapa Malaysia will have stations.
Based on the LRT three routes,  major shopping malls in Kuching are well linked to the LRT. Four main LRT transit points are also planned to connect the three lines, namely at Hikmah Exchange, Medan Raya, Pending Port ad Swinburne University.
An image of the linked Kuching LRT stations was uploaded by FB page CatCity Blog as seen below.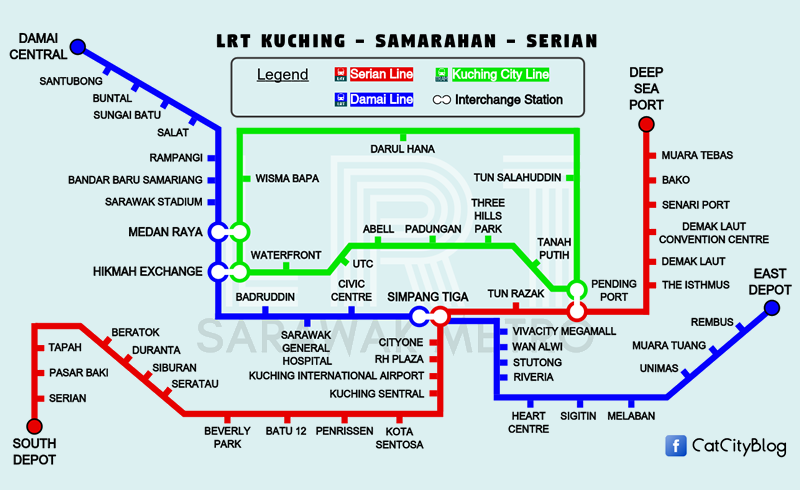 WHEN WILL THE LRT BE READY?
The construction of the Kuching LRT will start in 2019, with the each lines estimated to be taking five year each to be built.
According to Sarawak Chief Minister Abang Zohari, the whole system would be running in 2024, which is a year before the Pan Borneo Highway project is expected to be completed.
Once completed, a government linked company known as Sarawak Metro would manage the whole LRT system.
In 2018, the project was suspended to focus on other pressing development issues.
It was however revived in May 2019 after the public supported the idea and the cost for this route would be less than RM5 billion. It will cover the Kuching – Samarahan sector.
This article would be updated once we have more details, so keep coming to KuchingBorneo, and do LIKE us on Facebook and Instagram.